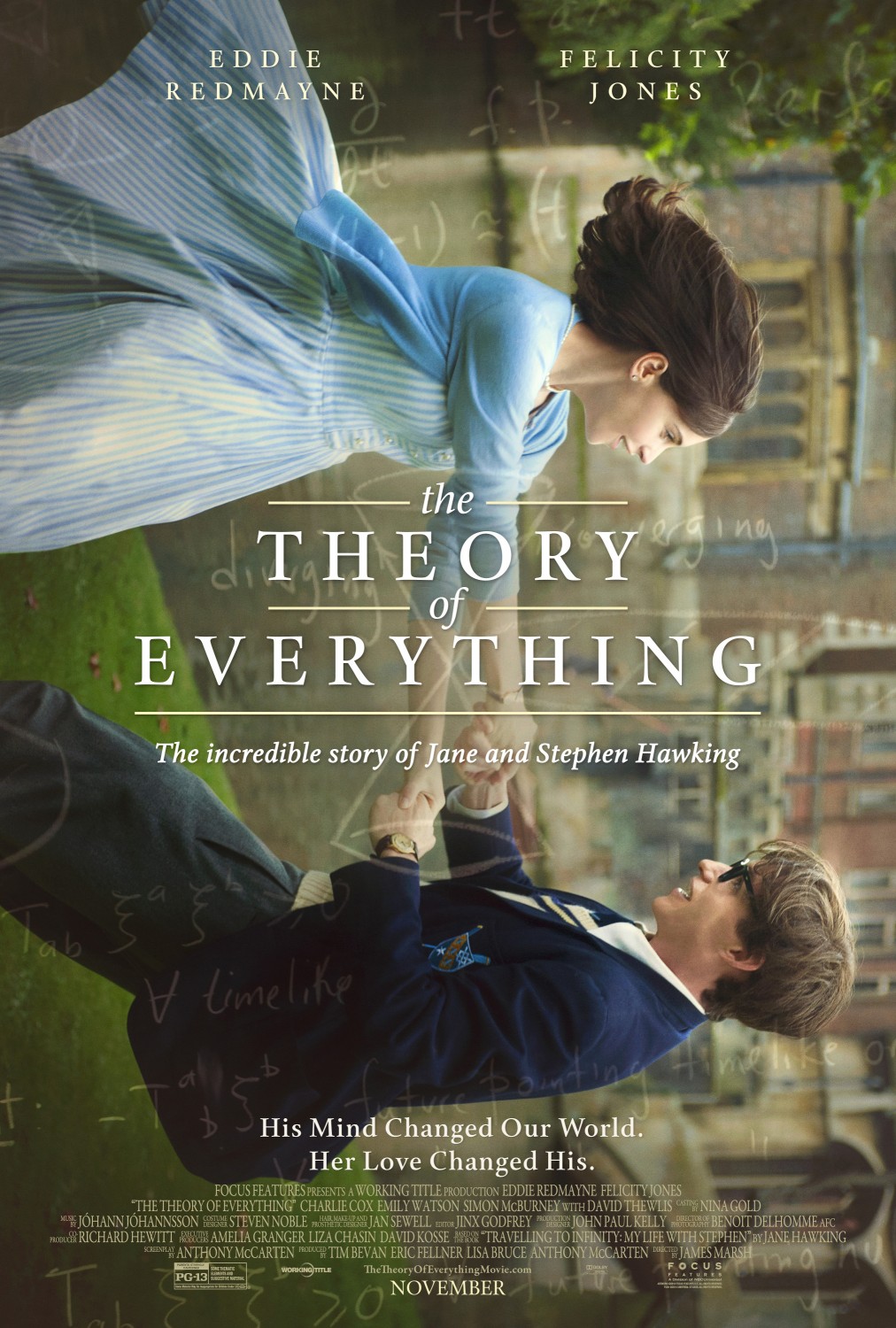 SYNOPSIS:
Eddie Redmayne plays renowned
physicist Stephen Hawking
in this movie based on a book by his first wife, Jane Hawking.
Reel Rating: 4.5 out of 5 Reels
MPAA Rating: PG-13 for some thematic elements and suggestive material
Released in Theaters: Nov. 7, 2014
Best for Ages: 13+
Genre: Drama, Based on a Book, Biography, Romance
Runtime: 123 minutes
Directed by: James Marsh
Studio: Focus Features
Cast: Eddie Redmayne, Felicity Jones, Emily Watson
Official Site: The Theory of Everything
REVIEW: Most of us know Stephen Hawking as he is today — someone with a deep understanding of things we can barely comprehend, but who spends his life in a wheelchair communicating with a speech-generating device. All the result of ALS, a.k.a. Lou Gehrig's disease.
"The Theory of Everything" takes us back to the beginning of Hawking's scientific career at the University of Cambridge in England. It's such a joy to see the young Stephen Hawking walking, riding bikes, wooing his future wife, Jane, at parties and receptions (though he adamantly admits that he "doesn't dance"). We know how his life turns out, but this movie, based on Jane's book "Travelling to Infinity: My Life With Stephen," offers a deeper insight into his struggles and triumphs.
The story begins in 1963, when Hawking (Eddie Redmayne) is a cosmology student at the University of Cambridge, where he meets Jane (Felicity Jones). As he's contemplating his course of study, he learns that he's suffering from ALS, the incurable degenerative motor-neuron disease with a bleak outlook.
He's given just two years to live, but Jane becomes his biggest supporter, refusing to let him give up on either his research or their relationship. Thus, his research topic is suddenly revealed to him. He'll study the nature of time, something it appears he has very little of.
Hawking's brilliant brain, which is unaffected by his disease even as it steals all of his motor skills one by one, is soon discovered by the rest of the world as he attempts to unearth "the theory of everything." No small feat, and neither is his life, burdened by enormous challenges as he and Jane get married and start a family.
I love movies that take us behind the scenes of people we only read about or see in videos. "The Theory of Everything" not only takes us into the life of Hawking, but it does so with great compassion and elegance. There's something about the lighting of this film and the musical score by Johann Johannsson that elevates it beyond just another commercial film.
If I was handing out awards, Redmayne's performance would surely garner multiple nominations and wins. He does the impossible — turns Hawking into a regular person we feel like we know, someone who could be living next door to us.
Unfortunately, "The Theory of Everything" has been shut out of many of the awards to date, including the Film Independent Spirit Awards, National Board of Review, Gotham Awards, and New York Film Critics Circle Awards. Redmayne did, however, win Best Breakout Performance from the Hollywood Film Awards, and the film won the Audience Award at the Mill Valley Film Festival.
The movie is a triumph of the human spirit (remember, he was only supposed to live two years; he turns 73 in January), but also a sweet romance about a marriage that was loving but unconventional. Because the movie is based on Jane's book, she's an integral part of the story. I wish they had delved more into the dissolution of their marriage, although I know there's only so much you can fit into 123 minutes.
Blending science, romance and emotion, "The Theory of Everything" will definitely find a home on my "Top Movies of 2014″ list. Check it out if it's playing at a theater near you.
THE DETAILS (May Contain Spoilers):
Sex/Nudity: Flirting and kissing between Stephen and Jane. Discussion of Hawking's sexuality, including the fact that he likes looking at Penthouse magazines.
Violence/Gore: Hawking suffers a bad fall and ends up in the hospital. The movie also shows the effects of his debilitating illness throughout his life.
Profanity: "T-ts," "damn" and "Sod off."
Drugs/Alcohol: Social drinking at dinners, pubs, receptions and other events.
Which Kids Will Like It? Kids 13 and older with an interest in Hawking or science-related topics.
Will Grownups Like It? This lovely film is a graceful, beautiful portrait of a scientist who changed the way we look at the universe and each other.
JANE'S REEL RATING SYSTEM:
One Reel – Even the Force can't save it.
Two Reels – Coulda been a contender
Three Reels – Something to talk about.
Four Reels – You want the truth? Great flick!
Five Reels – Wow! The stuff dreams are made of.