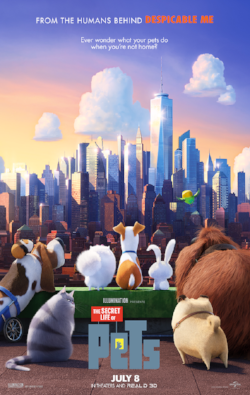 MOVIE SYNOPSIS: A terrier named Max's quiet life is upended when his owner takes in Duke, a stray who Max instantly dislikes. A series of events finds the two lost on the streets of New York City.
Reel Rating: 5 out of 5 Reels|
MPAA Rating: PG for action and some rude humor
Released in Theaters: July 8, 2016
Best for Ages: 6+
Genre: Family, Comedy
Runtime: 90 minutes
Directed by: Chris Renaud, Yarrow Cheney
Studio: Universal Pictures
Cast: Louis C.K., Kevin Hart, Eric Stonestreet, Jenny Slate, Ellie Kemper
MOVIE REVIEW: "The Secret Life of Pets" is super cute! The voices are spot-on, the animation is terrific, and the story takes us on an exciting journey through New York City. Big thumbs up for both kids and grownups.
The story follows Max (voiced by Louis C.K.), a pup living the good life with his beloved human, Katie (Ellie Kemper), in their New York City apartment. But things take a turn for the worse when Katie brings home a giant, shaggy new dog named Duke (Eric Stonestreet) from the shelter.
When a series of events leaves Max and Duke lost on the street and collarless, they're nabbed by Animal Control and find themselves at the mercy of Snowball (Kevin Hart), a maniacal bunny with a grudge against humanity who leads an underground army of unwanted former pets.
Max and Duke begin the journey home to Ellie, with help from determined Pomeranian named Gidget (Jenny Slate), who helps them elude Snowball and his thugs.
Like "Toy Story," "The Secret Life of Pets" takes us inside the lives of pets and their shenanigans when the humans are gone for the day. The story moves along at a nice clip, and it's hysterical seeing the pets raid the fridge, watch soap operas, and rock out to heavy metal music.
At its core, "The Secret Life of Pets" is really a buddy-movie about how two dogs learn to like each other and work together to get back home. Like all great kids' movies, this one has plenty of creative little details to keep kids and grownups of all ages happy.
There's also a clear message of teamwork and never giving up, as well as some depth to the characters, revealing WHY they're the way they are - sad, lonely, angry, etc. Sequels? I sure hope so. I'm already geeked to see the "Pets" go on a new adventure.
PARENT OVERVIEW: The characters are frequently in danger and peril, including being chased, dodging Animal Control officers, navigating dark and gloomy sewers, crashing into things, facing off against predators, growling, yelling and more. Animals discuss killing people, and one anti-human character is impressed when others claim to have offed their former owners. At one point, it appears that a main character may not survive, and a "bad" character dies in an altercation. Language includes insults like "dumb," "stupid" and "weirdo."
PARENT DETAILS (May Contain Spoilers):
Violence/Gore: Frequent danger and peril includes characters being chased on foot and in vehicles, and driving erratically, with vehicles crashing into each other and sometimes catching on fire. Characters are chased through dark and gloomy sewers. At one point it appears that a main character may not survive. Scary animals includes alley cats, a large viper, an alligator, a hungry hawk, and other predators. One "bad" character dies in an altercation. Human Animal Control officers pursue animals and lock them up in cages. Some animal characters want all humans to die. A few lie and say they killed their owners, going into detail about how they did it. Animals growl, bark, hiss and yell at each other. Lots of pratfalls and physical humor.
Sex/Nudity: Gidget watches a soap opera on TV which includes passionate characters hugging each other. She also has a huge crush on Max, pouncing on him and licking him at one point.
Profanity: Frequent insults include "dumb," "stupid," "suckers," "weirdo," "freak" and more. "Holy schnitzel" is used as a swear word.
Drugs/Alcohol: In a meat factory, Max and Duke eat sausages and hallucinate about a magical land of singing and dancing meat products.
JANE'S REEL RATING SYSTEM:
One Reel – Even the Force can't save it.
Two Reels – Coulda been a contender
Three Reels – Something to talk about.
Four Reels – You want the truth? Great flick!
Five Reels – Wow! The stuff dreams are made of.
Jane Boursaw is the film critic and editor-in-chief of Reel Life With Jane. Contact her at jboursaw@charter.net. Images in this review used courtesy of the studio and distributor.