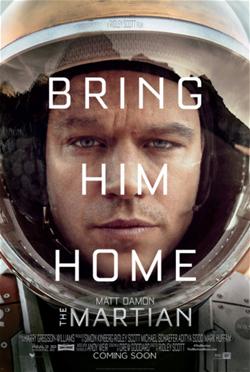 SYNOPSIS: During a mission to Mars, Astronaut Mark Watney is presumed dead after a fierce storm and left behind by his crew. With meager supplies, he must draw upon his ingenuity, wit and spirit to survive and find a way to signal Earth.
Reel Rating: 4.5 out of 5 Reels
MPAA Rating: PG-13 for some strong language, injury images, and brief nudity
Released in Theaters: Oct. 2, 2015
Best for Ages: 13+
Genre: Sci-Fi, Adventure, Based on a Book
Runtime: 141 minutes
Directed by: Ridley Scott
Studio: 20th Century Fox
Cast: Matt Damon, Kate Mara, Jessica Chastain
Official Site: The Martian
REVIEW: You know a movie is good when you feel like you've actually BEEN to the place in the movie. That's how I feel about "The Martian." I came out of the theater feeling like I'd been to Mars, and some people have even told me they thought the movie was based on a real story.
I hope no one ever gets left on Mars (by the way, NASA just unveiled a real-life plan to reach Mars by 2030), but if so, we can only hope they'll be as resourceful as astronaut Mark Watney, played by Matt Damon. The movie is a great lesson in problem-solving. Or, as Watney says, "You solve one problem, and then you solve the next." Oh, and make sure you always have duct tape with you.
"The Martian" takes place sometime in the near future, and Watney is a botanist on NASA's manned mission to Mars, named Ares 3. As he and the rest of the crew are working on the red planet, a sudden storm forces them to evacuate. When Watney is knocked unconscious and unable to be found, the crew – mission commander Lewis (Jessica Chastain), pilot Martinez (Michael Peña), and specialists Beck (Sebastian Stan), Vogel (Aksel Hennie), and Johanssen (Kate Mara) – presume that he's dead and reluctantly leave him behind.
Surprise! Not only is Watney not dead, but he manages to do surgery on his wounds, grow food, make water and survive with meager supplies. My farmer dad always said if you've got potatoes, you can make a meal. Watney proves that to be true.
Meanwhile, back on Earth, a NASA satellite analyst (Mackenzie Davis) discovers that Watney is indeed alive, and thus, NASA must find a way to communicate with the stranded astronaut and bring him home.
I'm ok with the fact that Damon plays pretty much the same character in every movie – a charming, funny, and likeable guy. He's kind of like Tom Cruise in that respect. But I'll go see any movie starring either Tom Cruise or Matt Damon, because you know going in what you'll get.
Aside from Damon's ability to make every movie imminently watchable, "The Martian" is a good lesson in resourcefulness and using science to stay alive, which also makes it a good choice for science-loving teens and grownups. I'm not sure how the fact-checkers fared with the story, but it certainly all makes sense to me.
Someone asked me if "The Martian" is scary. Not really. There are a few scary parts, like when people are knocked around during the storm, and of course, getting left behind on Mars isn't a piece of cake. But overall, it's just a really solid movie that's equal parts fun, science and emotion. Like the great film "Apollo 13," "The Martian" also centers on how the teams at NASA and the Jet Propulsion Lab work together to figure out how to bring him home.
Along with Damon and the Ares 3 crew, the cast also includes Jeff Daniels as the cautious head of NASA (who's worried about the impending PR nightmare), Chiwetel Ejiofor as the Mars mission director, Kristen Wiig as a NASA PR director, and Sean Bean as the brash Ares 3 flight director. There's even a shout-out to "Lord of the Rings," in which, of course, Bean played Boromir.
But let's be real – "The Martian" is Matt Damon's show, and he doesn't disappoint. It's a big, action-packed movie that's a lot of fun. Be sure to also check Andy Weir's great book upon which this movie is based.
THE DETAILS (May Contain Spoilers):
Sex/Nudity: One kiss, and one brief shot of Watney's naked backside.
Violence/Gore: Astronauts are put in peril during a storm, and one is knocked unconscious. Later, he must remove a piece of metal from his chest and staple the wound shut. An explosion takes place, but no one is injured.
Profanity: Includes one "f–k," plus "s–t," "a–hole" and "damn."
Drugs/Alcohol: None.
Which Kids Will Like It? Kids aged 13 and older who like Matt Damon movies, or movies about space and science.
Will Grownups Like It? I highly recommend "The Martian." Go see it.
JANE'S REEL RATING SYSTEM:
One Reel – Even the Force can't save it.
Two Reels – Coulda been a contender
Three Reels – Something to talk about.
Four Reels – You want the truth? Great flick!
Five Reels – Wow! The stuff dreams are made of.
Jane Boursaw is the founder and editor-in-chief of Reel Life With Jane. Her credits include hundreds of print and online publications, including The New York Times, People Magazine, Variety, Moviefone, TV Squad and more. Follow her on Twitter at @reellifejane.