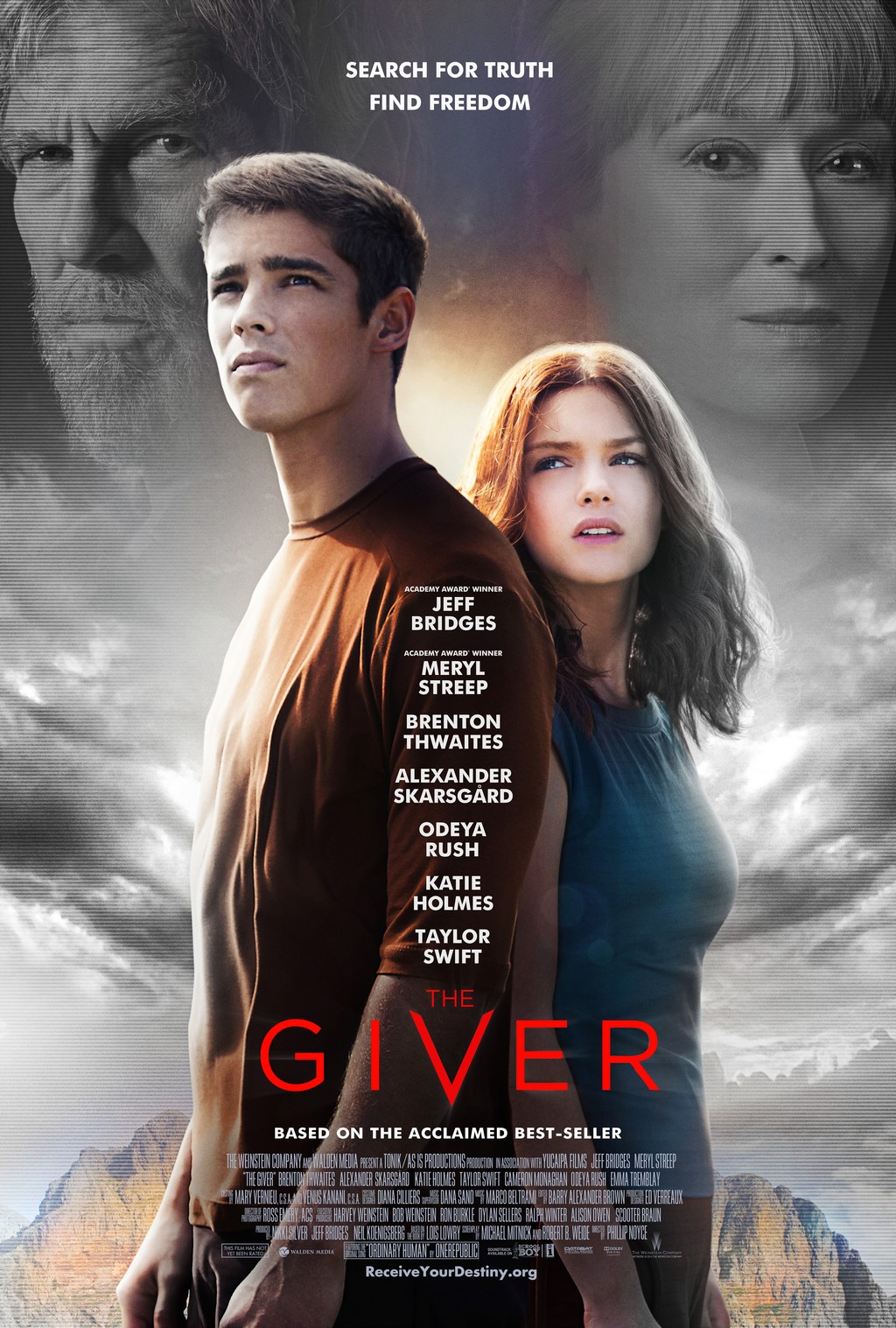 SYNOPSIS: Based on the book by Lois Lowry, "The Giver" takes place in a seemingly perfect community, without war, pain, suffering, differences or choice. When a young boy is chosen to learn from an elderly man about the true pain and pleasure of the "real" world, he discovers something sinister behind the community's facade.
Reel Rating: 4.5 out of 5 Reels
MPAA Rating: PG-13 for a mature thematic image and some sci-fi action/violence
Released in Theaters: Aug. 14, 2014
Genre: Drama, Sci-Fi, Based on a Book
Runtime: 94 minutes
Directed by: Phillip Noyce
Studio: The Weinstein Company
Cast: Alexander Skarsgard, Jeff Bridges, Meryl Streep, Brenton Thwaites, Odeya Rush
Official Site: The Giver
READ: Interview with Lois Lowry, author of "The Giver"
REVIEW: Life is messy. It's full of love, loss, death, birth, war, peace, happiness and sadness. And yet, all of that is what makes life worth living. Without the sadness, the joy can't be fully experienced. At least, that's how I look at this crazy thing called life. You just have to power through the rough times to get to the other side, right?
But none of that exists in "The Giver," a story based on Lois Lowry's popular book centered on a futuristic utopian society called "the community," where everything is the same and there's no fear, envy, hate or emotion. It's a controlled society with no color, race or religion, and the rules are simple: wear your assigned clothing, don't lie, obey the rules, use precise language, and for the love of god, do not be different! At age 16, all of the residents prepare for their coming-of-age ceremony, where they're assigned a specific job — things like teacher, security, birth mother and nurturer.
At the ceremony, Jonas (Brenton Thwaites) is surprised when the Chief Elder (Meryl Streep) announces that he's been selected as the newest Receiver of Memory. This person is selected to receive and understand all the pain and truths that the rest of the community is spared. Why there's a person selected for this, I'm not sure. It seems like if they truly want to continue their bland, emotionless life — the first part of the movie is in black and white — they wouldn't risk having someone privy to all those memories.
But Jonas dutifully goes to meet The Giver of Memory (Jeff Bridges), who is able to grasp the boy's arms and transfer those memories to him. But they're not all happy, shiny memories. Along with the love, music, emotions and simple pleasures of a sled in the snow, Jonas also sees the cruelty, wars, death and loss.
He begins to see The Community as it truly is, as well. There's something sinister happening beneath the surface of the peaceful life and tidy dwellings. Jonas starts skipping the morning injections that make everything black and white, and starts seeing the world in color, including his friend Fiona (Odeya Rush), whom he develops feelings for. He begins to see that life with pain and loss is actually preferable to the sameness of The Community.
If you've read the Lois Lowry book, you know that the movie's Jonas is five years older than he is in the book. I guess it works better for the film, because it ups the ante for Jonas and his romantic feelings for Fiona.
But I love this movie and feel like they were able to take the book, which is really a story about ideas, and adapt it to the screen in a way that's touching, thrilling and creepy at times. Alexander Skarsgard, who plays Jonas' father, dispenses with a baby — who is not an asset to the community — without emotion or sadness. They call it "releasing it to elsewhere," but let's call it what it is — murder.
Meryl Streep is appropriately creepy as the Chief Elder, and Katie Holmes, who plays Jonas' mother, has a blank demeanor reminiscent of the tabloid photos of her during the Tom Cruise years.
I'm not sure why there's been a rash of these types of dystopian books and movies in recent years — "The Hunger Games," "Divergent" and "The Maze Runner" (in theaters Sept. 19, 2014), among them. But I like the premise, because inside the stories of murder, mayhem and manipulation is something sweet and poignant. That life is meaningful, and as humans, we need to feel everything, not just what someone else deems is the good stuff.
THE DETAILS:
Sex/Nudity: A young couple hold hands, gaze at each other, and kiss a few times. References to how the community handles adolescent "stirrings."
Violence/Gore: During a confrontation, Jonas knocks his friend down and punches him in the face. A girl is put into a room where she awaits a lethal injection. The community has no idea that the term "releasing to elsewhere" means killing. When a man "releases" a baby, he isn't aware that he's killing it. The Giver and Jonas experience disturbing dreams and visions of past horrors such as death and war.
Profanity: Everyone in the community uses "specific language," which means there's absolutely no swearing!
Drugs/Alcohol: None.
Which Kids Will Like It? Kids 11 and older who've read the book by Lois Lowry or like movies like "Divergent" and "The Hunger Games."
Will Grownups Like It? It's a beautiful, thoughtful story that's not nearly as violent as other ten dystopian movies like "Divergent" or "The Hunger Games." It also reminds me of "The Prisoner" ("I am not a number!") and "The Truman Show."
JANE'S REEL RATING SYSTEM:
One Reel – Even the Force can't save it.
Two Reels – Coulda been a contender
Three Reels – Something to talk about.
Four Reels – You want the truth? Great flick!
Five Reels – Wow! The stuff dreams are made of.
Jane Boursaw is the founder and editor-in-chief of Reel Life With Jane. Her credits include hundreds of print and online publications, including The New York Times, People Magazine, Variety, Moviefone, TV Squad and more. Reel Life With Jane.