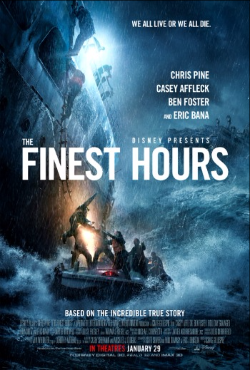 PG-13 for intense sequences of peril | In Theaters 1/29 (2D, 3D, IMAX 3D) | Ok for Kids 13+ | Disney | Reel Review: 4 of 5 Reels
I love movies that are based on true stories, especially when they show photos of the real-life people over the end credits, as they do with "The Finest Hours." There's a reason this story is known as one of the greatest rescue missions in the history of the Coast Guard. What a harrowing boat ride!
And Chris Pine is always so adorable, whether he's playing Captain Kirk in the new "Star Trek" movies or a responsible Coast Guard captain on an impossible mission in dangerous waters in "The Finest Hours."
Based on the book by Michael Tougias and directed by Craig Gillespie, "The Finest Hours" tells the true story of, yes, the greatest small boat rescue in Coast Guard history. On Feb. 18, 1952, a massive nor'easter struck New England, pummeling the Eastern seaboard and wreaking havoc on the ships caught in its deadly path, including the SS Pendleton, a T-2 oil tanker bound for Boston, which was literally ripped in half, trapping more than 30 sailors inside its rapidly-sinking stern.
First Assistant Engineer Ray Sybert (Casey Affleck - love seeing him on the big screen again), the senior officer on board, realizes he must take charge of the frightened crew and inspire the men to work together to ride out the storm - despite the objections of the self-centered captain.
Meanwhile at the U.S. Coast Guard station in Chatham, Massachusetts, Warrant Officer Daniel Cluff (Eric Bana) orders a daring rescue operation, sending four men, led by Coast Guard Captain Bernie Webber (Chris Pine), and including Andrew Fitzgerald (Kyle Gallner), Ervin Maske (John Magaro), and Richard P. Livsey (Ben Foster) out in a wooden lifeboat with an ill-equipped engine and little means of navigation to face frigid temperatures, 70-foot high waves and hurricane-force winds.
Webber's fiance, Holliday Grainger (who looks like she's right out of this time period), is not going to sit idly by as her man heads out on a suicide mission, so she confronts Cluff and orders him to bring the men back in.
"The Finest Hours" is a great movie to see when you're facing an obstacle in your life. Hey, if these guys can embark on an impossible mission to save a ship's crew during the worst storm in history, we can overcome whatever's in our way. And the scenes of peril put you right in the ocean with these guys.
By the way, here's a bit of trivia for you. The original Coast Guard lifeboat launch used to rescue the Pendleton survivors, CG36500, still exists and is maintained in perfect condition at Rock Harbor in Orleans, Massachusetts.
PARENT INFO: "The Finest Hours" includes scenes of danger and frightening natural violence, with fierce waves, winds and snow. Characters are knocked around on boats, body-slammed against ship decks, and drowned, in some cases. Language includes "hell" and "jackass," and there's some drinking in pubs. Romance includes one chaste kiss.
JANE'S REEL RATING SYSTEM
One Reel – Even the Force can't save it.
Two Reels – Coulda been a contender
Three Reels – Something to talk about.
Four Reels – You want the truth? Great flick!
Five Reels – Wow! The stuff dreams are made of.
Jane Boursaw is the film critic and editor-in-chief of Reel Life With Jane. Contact her at jboursaw@charter.net. Images used with permission of the studios.