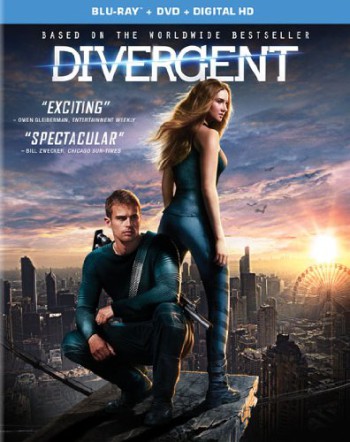 SYNOPSIS: With help from Four, Tris confronts her inner demons and fights against a powerful alliance which threatens to tear her society apart.
Reel Rating: 4 out of 5 Reels
MPAA Rating: PG-13 for intense violence and action throughout, some sensuality, thematic elements and brief language
Released in Theaters: March 20, 2015
Best for Ages: 13+
Genre: Action, Romance, Based on a Book
Runtime: 105 minutes
Directed by: Robert Schwentke
Studio: Summit Entertainment
Cast: Shailene Woodley, Theo James, Ansel Elgort, Miles Teller, Kate Winslet
Official Site: The Divergent Series: Insurgent
REVIEW: Shailene Woodley just gets better and better with every role. Sometimes I have to remind myself that she once played teen mom Amy Juergens on ABC Family's "The Secret Life of the American Teenager." Prior to that, she was on "The District," "The O.C.," "Crossing Jordan" and others, but most fans know her from "Secret Life."
In the past few years, the likeable actress has been nominated for and won multiple awards, including a People's Choice for "Divergent," a Teen Choice for "The Fault In Our Stars" (yes, I bawled my eyes out watching that movie), and a Hollywood Film Award for "The Descendents." Suffice to say, we're watching the rapid ascent of a major movie star. And yet, she's still very down to earth. Loves to hug people and seems like the girl next door, someone we can relate to.
I love that about her and can't wait to see where her career goes from here. Maybe she'll make a bunch of money and go live in the woods somewhere. I could see that happening. She definitely has that special spark that translates well to the screen — understated, but very believable. I'm sure she works hard at her craft, but watching her career unfold makes me believe there is such a thing as a natural-born actor.
In "Insurgent," the second movie in the "Divergent" franchise based on the books by Veronica Roth, Woodley reprises her role of Tris, a young adult who gets swept into a tumultuous world. The story takes place in a futuristic society where people are divided into factions based on personality traits.
In the first movie, 2014's "Divergent," Tris learns that she's "Divergent" and doesn't fit into any one faction, which makes her particularly dangerous to the people in control. She teams up with the mysterious Four (Theo James) to uncover the reasons why those in power want to destroy the Divergents.
"Insurgent" picks up shortly after "Divergent" left off. Tris and Four are hiding out in the peace-loving Amity Faction with Peter (Miles Teller); Tris' brother, Caleb (Ansel Elgort); and Four's father, Marcus (Ray Stevenson). Johanna (Octavia Spencer) is in charge of the Faction and leads with a loving, but firm, demeanor.
Meanwhile, council leader Jeanine Matthews (Kate Winslet) has pinned the Abnegation massacre (from the first movie) on Tris, Four, and a rogue band of Divergents. So she orders that all Divergents be rounded up and brought in to Erudite headquarters. She has an ulterior motive, however. She's actually looking for a Divergent with the ability to open a mysterious box left by the Factions' founders, but her subjects keep dying during the intense simulations necessary to open the box.
Then she discovers that Tris is the one who can open the box, which sends Tris and Four on the run again, in search of the remaining Dauntless members and forging an uneasy alliance with the Factionless, led by Evelyn (an unrecognizable Naomi Watts with dark hair), their leader who has ties to Four.
If you've read the "Divergent" book series, you'll probably notice some changes from page to screen. My feeling is, there's no way to translate the entire story over to the big screen, but director Robert Schwentke does an admirable job in the allotted 105 minutes. While it would be good for viewers to watch or re-watch the first movie before seeing this one, there's enough backstory at the beginning so we know what's going on as we head into this second movie.
I love the chemistry between Woodley and James, who aptly convey the love and attraction of the characters (James has those dreamy eyes that seem to look into her soul). Teller steals all his scenes as the opportunistic hot head Peter, and we finally meet Uriah, played by handsome Australian Keiynan Lonsdale.
Winslet and Watts are fabulous leaders, each scary in their own way. I love all the strong females in this movie, even though their motives aren't always in our heroes' best interest.
The special effects and visuals are dazzling — even better than the first movie — and Woodley makes you believe she's actually trying to save her mother, who's floating above the city in a burning box of a building. It's a nail-biter!
The third book, "Allegiant," is being split into two movies, the first scheduled for release in 2016 and the second in 2017. Robert Schwentke will once again direct the first one, and I can't wait to see how he handles the story and change of perspective.
THE DETAILS (May Contain Spoilers):
Sex/Nudity: Four and Tris hug and kiss a few times. Sex is implied in one scene, where she takes off her top and his shirt. The next scene shows them in bed, bare shouldered under the sheets.
Violence/Gore: Somewhat violent, but faithful to the book. Characters die throughout the movie, from close-range execution-style murders, committing suicide under mind control, and being tortured and forced to do something dangerous. Weapons include knives, guns, and foreboding machinery (tank-like vehicles). A main character appears to die. Some blood is shown.
Profanity: One "f–k" (said very quickly), plus a few uses of "bitch," "s–t," and "a–hole." Other insults include "stupid," "psychopath," "stiff," "loser" and "coward."
Drugs/Alcohol: None.
Which Kids Will Like It? Kids aged 13 and older who've read the "Divergent" books or liked the first movie or Shailene Woodley movies.
Will Grownups Like It? "Insurgent" is a solid installment to the "Divergent" franchise that faithfully leads into the third and fourth installments.
JANE'S REEL RATING SYSTEM:
One Reel – Even the Force can't save it.
Two Reels – Coulda been a contender
Three Reels – Something to talk about.
Four Reels – You want the truth? Great flick!
Five Reels – Wow! The stuff dreams are made of.