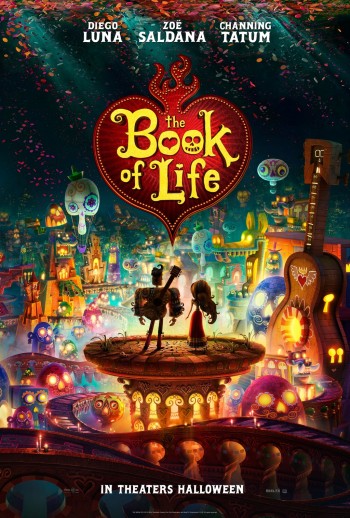 SYNOPSIS: This lovely animated tale from producer Guillermo del Toro follows Manolo, a young man torn between fulfilling his family's expectations and following his heart. He embarks on an adventure that spans three fantastic worlds where he must face his greatest fears.
Reel Rating: 4 out of 5 Reels
MPAA Rating: PG for mild action, rude humor, some thematic elements and brief scary images
Released in Theaters: Oct. 16, 2014 (2D, 3D)
Genre: Family, History, Animated
Runtime: 95 minutes
Directed by: Jorge R. Gutierrez
Studio: 20th Century Fox Film Corp.
Cast: Diego Luna, Zoe Saldana, Channing Tatum
Official Site: The Book of Life
REVIEW: I started watching "The Book of Life" and couldn't decide whether it's ok for kids or not. The story centers on "The Day of the Dead," for gosh sakes, so we're talking life and death and everything in between (read more about it here). But I opened my heart up to the movie as it went along, and by the end, decided that it's ok for ages 7 and older.
It's a vibrant, beautiful story with gorgeous animation, and it's not dumbed-down for kids, which is always a thrill (because so many family movies ARE dumbed-down). "The Book of Life" delves into Mexican culture and festivities, and reminds us that while death is sad, it can also be a celebration of remembrance and love. That's fantastic.
"The Book of Life" is a story within a story, as modern-day school kids go on a field trip to a museum and are taken through a magical door to a secret room. Their tour guide begins to tell them the story of two boys, Manolo (voiced by Diego Luna), and Joaquin (Channing Tatum), both of whom have loved Maria (Zoe Saldana) all their lives.
The boys don't realize, however, that the kind and honorable La Muerte (Kate del Castillo) and the evil Xibalba (Ron Perlman) — the rulers of the underworld — made a bet over which boy Maria would marry.
When Maria is sent away to school, she comes back more confident and beautiful than ever. Meanwhile, Joaquin becomes the town hero, while Manolo grows into a sensitive guitar player whose family wants him to be a ruthless bullfighter, which goes against his very nature.
Xibalba is intent on winning that bet, so he arranges to have his snake bite Manolo, who must travel through the underworld on The Day of the Dead, the biggest party of the year, to try and get back to his true love, Maria, in this world.
As mentioned, "The Book of Life" is a gorgeous movie that blends Mexican mythology and folklore with a cute story. The voice cast is perfect — Luna as the charming Manolo, Tatum as the brash Joaquin, and Saldana as the sassy Maria. I do love a children's film with a smart, independent female.
And I absolutely love the soundtrack of this film. Diego Luna performs many of the songs, like "No Matter Where You Are," "I Will Wait," "Can't Help Falling in Love With You," and "Si Puedes Perdonar." All lovely – just like this movie.
There are also some smart messages for kids embedded in the colorful story; things like, "write your own story," "to be a true hero, you have to be selfless" and people may come and go, but they're never forgotten.
Perhaps the most important message occurs at the end of the movie, when La Muerte says, "Anyone can die, but these kids, they will have the courage to live." I only hope that message gets to the kids who need it most.
THE DETAILS:
Sex/Nudity: Joaquin and Manolo are both in love with Maria and try to kiss her a few times (Manolo eventually succeeds). To help Manolo romance Maria, a mariachi band sings "Just a Friend" and "If You Think I'm Sexy."
Violence/Gore: The story centers on many death references and images, including skeletons, beheaded figures, and a scary demon bull. Manolo fights real-life bulls, and Xibalba, the king of the underworld, is scary and loud. Manolo dies, becomes a skeleton figure, and reunites with his dead ancestors, including his mother (who carries his grandfather's beheaded head around). A cane transforms into a snake and bites two characters. A climactic battle scene involves sword-fighting and fist-fighting. Joaquin and Manolo get into a hilarious slap-fight over Maria.
Profanity: A few insults like "lazy bum," "kick his butt" and "detention kids."
Drugs/Alcohol: Some drinking, but it's unclear whether it's alcoholic.
Which Kids Will Like It? Kids 7 and older who like colorful animated movies with a historic bent.
Will Grownups Like It? Both kids and grownups will find plenty to like about this movie, including learning about Mexican folklore. I also love that even when people die, they're honored and remembered forever, especially on The Day of the Dead.
JANE'S REEL RATING SYSTEM:
One Reel – Even the Force can't save it.
Two Reels – Coulda been a contender
Three Reels – Something to talk about.
Four Reels – You want the truth? Great flick!
Five Reels – Wow! The stuff dreams are made of.
Jane Boursaw is the founder and editor-in-chief of Reel Life With Jane. Her credits include hundreds of print and online publications, including The New York Times, People Magazine, Variety, Moviefone, TV Squad and more. Reel Life With Jane.