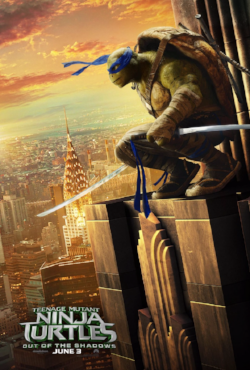 MOVIE SYNOPSIS: This movie continues the story of Turtle brothers Leonardo, Michelangelo, Donatello, and Raphael, still living in the sewers and confronting a supervillain named Krang.
Reel Rating: 3.5 out of 5 Reels
MPAA Rating: PG-13 for sci-fi action violence
Released in Theaters: June 3, 2016
Best for Ages: 11+
Genre: Action/Adventure, Sequel, Superheroes
Runtime: 112 minutes
Directed by: Dave Green
Studio: Paramount
Cast: Megan Fox, Will Arnett, Stephen Amell
MOVIE REVIEW: This sequel to 2014's "Teenage Mutant Ninja Turtles" continues the story of brothers Leonardo (Pete Ploszek), Michelangelo (Noel Fisher), Donatello (Jeremy Howard), and Raphael (Alan Ritchson), who are still living in the sewers in the aftermath of Shredder's (Tohoru Masamune) imprisonment.
The superhero Turtles allowed Vern (Will Arnett) to take all the credit for bringing Shredder down, so he's living large with local fame and a key to the city. But when Shredder and two other criminals are transported to a maximum-security prison, the Foot Clan intervenes, rescuing their evil leader with the help of genius physicist Baxter Stockman (Tyler Perry), who teleports Shredder away.
Shredder connects with a supervillain known as Krang, who tasks Shredder with finding parts of a super-machine that would allow Krang and Shredder to rule the world.
Meanwhile, April (Megan Fox) teams up with corrections officer Casey Jones (Stephen Amell) to help the Turtles find and bring down Shredder and his thugs.
"Teenage Mutant Ninja Turtles: Out of the Shadows" is a little better than the 2014 movie and will likely keep kids and grownups familiar with the franchise entertained.
Kids, in particular, will like the juvenile humor (fart and booger jokes) - the turtles are, after all, teenagers - and parents will like the fact that there's less focus on Megan Fox's sex appeal than in the first movie.
The addition of Shredder's dimwitted goons, Bebop (Gary Anthony Williams) and Rocksteady (Stephen Farrelly) bring some new blood into the storyline. Likewise for Amell, star of The CW's "Arrow," who's both handsome and funny and does a decent job of portraying Jones, the good-humored vigilante who uses hockey sticks and other sports equipment to battle deadly rivals.
And while there's no major romantic developments between Casey and April, you can see that evolving down the line in the inevitable third film that's sure to be made. In summary, this movie is entertaining, especially for fans of the TMNT franchise.
PARENT OVERVIEW: This movie includes plenty of action violence in the way of explosions, crashes, martial arts battles and fighting. Language includes a few uses of "s--t" and "damn," insults like "jackass," and some bodily function humor. There's less innuendo than in the 2014 movie, but there are a few suggestive jokes, as well as April wearing a "sexy schoolgirl" outfit in one scene. The story features an overall theme of brotherhood and teamwork.
PARENT DETAILS (May Contain Spoilers):
Violence/Gore: Lots of cartoonish violence, including hand-to-hand fighting, explosions, martial arts battles and crashes, but not much gore. Vehicles are flipped, blown up and crashed. Characters are injured, and the Turtles square off against a supervillain with various types of weapons.
Sex/Nudity: Some innuendo, though not as much as in the 2014 movie. April wears a form-fitting top, mini-skirt and thigh-high tights to collect information from someone. Two men change into humanoid animals and check out their "packages," then high-five each other approvingly.
Profanity: One "s--t," plus "damn," "hell," "jackass," "idiot," "stupid" and "shut up." Scatological jokes about farts, boogers, etc.
Drugs/Alcohol: Adults hold drinks, presumably alcoholic, at a party.
JANE'S REEL RATING SYSTEM:
One Reel – Even the Force can't save it.
Two Reels – Coulda been a contender
Three Reels – Something to talk about.
Four Reels – You want the truth? Great flick!
Five Reels – Wow! The stuff dreams are made of.
Jane Boursaw is the film critic and editor-in-chief of Reel Life With Jane. Contact her at jboursaw@charter.net.