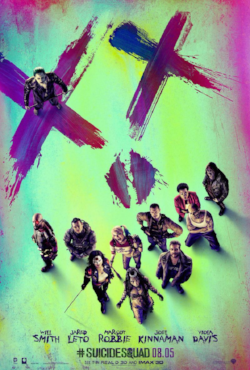 MOVIE SYNOPSIS: Based in the DC Comics universe, "Suicide Squad" follows a team of sketchy anti-heroes, including Will Smith as Deadshot and Margot Robbie as Harley Quinn, who are forced to team up for the greater good.
Reel Rating: 3.5 out of 5 Reels
MPAA Rating: PG-13 for sequences of violence and action throughout, disturbing behavior, suggestive content and language
Released in Theaters: August 5, 2016
Best for Ages: 13+
Genre: Superhero, Action
Runtime: 130 minutes
Directed by: David Ayer
Studio: Universal
Cast: Will Smith, Jai Courtney, Margot Robbie, Jared Leto, Joel Kinnaman
MOVIE REVIEW: There's something alluring about a team of superheroes - or anti-heroes, in this case - who come from the wrong side of the tracks. I half-expected this movie to be rated R - figuring it would be similar to Ryan Reynolds' "Deadpool" in that regard - but it came in with a PG-13 rating to appeal to teens. It's a little too intense for tweens - kids in the 9 to 12 age group - but ok for kids 13 and older.
The characters and story are based in the DC Comics universe, and follow a group of sketchy villains who are forced to team up and work together on a deadly mission to save humanity (but of course). Viola Davis plays Amanda Waller, a ruthless intelligence official who heads a secret government task force that uses imprisoned meta-humans and criminals - a.k.a. the Suicide Squad - with "special skills" to fight other enhanced humans. The takeaway for the Squad is reduced prison sentences.
The Suicide Squad includes a devoted father and assassin-for-hire Deadshot (Will Smith); the Joker's maniacal sweetheart Harley Quinn (Margot Robbie); Aussie thief Boomerang (Jai Courtney); sewer-dwelling creature Killer Croc (Adewale Akinnuoye-Agbaje); fire-starting gangster Diablo (Jay Hernandez); and ancient witch Enchantress (Cara Delevingne), who inhabits the body of the demure June Moone.
When the Enchantress escapes and begins building a weapon of mass destruction, the team's first mission - under the leadership of Col. Rick Flag (The Killing's Joel Kinnaman, one of my favorite actors) - is to stop her. Meanwhile, the Joker (Jared Leto) is bent on freeing Harley.
As I've mentioned with previous superhero movies, I think it helps if you go into it without any expectations - meaning, not a lot of knowledge about the characters. I really liked this movie, unlike other movie critics familiar with the characters and comic book stories who expected more.
A stand-out is Margot Robbie, who doesn't hold back with her Harley Quinn character who chews gum, dresses provocatively and carries a baseball bat as a weapon. Aside from Will Smith, who seems like "Will Smith playing a character," the other Squad-mates sort of all blend in together. Well, I take that back - the fire-starter Diablo, played by Jay Hernandez, has a tragic story that sticks with you.
By the way, Hernandez' character could not be more different than his romantic character of Jessie Harkness on "Bad Moms" (Mila Kunis' love interest). For fans of "Nashville," he also played Dante Rivas in that TV series.
While "Suicide Squad" doesn't have the fun, humorous vibe that some of the other superhero movies have - I'm thinking of "Guardians of the Galaxy, in particular" - these characters are pretty dark with tragic backstories, so I don't know that it would have worked in this movie. Sure, there's a few comical scenes, but it's darker than some of the other superhero films. More in line with "The Dark Knight" trilogy, but not as fleshed out because there are just too many characters here to introduce to the audience. The plot is a bit convoluted, too (which makes the argument for knowing the story and characters before seeing the film). Overall, though, I think "Suicide Squad" is pretty entertaining.
Be sure and stay through the credits. After the movie ended, I got up to leave and noticed everyone else was staying, so I stayed and sure enough, like the Marvel movies, there's a little add-on scene at the end.
PARENT OVERVIEW: Lots of action violence, including execution-style murders, widespread destruction and massive battle scenes. Characters die or are presumed dead. Language includes "s--t," "p---y," "ass" and "bitch," as well as sexist insults and jokes. Sex and romance includes a few passionate kisses, references to sleeping together, and Harley Quinn dressed provocatively in revealing outfits.
PARENT DETAILS (May Contain Spoilers):
Violence/Gore: Violence throughout the movie includes close-up execution-style murders and people shot and killed, both by humans and meta-humans with supernatural abilities. Weapons include automatic guns, baseball bats, military-grade explosives, and boomerangs. A character sets people on fire, and recalls losing control of his abilities, with tragic results. Characters die or are presumed dead.
Sex/Nudity: Several passionate kisses between June and Flag, as well as Harley and the Joker. Harley acts and dresses seductively, including dancing on a pole and at a club. Characters reference sleeping together. The Joker asks an associate if he "wants" Harley.
Profanity: Several uses of "ass," "s--t," "a--hole," "p---y," "d--k," "balls," "hell," "damn," "bitch" and "crap."
Drugs/Alcohol: Characters drink together at a bar. Adults drink at the Joker's club.
JANE'S REEL RATING SYSTEM:
One Reel – Even the Force can't save it.
Two Reels – Coulda been a contender
Three Reels – Something to talk about.
Four Reels – You want the truth? Great flick!
Five Reels – Wow! The stuff dreams are made of.
Jane Boursaw is the film critic and editor-in-chief of Reel Life With Jane. Contact her at jboursaw@charter.net. Images in this review used courtesy of the studio and distributor.