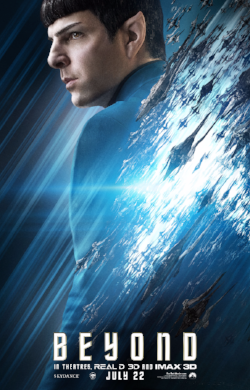 MOVIE SYNOPSIS: The USS Enterprise crew explores the furthest reaches of uncharted space, where they encounter a ruthless new enemy who puts them and everything the Federation stands for to the test.
Reel Rating: 5 out of 5 Reels
MPAA Rating: PG-13 for sequences of sci-fi action and violence
Released in Theaters: July 22, 2016
Best for Ages: 12+
Genre: Action/Adventure, Sci-Fi, Sequel
Runtime: 120 minutes
Directed by: Justin Lin
Studio: Paramount
Cast: Chris Pine, Zoe Saldana, Zachary Quinto, Simon Pegg, Karl Urban, Idris Elba
MOVIE REVIEW: It's the little show that could. Who knew that when Gene Roddenberry launched the original "Star Trek" TV show in 1966 - which only lasted two seasons, by the way - that it would still be going strong 50 years later? And I hope it continues. With this new film, director Justin Lin stays true to the original themes of that first TV series, with plenty of shout-outs to previous incarnations.
Now deep into their five-year mission to explore strange new worlds and seek out new life and civilizations, the crew of the starship Enterprise -- Sulu (John Cho), Scotty (Simon Pegg), Captain Kirk (Chris Pine), Mr. Spock (Zachary Quinto), Uhura (Zoe Saldana), Dr. "Bones" McCoy (Karl Urban), and Chekov (Anton Yelchin, RIP) -- is feeling a tiny bit restless. But onward they go, and their next mission finds them attacked by a swarm of man-sized ships, reducing it to smithereens and stranding the crew on an alien planet. I've gotta say, it's tough to see our beloved U.S.S. Enterprise blown to bits!
On the planet, they meet an alien named Jaylah (Sofia Boutella) and a vengeful creature known as Krall (Idris Elba). Can the team discover Krall's plan and stop him before it's too late? I think we all know the answer to that, but we'll watch just the same, thank you very much.
First of all, it's truly uncanny how much Chris Pine resembles William Shatner, who, of course, played the same character in the 1966 TV series (and many times between then and now). If you squint your eyes, you'd swear you were watching Shatner in the iconic role. Good for Pine, I say. He doesn't go all dramatic like Shatner when he talks, but no one should do that but Shatner.
And there's plenty of references to the original series, like when Bones say, "I'm a doctor, Jim, not a [fill in the blank], the comical banter between Bones and Spock, and even a big shout-out to the original cast.
This is the 13th overall movie in the "Star Trek" franchise, and it's a good one. It's hard to believe you can still turn out a "Star Trek" movie that's fresh and fun, even though the themes are much the same in all of them (evil villain, world ending, yada yada). Justin Lin, who made four of the first seven "Fast & Furious" films, finds just the right balance of fun, poignancy, fast action and witty banter between the characters. And there's a bunch of big action sequences that are just plain fun.
I think Gene Roddenberry would be proud to see where his franchise has boldly gone, and I'm sure he's doing just that somewhere out there.
PARENT OVERVIEW: This installment in the "Star Trek" franchise includes plenty of sci-fi/fantasy action violence, including space battles, crashes, explosions, minor characters being hurt or killed, hand-to-hand and martial arts fighting, and an impressive villain. A major character is injured. Language includes a few uses of "horses--t," as well as "damn," "hell," "bastard," and "my God." Two characters in a romantic relationship are on the outs for most of the movie. A female characters throws a shirtless man out of her cabin/quarters. Characters occasionally drink alcoholic beverages, mainly for enjoyment.
PARENT DETAILS (May Contain Spoilers):
Violence/Gore: Sci-fi/fantasy violence throughout, including big battles in space, crashes, explosions, hand-to-hand fighting, martial arts fighting and laser-gun shooting. A character is impaled with a small chunk of metal, and the wound is cauterized with heated metal. Minor characters are injured or die. Some blood is shown, but not much.
Sex/Nudity: A brief kiss on the cheek between a couple on the outs. Other brief scenes include a flirtation in a corridor and a woman throwing a shirtless man out of her cabin/quarters.
Profanity: Infrequent language includes a few uses of "horses--t," as well as "damn," "hell," "crap," "bastard," and "my God" used as an exclamation.
Drugs/Alcohol: Characters drink fancy scotch or alien brandy for enjoyment. A character drinks to "take the edge off," and she's seen with several empty glasses on a table in front of her.
JANE'S REEL RATING SYSTEM:
One Reel – Even the Force can't save it.
Two Reels – Coulda been a contender.
Three Reels – Something to talk about.
Four Reels – You want the truth? Great flick!
Five Reels – Wow! The stuff dreams are made of.
Jane Boursaw is the film critic and editor-in-chief of Reel Life With Jane. Contact her at jboursaw@charter.net. Images in this review used courtesy of the studio and distributor.