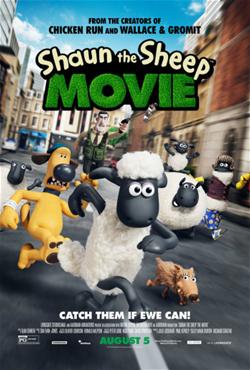 SYNOPSIS: When Shaun the Sheep decides to take the day off and have some fun, he gets more action than he bargained for. A mix up with the Farmer, a caravan, and a very steep hill lead Shaun and his farmyard pals to the Big City, where they must return everyone safely to the barnyard.
Reel Rating:
4.5 out of 5 Reels
MPAA Rating: PG for rude humor
Released in Theaters: Aug. 5, 2015
Best for Ages: 5+
Genre: Family, Animated
Runtime: 85 minutes
Directed by: Mark Burton, Richard Starzak
Studio: Aardman Animations, Lionsgate
Cast: Justin Fletcher, John Sparkes, Omid Djalili
Official Site: Shaun the Sheep
REVIEW: The first thing you need to know about "Shaun the Sheep" is that there's no dialogue. Well, there's some dialogue, but nothing I could understand. But that only adds to the charm of this cute family film from Aardman Animations, the same company behind "Wallace & Gromit" (there's also a "Shaun the Sheep" TV series on the Disney Channel).
In the "Shaun the Sheep" movie, we find a Farmer (voiced by John Sparkes) who runs his Mossy Bottom Farm on a very predictable schedule, thanks to help from his trusted sheepdog Bitzer (also voiced by Sparkes) and a herd of sheep he's had since they were baby lambs.
When one of those sheep, Shaun (Justin Fletcher), gets bored, he takes the advice of a bus billboard promoting "A Day Off" and plans an elaborate scheme to make the Farmer sleepy, put him in the farm trailer, and have a day off.
But things take an unexpected turn when the trailer rolls away and the Farmer ends up in the Big City with memory loss and finds work as a rock-star hair stylist. So the sheep head to the city to help the Farmer, but end up being pursued by an evil animal control officer.
"Shaun the Sheep" is cute, fun, adorable and entertaining, and features Aardman's signature wit and style. It also includes jokes for all ages, so it's the perfect family film for parents to see with their kids.
And at just 85 minutes, the action moves along pretty fast, making this movie a winner for both kids and grownups.
THE DETAILS (May Contain Spoilers):
Sex/Nudity: Two sheep pose as a woman, and a man flirts with "her." Romantic music plays as Bitzer salivates over some bones. A man is photographed nude, but everything is covered.
Violence/Gore: The animal control officer is frightening as he grabs animals and puts them in cages. He also uses a device to collar the animals and seems determined to hurt them, including nearly pushing them over a quarry. A surgery scene includes a scalpel about to cut into skin.
Profanity: No language, but plenty of potty humor (poop jokes, farts, burps).
Drugs/Alcohol: None.
Which Kids Will Like It? Kids aged 5 and older who like the "Shaun the Sheep" TV show or cute animated stories about animals.
Will Grownups Like It? "Shaun the Sheep" is adorable, and grownups can rest easy knowing there's nothing too questionable here for kids.
JANE'S REEL RATING SYSTEM:
One Reel – Even the Force can't save it.
Two Reels – Coulda been a contender
Three Reels – Something to talk about.
Four Reels – You want the truth? Great flick!
Five Reels – Wow! The stuff dreams are made of.