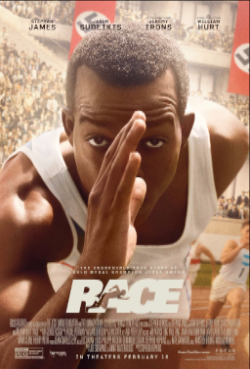 MOVIE SYNOPSIS: "Race" tells the story of sports legend Jesse Owens, whose quest to become the greatest track and field athlete in history thrust him onto the world stage of the 1936 Olympics, where he faced off against Nazi Germany.
Reel Rating: 3.5 out of 5 Reels
MPAA Rating: PG-13 for thematic elements and language
Released in Theaters: Feb. 19, 2016
Best for Ages: 13+
Genre: Drama, Sports, Biography
Runtime: 134 minutes
Directed by: Stephen Hopkins
Studio: Focus Features
Cast: Stephan James, Jason Sudeikis, Carice Van Houten
MOVIE REVIEW: Movies about historical events are always welcome in my world, even if they're "polite" recollections of important events.
"Race" tells the story of African-American track and field athlete Jesse Owens (Stephen James), who made history at the 1936 Olympics in Berlin. The story begins with Owens accepting a scholarship to Ohio State University, where he immediately forms a bond with the track coach, Larry Snyder (Jason Sudeikis).
Despite having a fiancé and daughter back home who depend on him for financial help, Owens manages to set three world records and tie another at a Big Ten track meet in 1935.
As Owens' athletic star rises, the American Olympic Committee (AOC) fights an internal battle about whether to boycott the 1936 Olympic games being held in Nazi-run Germany. American businessman Avery Brundage (Jeremy Irons) attempts to deal with the Germans and Reich Propaganda Minister Joseph Goebbels (Barnaby Metschurat), who uses filmmaker Leni Riefenstahl (Carice van Houten) to ensure that the Americans will compete in Berlin.
"Race" is a well-done film, but I feel like it could have done a better job of fleshing out the iconic real-life character of Jesse Owens. He's pleasant, kind, hardworking, disciplined and sweet. So much so that when he's unfaithful to his fiancé, Ruth (Shanice Banton), while on a trip to California, he immediately does the right thing and begs for forgiveness.
I know there's only so much you can pack into 134 minutes, but most of the characters, including Owens and Snyder, feel overly sanitized. "Race" reminds me of 2012's "Red Tails," director Anthony Hemingway's film about the African American pilots in the Tuskegee training program during WWII. A movie about a major historical event, but not a lot of substance.
The pacing of "Race" seems off, as well, as director Stephen Hopkins continually interrupts the flow of the somewhat tame Jesse Owens storyline with the drama taking place within the Olympics office. We get a peripheral glimpse of the Olympics boycott through William Hurt's character of Jeremiah Mahoney. He led the charge to boycott the games in solidarity with the oppressed victims of Nazi Germany. When the NAACP asks Owens to boycott the games, he does consider it, but ultimately competes.
At any rate, despite my quibbles with "Race," it's an ok movie about an important event in our nation's history. And because it's rated PG-13, it's a good history lesson for teen moviegoers.
Stay through the end credits for a look at the real-life people portrayed in the movie (always my favorite part).
PARENT OVERVIEW: "Race" includes several uses of racial slurs, as well as "s--t," "bulls--t," "a--" and "son of a bitch." A tense scene involves Nazi soldiers demanding, at gunpoint, that Owens' coach show his papers. Characters drink, kiss passionately, and make racy comments and jokes.
PARENT DETAILS (May Contain Spoilers):
Violence/Gore: Nazis round up Jews on the street. Armed soldiers demand papers from an American in Berlin. An intense shouting match between Coach Snyder and Owens. Some locker room tension between white and African-American athletes.
Sex/Nudity: A few passionate kisses, references to premarital sex (which led to teen pregnancy), and comments about whether guys can get women into bed. Jesse Owens dances and flirts with a woman who isn't his fiancé, and it's implied that they have sex.
Profanity: Occasional racist language includes "nigger," "jigaboo," "coon," "negro" and "cracker," as well as "s--t," "a--hole," "a--," "son of a bitch" and "goddamn." German anti-Jewish signs are shown, with subtitles indicating the words.
Drugs/Alcohol: Coach Snyder drinks whiskey from a bottle or flask. He's drunk in one scene, and it's implied that he has a drinking problem. A few scenes of college kids drinking. Owens drinks alone at one point.
JANE'S REEL RATING SYSTEM:
One Reel – Even the Force can't save it.
Two Reels – Coulda been a contender
Three Reels – Something to talk about.
Four Reels – You want the truth? Great flick!
Five Reels – Wow! The stuff dreams are made of.
Jane Boursaw is the film critic and editor-in-chief of Reel Life With Jane. Contact her at jboursaw@charter.net. Images in this review used courtesy of the studio and distributor.