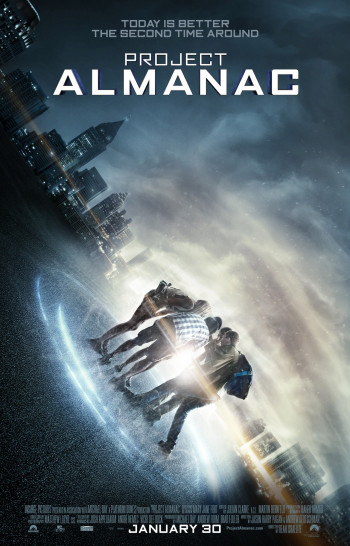 SYNOPSIS: When a group of teens discover secret plans for a time machine, they go about building one. But when you mess with the past, the future changes.
Reel Rating: 3.5 out of 5 Reels
MPAA Rating: PG-13 for some language and sexual content
Released in Theaters: Jan. 30, 2015
Best for Ages: 13+
Genre: Sci-Fi, Action, Thriller
Runtime: 106 minutes
Directed by: Dean Israelite
Studio: Paramount Pictures
Cast: Jonny Weston, Sam Lerner, Sofia Black-D'Elia
Official Site: Project Almanac
REVIEW: I guess "found footage" movies are the thing now, because then you don't have to worry about the filming being super clear and steady, right? At least, that's my theory on all the found footage movies over the past decade.
I don't mind them so much, but I just wish that whoever is filming the scenes on screen had one of those camcorders with a built-in steady-shot. That's not the case with "Project Almanac," where I had to shut my eyes through the shaky scenes. Or at the very least, how about using the camcorder for a scene here and there, instead of the whole movie? Just throwing that out there.
But I like the story in "Project Almanac," because time-travel in any form is always intriguing. The movie follows David Raskin (Jonny Weston), a genius teenager who lost his father years earlier (sorry, folks, another "missing parent" movie). David is thrilled when he's accepted into MIT, but a small scholarship only covers part of the cost, so his mom decides to sell their house to pay for his tuition.
Then David stumbles across plans for a time machine in his dad's basement workshop, which has remained untouched through the years. After some trial and error, David and his friends (Sam Lerner, Allen Evangelista and Sofia Black-D'Elia) and sister (Virginia Gardner) manage to actually build a time machine and proceed to use it to pass school exams, win the lottery, and get revenge and assorted do-overs. Except, as we all know, even the smallest events can change the course of history, and that's just what happens when they retreat back into time.
While "Project Almanac" never goes particularly deep, that's ok. It's entertaining, thought-provoking, thrilling, comical at times, and features a touching father-son storyline.
The special effects are pretty cool, everyone plays their part well, and you're never quite sure where the story is headed. That's always a bonus these days when you can usually see a movie's ending a mile away.
THE DETAILS (May Contain Spoilers):
Sex/Nudity: Some innuendo, flirting and kissing. Teens talk about sex, and two characters have sex (off camera) and are seen in bed together. A teen girl comes out of a bathroom wearing only a towel, then opens it to show a boy her body. Scantily-clad teens are shown at an outdoor concert.
Violence/Gore: Characters and objects are tossed about during time-travel scenes. Teens are chased by angry dogs and cops. Teens break into a school and steal things.
Profanity: Includes "s–t," "hell," "God dang it," "idiot," and "b–ch."
Drugs/Alcohol: None.
Which Kids Will Like It? Kids 13 and older who like sci-fi thrillers starring teens.
Will Grownups Like It? Time-travel is always entertaining, though I could do without the shaky-camera action.
JANE'S REEL RATING SYSTEM:
One Reel – Even the Force can't save it.
Two Reels – Coulda been a contender
Three Reels – Something to talk about.
Four Reels – You want the truth? Great flick!
Five Reels – Wow! The stuff dreams are made of.
Jane Boursaw is the film critic and editor-in-chief of Reel Life With Jane. Contact her at jboursaw@charter.net and check out the shop for fresh editorial content.