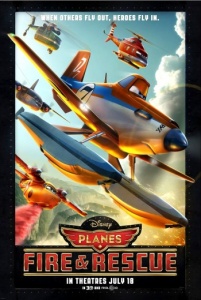 SYNOPSIS: This sequel to 2013′s "Planes" finds Dusty's engine damaged to the point where he may never race again. So he joins forces with fire and rescue helicopter Blade Ranger and his team, The Smokejumpers, to battle a massive wildfire.
Reel Rating: 4 out of 5 Reels
MPAA Rating: PG for action and some peril
Released in Theaters: July 18, 2014 (2D, 3D)
Genre: Family, Sequel, Animation
Runtime: 83 minutes
Directed by: Roberts Gannaway
Studio: Walt Disney Studios Motion Pictures
Cast: Dane Cook, Julie Bowen, Ed Harris, Hal Holbrook, Teri Hatcher, Stacy Keach
Official Site: Planes: Fire & Rescue
REVIEW: Yay! It's another "Planes" movie! And it's better than the first one! This sequel to 2013′s "Planes" (which was a spin-off of the "Cars" franchise) finds racing champ and former crop duster Dusty Crophopper (voiced by Dane Cook) in training for his next race. But things start to spiral out of control when he learns that his gearbox is damaged and the replacement part is out of production. In short, he might not be able to race anymore!
Dusty has a pretty good attitude about life's twists and turns, but in a moment of despair, he accidentally starts a fire that shuts down the Propwash Junction airport. One thing leads to another and pretty soon, he's in training to be a firefighter at Piston Peak National Park, a gorgeous landscape of forests and mountains akin to Yellowstone and Yosemite.
Dusty may be a rock star racer to some, but veteran helicopter and firefighter Blade Ranger (Ed Harris) isn't impressed. Still, he trains the earnest young plane to work with his crew, which includes a cargo plane, military helicopter, air tanker, and adorable smoke jumpers. When a wildfire rages through the forests and mountains, Dusty and the crew fight diligently to save Piston Peak.
I saw the 2D version of "Planes: Fire & Rescue," but if you have little ones in tow, it might be worth splurging for the 3D version. The animation is absolutely stunning, and you'll almost feel like you're soaring above the mountains, waterfalls, cliffs, forests and massive trestles spanning steep gorges.
Likewise, they've fleshed out the characters from the first movie and everyone is likeable and entertaining (voices include Julie Bowen, Curtis Armstrong, Hal Holbrook, Teri Hatcher, Stacy Keach and Brad Garrett). The action is intense, and the fires reminiscent of the sweeping wildfires we've seen out west this year. Both kids and parents will love the visuals, and the compelling story shows the important work that firefighters are doing. As one of the characters notes, "They fly in when others are flying out."
There are also several fun pop culture references parents will love, too. Blade Ranger used to star in a TV show called "CHoPs," and his partner in the show – via flashbacks – is voiced by Erik Estrada, who of course, starred in "CHiPs" back in the 1970s and 80s. And being a fan of the rock group AC/DC, I love that they played "Thunderstruck" during a pivotal firefighting scene.
Stereotypes aren't quite as prevalent here as they were in the first movie, but there's a boy-crazy female plane who has a crush on Dusty and makes suggestive comments, like "they're real" when referring to some of her parts. Is that really necessary in a kid's movie? I think not.
Still, Dusty is a great example of someone who forges onward through life's disappointments, and "Planes: Fire & Rescue" is a beautiful tribute to the people who put their lives at risk to keep our national parks safe.
THE DETAILS:
Sex/Nudity: A female firefighting plane has a crush on Dusty and talks about sharing a room with him at the lodge, going on dates with him, and having children together one day. She also makes suggestive comments ("they're real," she says about some of her parts). In a flashback scene, Blade Ranger is seen in a TV show called "CHoPs," where he and his partner pick up "twin" cars. At a bar, a truck tries to hit on a car. An older motor home couple talk about their romance and engagement.
Violence/Gore: Frightening wildfires result in several perilous scenes, including characters trapped on a bridge, surrounded by fire, flying into dangerous smoke and fire, crashing into a river and caught up in the rapids approaching a waterfall, and trapped in an old mine with fire raging around them. Characters sustain injuries from heat, smoke and debris. Photos on a wall show planes that have crashed. In a moment of anger, a character accidentally causes a fire at Propwash Junction, and others are put in peril while dowsing the flames.
Profanity: Some crude, gas-related humor. A few phrases suggest swearing, like "I kicked Aston-Martin," "oh, Chevy" and "shut the hangar door." Insults include "bumper kisser" and "dumb."
Drugs/Alcohol: Planes and vehicles socialize in a lodge and a hangar that looks like a bar, drinking from cans of motor oil. Someone mentions a "motor-jito."
Which Kids Will Like It? Kids 6 and older who liked the first "Planes" movie or animated features with lots of action.
Will Grownups Like It? The scenery is gorgeous, and grownups will love the pop culture references.
JANE'S REEL RATING SYSTEM:
One Reel – Even the Force can't save it.
Two Reels – Coulda been a contender
Three Reels – Something to talk about.
Four Reels – You want the truth? Great flick!
Five Reels – Wow! The stuff dreams are made of.
By Jane Louise Boursaw. Jane Boursaw is a family entertainment writer specializing in movies and TV. Visit her at http://www.reellifewithjane.com, email jboursaw, or Google+