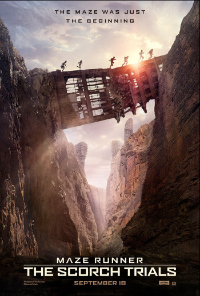 SYNOPSIS: Having escaped the Maze, the Gladers now face a new set of challenges on a desolate landscape filled with unimaginable obstacles
Reel Rating: 4 out of 5 Reels
MPAA Rating: PG-13 for extended sequences of violence and action, some thematic elements, substance use and language
Released in Theaters: Sept. 18, 2015
Best for Ages: 14+
Genre: Action, Adventure, Sequel, Based on a Book
Runtime: 131 minutes
Directed by: Wes Ball
Studio: 20th Century Fox
Cast: Kaya Scodelario, Dylan O'Brien, Ki Hong Lee, Thomas Brodie-Sangster
Official Site: Maze Runner: The Scorch Trials.
REVIEW: I loved the first "Maze Runner" movie and have been looking forward to this one. It doesn't disappoint. This movie is high-action and fast-paced, and brings in a "Walking Dead" element that really ramps up the storyline.
The story picks up shortly after the end of the 2014 movie, with Thomas (Dylan O'Brien), Theresa (Kaya Scodelario), Newt (Thomas Brodie-Sangster), Minho (Ki Hong Lee), and the other surviving Gladers under the protection of Jansen (Aidan Gillen), who assures them they're safe from WCKD — the nefarious organization that held them captive in the Maze.
The kids connect with teens from other Mazes, including Arris (Jacob Lofland), who reveals that things aren't what they seem. So the kids escape Janson's control and team up with rogue community leader Jorge (Giancarlo Esposito) and brave teen Brenda (Rosa Salazar) to find the mysterious "Right Arm," a clandestine resistance group fighting against WCKD.
"Maze Runner: The Scorch Trials" is gripping. The action is not only riveting, but is filmed in such a way that you feel like you're right in the middle of it, complete with a sand-swept apocalyptic landscape that's a blend of "Life After People" and "Mad Max: Beyond Thunderdome."
O'Brien continues his reign as the determined and charming (oh, those eyes!) Thomas. (Be sure and also check out "Teen Wolf," the MTV series in which he plays Stiles.) Since the kids are mostly on the run, much of the story centers on the action (super perilous at times, with great special effects) and them fighting off zombie-like creatures called Cranks. Look for a few jump-worthy moments there.
As such, there isn't much time for character development beyond what we learned in the first movie, although there are several scenes of conversation between Thomas and his old friends, as well as his new friend, the independent Brenda.
This movie avoids the stereotypical teen dystopian trend by creating action sequences that are both dazzling and nail-biting. Seriously, I thought I was watching the AMC TV series "The Walking Dead" at times (but this isn't QUITE as gory as that show).
Director Wes Ball's adaptation is faithful to the book by James Dashner, and this movie sets things up nicely for the third movie in the series, "The Maze Runner: The Death Cure," hitting theaters in 2017 (so far away!).
THE DETAILS (May Contain Spoilers):
Sex/Nudity: A female character changes clothes; nothing is shown, but a character turns another character's head away from watching. Teens and young adults dance at a club, and two teens kiss (under the influence of a drug).
Violence/Gore: Guns, tasers and other weapons are used to subdue the Gladers. The body count is high, as people are injured and die from gunfire (including one person brutally murdered execution-style), explosions, falls, torture and one heart-breakingly self-inflicted wound (off-camera). A deadly virus infects characters. A character is beaten to the point where his eye is swollen shut. Zombie-like creatures chase and bite people.
Profanity: Includes "bastard," "damn," "s–t," "son of a bitch," "what the hell," and "Jesus" and "oh my God" as exclamations. A character gestures with the middle finger.
Drugs/Alcohol: Teens are forced to drink liquor at a club where everyone is drinking, and the drink makes them woozy and uninhibited. Characters are injected with a "vitamin cocktail" a few times.
Which Kids Will Like It? Kids aged 14 who liked the first movie or the James Dashner novels.
Will Grownups Like It? This movie is really well done and full of action and thrills. I suggest reading the "Maze Runner" books before seeing the movies.
JANE'S REEL RATING SYSTEM:
One Reel – Even the Force can't save it.
Two Reels – Coulda been a contender
Three Reels – Something to talk about.
Four Reels – You want the truth? Great flick!
Five Reels – Wow! The stuff dreams are made of.
Jane Boursaw is the founder and editor-in-chief of Reel Life With Jane. Her credits include hundreds of print and online publications, including The New York Times, People Magazine, Variety, Moviefone, TV Squad and more.