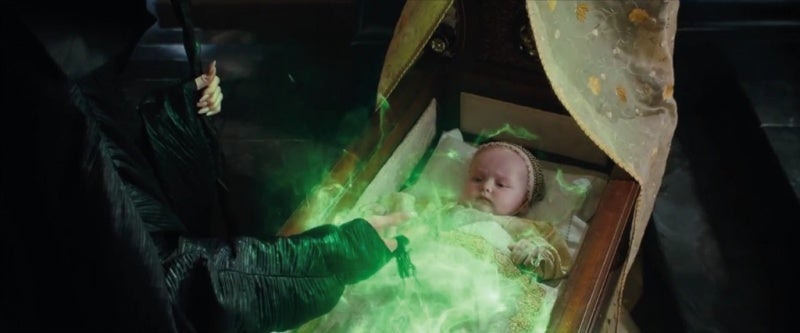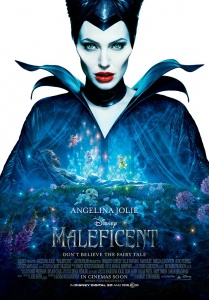 SYNOPSIS: This spin on the classic fairy tale "Sleeping Beauty" finds Angelina Jolie playing the vindictive fairy Maleficent, whose bitterness drives her to curse an infant princess only to realize the child may be the only one who can restore peace to the land.
Reel Rating: 4.5 out of 5 Reels
MPAA Rating: PG for sequences of fantasy action and violence, including frightening images
Released in Theaters: May 30, 2014 (2D, 3D)
Genre: Fantasy, Fairy Tale
Runtime: 97 minutes
Directed by: Robert Stromberg
Studio: Walt Disney Pictures
Cast: Angelina Jolie, Elle Fanning, Sharlto Copley, Leslie Manville, Imelda Staunton, Juno Temple, Sam Riley, Brenton Thwaites, Kenneth Cranham
Official Site: Maleficent
REVIEW: Talk about someone being born to play a role. If there was ever an actress born to play the gothic and hard-edged Maleficent from the classic fairy tale "Sleeping Beauty," it's Angelina Jolie. Add in a set of magnificent wings, some razor-sharp cheekbones (nice work, makeup department), scary green eyes, clipped speaking tones and a wicked laugh, and she practically flies off the screen at you. I saw the 2D version, but may have to go back for the 3D version. I'm sure it'll feel like she's sitting in the seat next to me, which ok, could be a little frightening. And I really loved the movie, so that's another reason to see it again.
"Maleficent" spins the classic tale of "Sleeping Beauty" from the perspective of the villain (or … is she…?). Jolie plays the title character, who starts out as a lovely young fairy with wings so big they drag on the ground. She's an innocent creature who lives peacefully in the magical moors near the human kingdom.
When a young peasant boy named Stefan wanders into the moors, young Maleficent bonds with him, and their friendship eventually grows into romance over the years. But when Stefan (Sharlto Copley plays the older Stefan) does something unthinkable to Maleficent to gain the king's favor, the wounded fairy grows bitter and dark because of his betrayal.
When Stefan is crowned king, and his queen gives birth to a baby girl, Maleficent gets her revenge by putting a terrible curse on young Princess Aurora (played as a 5-year-old by Jolie's own daughter, Vivienne Jolie-Pitt, the only young actress who wasn't scared to bits by the dark Maleficent, because, well, it's her mom).
What Maleficent doesn't realize is that the princess will grow into a sweet and curious girl (Elle Fanning plays the older girl), and she may be the only person who can bring peace to the land again. Not only that, but Maleficent develops a soft spot for the girl and realizes maybe that curse wasn't the best decision she's ever made.
I've already sang the praises of Jolie, but there's plenty of other reasons to love "Maleficent." The special effects and gorgeous scenery take your breath away. The moors range from sweet and enchanting to dark and scary. The castle is imposing, and the costumes are magnificent. The whole film is a virtual feast for the senses, which is not surprising given director Robert Stromberg's history as a visual effects specialist and production designer on such films as "Life of Pi," "Oz the Great and Powerful," and "Alice in Wonderland." I mean, he's kind of the perfect director for "Maleficent."
As for the storyline, there's a really interesting plot twist at the end, which I won't give away. But it reminds me a bit of the plot twist in "Frozen" and really makes you smile when you realize what's happening. I love it when movies make me do that. Oh, and the three fairies who take care of Aurora – played by Leslie Manville, Imelda Staunton and Juno Temple – are a hoot!
THE DETAILS:
Sex/Nudity: Maleficent and Stefan share an innocent romance. There's a few kisses, including one romantic kiss between Aurora and a prince.
Violence/Gore: Maleficent might be scary for young viewers, which is why I recommend this movie for kids 8 and older. Maleficent cries out in grief when she realizes that her wings have been cut off, spiraling the film into a dark tone, which includes a spiky wall of trees around the moors, various battles between the humans and creatures, and a climactic fight scene between Maleficent and the king and his guards. A character plunges to his death, and other characters die on and off screen. A baby appears to be in danger. A young girl nearly wanders over the edge of a cliff. The three fairies can be rough with each other, hitting and pulling each others' hair. Maleficent is able to toss people about with the flick of a finger.
Profanity: A few insults such as "idiot" and "imbecile."
Drugs/Alcohol: None.
Which Kids Will Like It? Kids 8 and older who like fairy-tale based movies.
Will Parents Like It? There's enough character intrigue and beautiful cinematography in "Maleficent" to keep both kids and grownups happy.
JANE'S REEL RATING SYSTEM:
One Reel – Even the Force can't save it.
Two Reels – Coulda been a contender
Three Reels – Something to talk about.
Four Reels – You want the truth? Great flick!
Five Reels – Wow! The stuff dreams are made of.
Jane Louise Boursaw. Jane Boursaw is a family entertainment writer specializing in movies and TV. Visit her at http://www.reellifewithjane.com, email jboursaw, or Google+