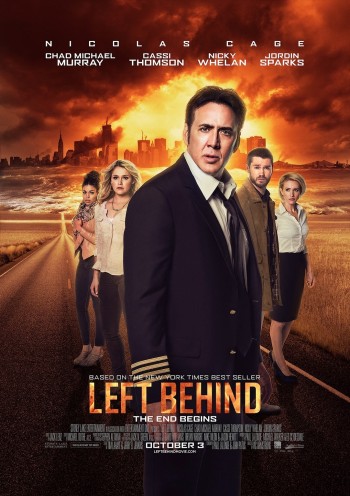 SYNOPSIS: When millions of people suddenly vanish, the world is plunged into chaos and destruction as a small group of survivors struggle to figure out what happened.
Reel Rating: 2.5 out of 5 Reels
MPAA Rating: PG-13 for some thematic elements, violence/peril and brief drug content
Released in Theaters: Oct. 3, 2014
Genre: Faith-Based, Thriller
Runtime: 110 minutes
Directed by: Vic Armstrong
Studio: Freestyle Releasing, eOne Entertainment
Cast: Nicolas Cage, Chad Michael Murray, Cassi Thomson
Official Site: Left Behind
REVIEW: Nicolas Cage in an end-of-days movies is six shades of awesome. For one thing, I'm always trying to figure out how faith-based movies can bring in more viewers, and Cage not only has commercial appeal, but the idea of him running around yelling at panicked survivors is a recipe for unintentional comedy.
Unfortunately, he doesn't get much of a chance for any of his famous freak-outs, because he's confined to the cockpit of an airplane for most of the movie. He does, however, have some classic Nic Cage moments, like when a flight attendant asks him if he's afraid and he says in his droll voice, "I will be … as soon as I have time."
"Left Behind" is a remake of the 2000 film starring Kirk Cameron, which also spawned a couple of direct-to-DVD sequels. The films are based on a series of novels by Tim LaHaye and Jerry B. Jenkins, which tell the story of the Biblical Rapture — Christians are sent immediately to Heaven, and those "left behind" must deal with the apocalypse.
In the new "Left Behind" movie, Cage plays Captain Rayford Steele, an airline pilot who can't celebrate his birthday with his family because of a last-minute assignment to fly from New York to London. But we soon learn that his relationship with his wife Irene (Lea Thompson) is strained, and he's attracted to perky flight attendant Hattie (Nicky Whelan), who's also on the flight.
Meanwhile, Ray and Irene's daughter Chloe (Cassi Thomson) has flown in from college to celebrate her dad's birthday. She's disappointed that he's leaving, but sees him briefly at the airport. She also meets a famous TV reporter, Buck Williams (Chad Michael Murray), who's about to board her father's plane, but not before sparking a romance with Chloe.
When millions of people around the globe, including all children, suddenly vanish, the world is plunged into chaos and panic. Ray must get his plane back on the ground safely, while Chloe searches for her brother and mom, who's been trying unsuccessfully to convince her family that the Rapture is about to happen. They're sorry they didn't listen to her now.
As a faith-based movie with a message (believe in God, people, don't just talk about it!), "Left Behind" delivers the goods. On a cinematical level, however, it fails. There's a whole subplot happening on the plane, involving a group of characters right out of central casting: a drug addict, a devout Muslim, a gambler, a scientist, an older couple, a mom (Jordin Sparks) and her child, and a scientist.
The dialogue is ridiculously cheesy, and the "thriller" part of it doesn't get much past, "Huh, look at that. A bunch of people just vanished into thin air," when it should be a complete freak-out along the lines of, "WHAT THE HECK IS HAPPENING?! WHERE DID EVERYONE GO?!"
Basically, "Left Behind" needs more Nic Cage. The movie took in only $6.8 million from 1,825 theaters at the weekend box office, and landed an average rating of 2.1 out of 10 on Rotten Tomatoes. Ouch.
But the ending leaves things open for a sequel, and I've heard that the other two movies in the trilogy are in a go mode, with Thomson, Murray and Whelan on board to reprise their roles. No word on Cage. We can only hope he signs on and gets to go a little crazy.
THE DETAILS:
Sex/Nudity: A married man is attracted to someone other than his wife. He takes off his wedding ring and flirts with a flight attendant. Female characters are dressed in tight-fitting clothes.
Violence/Gore: When the Rapture occurs, people vanish into thin air, causing panic for those left behind. Traffic jams result in angry people yelling at each other. A character is shot while leaving a store, and the shooter points a shotgun at other people. A woman on a plane points a gun at various passengers. People run around in chaos, pushing and shoving each other while searching for loved ones. People begin looting stores, and a character's backpack is grabbed. Two planes collide in mid-air; one goes down while the other suffers damage and fuel loss, and is forced to land amidst lots of fire.
Profanity: None.
Drugs/Alcohol: A character is a drug addict with track-marks on her arms; she has a plastic bag full of white powder.
Which Kids Will Like It? Kids 13 and older who like Nicolas Cage or faith-based movies.
Will Grownups Like It? There's nothing too objectionable for kids 13 and older, and the Biblical message delivers. But overall, it's not a great production.
JANE'S REEL RATING SYSTEM:
One Reel – Even the Force can't save it.
Two Reels – Coulda been a contender
Three Reels – Something to talk about.
Four Reels – You want the truth? Great flick!
Five Reels – Wow! The stuff dreams are made of.
Jane Boursaw is the founder and editor-in-chief of Reel Life With Jane. Her credits include hundreds of print and online publications, including The New York Times, People Magazine, Variety, Moviefone, TV Squad and more. Reel Life With Jane.