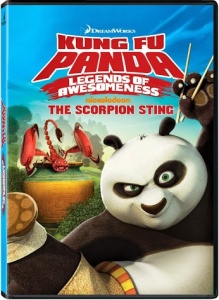 SYNOPSIS: Based on the Oscar-nominated "Kung Fu Panda" movie franchise, this fun Nickelodeon TV series offers more high-kicking, fur-flying adventures from Dragon Warrior Po and his buddies Tigress, Monkey, Mantis, Crane and Viper, under the guidance of their wise and patient master, Shifu.
Reel Rating: 4 out of 5 Reels
TV Rating: TV-Y7
Released on DVD: Oct. 15, 2013
Genre: Family, Comedy, Animated
Runtime: 154 minutes
Directed by: Jim Schumann and more
Cast: Fred Tatasciore, Kari Wahlgren, Mick Wingert, Max Koch, Amir Talai, James Sie, Lucy Liu
Official Site: Kung Fu Panda: Legends of Awesomeness
Sex/Nudity: Some talk of boyfriends and girlfriends.
Violence/Gore: Po and his pals use martial arts to fight their villains. Machines are sometimes used in the battles. The stories include verbal threats, mild peril and implied death.
Profanity: Infrequent uses of words like "butt" and "pee," and a few insults like "moron."
Drugs/Alcohol: None.
Which Kids Will Like It? Kids 6 and older who like the Kung Fu Panda characters.
Will Parents Like It? All the good things about the "Kung Fu Panda" movies are in this TV series. Honesty, teamwork, patience, forgiveness, loyalty and individuality are all valued by the team members. I also love that Po isn't a traditional warrior. He's big, he loves noodles, and he talks too much. But he uses his strengths, positive attitude, and creative problem-solving skills to defeat evildoers. And good always prevails over evil.
REVIEW: When a hit movie is turned into a TV series, you never know what the outcome will be. Budgets are smaller, actors are replaced, and sometimes the original intent of the movie gets lost in translation. I'm happy to report none of that is true with "Kung Fu Panda: Legends of Awesomeness," the Nickelodeon TV series based on the "Kung Fu Panda" film franchise. Everything I loved about the movies has made its way into the TV series.
"Kung Fu Panda: Legends of Awesomeness" continues the adventures of Dragon Warrior Po (voiced by Mick Wingert) and the Furious Five as they join forces to ensure continued tranquility in the Valley of Peace. Under the wise and patient guidance of their master, Shifu (Fred Tatasciore), Po and his buddies -- Tigress (Kari Wahlgren), Monkey (James Sie), Mantis (Max Koch), Crane (Amir Talai), and Viper (Lucy Liu) -- hone their skills to battle whatever villain comes along to threaten their peaceful area.
What I love about this series is that Po is the very opposite of what you'd think a warrior should be. He's overweight. He loves to eat. He talks all the time. And he geeks out at the slightest thing. All of that makes me love this unconventional hero even more. It reminds kids that it's ok to be different, and it's ok to not be "perfect." And Po's creative problem-solving skills always come in handy. The message? Everyone has different strengths. Be yourself, and work with what you have.
Because the episodes are only about 20 minutes long, things move along at a fast pace, and villains who might be frightening in an hour-and-a-half film are vanquished with less violence and danger.
And because each episode features a self-contained story, the series covers a variety of things, such as honesty, teamwork, heroism, loyalty and grace under pressure. We get the wisdom of Shifu, the particular skills and personalities of the Furious Five, and the fun Po-style humor around which the films are made. And yes, look for "Kung Fu Panda 3" to hit theaters in December 2015.
In addition to the bonus feature "World of Dreamworks Animation," this DVD includes seven episodes:
Scorpion's Sting: When Tigress comes down with a dangerous disease, Po and Monkey must find a rare flower to cure, but a renegade scorpion healer is determined to stop them.
Love Stings: Po sets up his father, Mr. Ping, on a series of unsuccessful dates, only to find out Mr. Ping already has a girlfriend. Po's happiness for his dad is short lived when he finds out the mystery lady's identity.
Owl Be Back: Fearing his own corruption at becoming the most powerful of Shifu's students, Po leaves and encounters one of Shifu's contemporaries who suffered that fate.
Monkey in the Middle: A rash of thefts in the Valley of Peace has the villagers in an uproar, and things only get worse when the culprit appears to be ... Monkey?
Crane on a Wire: After Crane is humiliated at a charity event, Po tries to help him get his mojo back.
Kung Shoes: In an attempt to get out of training, Po buys some enchanted shoes that heighten his kung fu abilities. Unfortunately for Po, the magical shoes are evil and will soon put him and all those around him in great danger.
Qilin Time: Po is embarrassed when his dad takes him on a wild goose chase, but it turns out his dad is not so crazy after all.
Also, here are some fun activity sheet downloads, just in time for Halloween:
Kung Fu Panda: Tigress Template for Pumpkin Carving
Kung Fu Panda: Po Template for Pumpkin Carving
Kung Fu Panda: Shifu Halloween Mask
Kung Fu Pumpkin: Po Halloween Mask
JANE'S REEL RATING SYSTEM:
One Reel – Even the Force can't save it.
Two Reels – Coulda been a contender
Three Reels – Something to talk about.
Four Reels – You want the truth? Great flick!
Five Reels – Wow! The stuff dreams are made of.
by Jane Louise Boursaw. Jane Boursaw is a family entertainment writer specializing in movies and TV. Visit her at http://www.reellifewithjane.com or email jboursaw@charter.net.