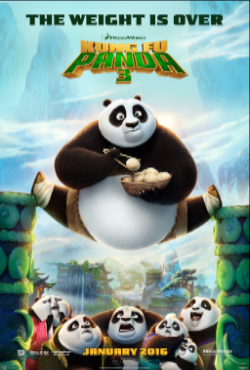 PG for martial arts action and some mild rude humor | In Theaters 1/29 (2D, 3D) | Ok for Kids 5+ | 20th Century Fox / Dreamworks | Reel Review: 4 of 5 Reels
You always know you'll get some good life lessons for kids (and grownups!) in the "Kung Fu Panda" movies, and this third installment is no exception. Our beloved Po the Panda works hard, is up for whatever life brings him, and is always positive and enthusiastic. Especially voiced by Jack Black, who always seems like a big kid to me in the best possible way.
The story centers on identity, finding your true self, and embracing your own personal gifts and talents. There's no need to be like anyone else, because YOU are all you need. I mean, seriously, that's a good lesson for both kids and grownups. We tend to lose sight of that as we get older and get tossed into the shark pond of life.
"Kung Fu Panda 3" picks up with Po (voiced by Jack Black), now beloved as the Dragon Warrior, meeting his long-lost father, Li (Bryan Cranston), and a community of pandas. That's major, since Po thought he was the only one of his kind. Together, they and the Furious Five must face a supernatural threat in the form of Kai (J.K. Simmons), a bull-like creature who calls himself "the master of pain, the beast of vengeance." He's intent on robbing China of all its chi.
Po realizes that the only way to stop Kai and his legion of jade warriors is to become a master of chi himself. But first, he must reconnect with his inner panda.
As with the previous "Kung Fu Panda" movies, this one is beautifully animated, with fine details on the characters and landscapes. I'd like to go hang out in the panda village for a while, with its bucolic and peaceful vibe.
But the laid-back, fun-loving pandas are up for the challenge when Po must teach them kung fu in order to defeat Kai. And he does it in the most adorable way, helping each panda to embrace their own gifts, whether it's rolling down a hill or becoming part of a "dumpling and noodle" squadron.
Tigress (Angelina Jolie) remains a strong female character, though we see some of her gentler side in this installment. And I love the message of "family" in this movie. Po's adopted and biological dads are both important and respected. In summary, "Kung Fu Panda 3" is a cute family movie that's fun for both kids and grownups.
Directed by Jennifer Yuh Nelson and Allesandro Carloni, this movie also features the voice talent of Dustin Hoffman, Jackie Chan, Seth Rogen, Lucy Liu and Kate Hudson.
PARENT INFO: Kai is a scary supernatural bull monster that threatens all of China, and the others must fend him off in several intense battles that might scare very young kids. Flashbacks include parent-child separation, conflicts between characters, and scenes where beloved characters are in peril, captured or possibly gone for good. Mild insults include "stupid" and "loser," and there's a bit of potty humor.
JANE'S REEL RATING SYSTEM
One Reel – Even the Force can't save it.
Two Reels – Coulda been a contender
Three Reels – Something to talk about.
Four Reels – You want the truth? Great flick!
Five Reels – Wow! The stuff dreams are made of.
Jane Boursaw is the film critic and editor-in-chief of Reel Life With Jane. Contact her at jboursaw@charter.net. Images used with permissio