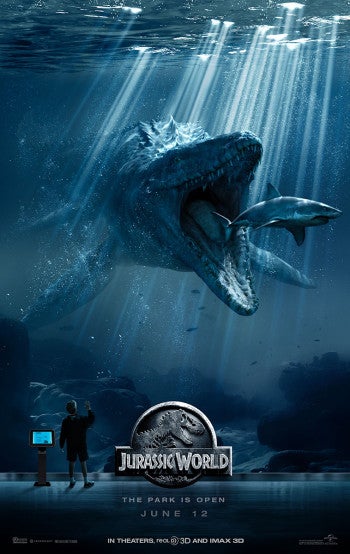 SYNOPSIS: Twenty-two years after the tragic events of "Jurassic Park," the island of Isla Nublar now features a fully functioning dinosaur theme park named Jurassic World. But visitor rates are declining, and a new attraction created to ignite visitor interest backfires horribly.
MPAA Rating: PG-13 for intense sequences of science-fiction violence and peril
Released in Theaters: June 12, 2015 (3D/2D/IMAX)
Best for Ages: 13+
Genre: Action, Adventure, Science Fiction, Sequel
Runtime: 124 minutes
Directed by: Colin Trevorrow
Studio: Universal Pictures
Cast: Chris Pratt, Bryce Dallas Howard, Nick Robinson, Ty Simpkins
Official Site: Jurassic World
REVIEW: The park is open! The "Jurassic World" park, that is. Steven Spielberg returns to executive produce the long-awaited next installment of his groundbreaking "Jurassic Park" franchise.
Set 22 years after the horrific events of the original "Jurassic Park" film (it's also been 22 years since that first film was released), Colin Trevorrow directs this sci-fi terror adventure based on the novel by Michael Crichton.
The movie opens with a mom (Judy Greer) sending her two sons — tween Gray (Ty Simpkins) and teen Zach (Nick Robinson) — off to visit their Aunt Claire (Bryce Dallas Howard), an executive at Jurassic World, now a fully functioning dinosaur theme park off the coast of Costa Rica. The tragic events from 22 years ago are long forgotten, and the park is now a bustling tourist mecca with attractions ranging from adorable dinosaurs in a petting zoo to a mammoth aquatic dinosaur who eats sharks for lunch.
But visitor rates are declining, so to re-ignite interest in the park, the Jurassic scientists have created a brand new hybrid dinosaur called Indominus Rex. As the boys enjoy their VIP experience at the park, including cruising in a very cool glass orb called a Gyrosphere that glides over the landscape (I want one), Claire is dealing with several emergencies involving Indominus.
When Jurassic World owner and billionaire Simon Masrani (Irrfan Khan) asks Claire to bring in security consultant, former Marine and Velociraptor whisperer Owen (Chris Pratt) to inspect the Indominus, things suddenly spiral out of control. The isolated beast breaks out of its pen and wreaks havoc, killing every dinosaur and person in its way.
Owen and Claire must team up to rescue her nephews (still tooling around in the orb) and take down the Indominus with as few casualties as possible. That's a tall order, considering the beast ate its own sibling and then clawed out its tracker.
"Jurassic World" is so much fun. It's the ultimate summer blockbuster, complete with visual thrills, cool gadgets, gorgeous scenery (it was filmed in Hawaii), memorable performances by the entire cast, and dinosaurs so detailed you'd swear they were real.
The movie boasts plenty of suspenseful, jump-out-of-your-seat moments, and also has a high body count — as you might imagine, with an angry, massive, hybrid dinosaur on the loose. Most of the deaths are auxiliary characters, but there's one, in particular, that's pretty scary, especially for younger viewers.
Pratt and Howard have great chemistry and lots of fun banter. I love that Claire is not some weak female who needs to be rescued. She's strong, resourceful, and a good partner to Owen's former Marine manliness. He's funny and clever — with a sensitive side, of course. I see a sequel in their future.
Robinson and Simpkins also turn in believable performances as two brothers who are at times courageous, impulsive and scared to pieces. I like that the story mirrors the original "Jurassic Park" plot with kids lost in the park, which adds an especially terrifying element to the story. There are also several shout-outs to the original film, which I won't reveal!
Other characters include the brash Hoskins (Vincent D'Onofrio), head of security with his own plans for the dinosaurs; Dr. Henry Wu (B.D. Wong), the geneticist responsible for creating the dinosaurs (he was in the original movie); Barry (Omar Sy, who I so loved in "The Intouchables"), Owen's friend and Velociraptor trainer; Zara Young (Katie McGrath), Claire's personal assistant assigned to accompany her nephews; and Lowery (Jake Johnson) and Vivian (Lauren Lapkus), technicians working in Jurassic World's control room.
Also, Owen's raptor pack — Blue, Charlie, Delta and Echo — steal the show.
While "Jurassic World" isn't as groundbreaking as "Jurassic Park" was back in the day, it builds on the big-budget dinosaur genre and delivers on all fronts. There's some funny jokes about product placement for Coke, Verizon and other companies, made even more amusing by the fact that the movie is pretty much one big product placement.
The film spends considerable time in the park's central hub, filled with restaurants and stores, many of which are real businesses that paid sizable product placement fees to Universal Pictures for a fictional storefront. Dave & Busters, Ben & Jerry's, Columbia Sportswear, Oakley Sunglasses and Starbucks are among them.
I love that the film asks some of the same big questions as the original movie: Should we mess with Mother Nature? What happens when you start mixing DNA from one species to another? Should we use these massive creatures as vehicles of war? And are these living "assets" just numbers on a spreadsheet or emotional creatures with needs and wants?
I saw both the 2D and 3D versions, and while I'm not generally a fan of 3D, I highly recommend paying the extra bucks to see "Jurassic World" in 3D or IMAX, if it's available in your area.
THE DETAILS (May Contain Spoilers):
Sex/Nudity: A few kisses and innuendos between Owen and Claire. Zach flirts with several teen girls. References to dinosaurs mating.
Violence/Gore: Tense scenes throughout the movie include peril, terror, and frightening action. The body count is high, including a few supporting characters, who are eaten, ripped apart, trampled or burned in explosions. Violent fights between the dinosaurs, who hunt, kill and eat each other.
Profanity: Infrequent use of "damn," "s–t," and "bulls–t."
Drugs/Alcohol: There's a brief cameo of Jimmy Buffett, who's running with a margarita in each hand. One joke about a "stoned" dinosaur who's been sedated.
Which Kids Will Like It? Kids aged 13 and older who like big-budget blockbusters, or the previous "Jurassic" movies.
Will Grownups Like It? "Jurassic World" is a ton of fun!
JANE'S REEL RATING SYSTEM:
One Reel – Even the Force can't save it.
Two Reels – Coulda been a contender
Three Reels – Something to talk about.
Four Reels – You want the truth? Great flick!
Five Reels – Wow! The stuff dreams are made of.
Jane Boursaw is the film critic and editor-in-chief of Reel Life With Jane. Contact her at jboursaw@charter.net and check out the shop for fresh editorial content. Images used with permission of the studios and distributors.