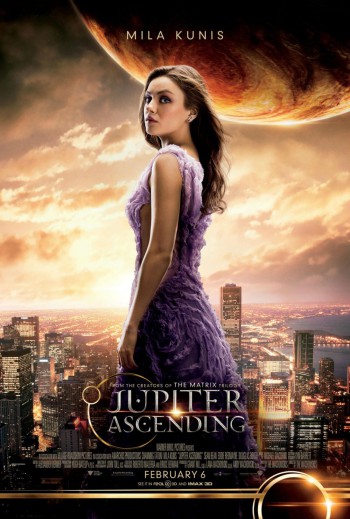 SYNOPSIS: Mila Kunis plays a destitute girl on Earth who gets targeted by the ruthless son of a powerful family living on a planet in need of a new heir. Fortunately, she has a protector in the form of Channing Tatum to help her stop the tyrant's reign.are
Reel Rating: 3 out of 5 Reels
MPAA Rating: PG-13 for some violence, sequences of sci-fi action, some suggestive content and partial nudity
Released in Theaters: Feb. 6, 2015 (2D, 3D)
Best for Ages: 13+
Genre: Sci-Fi, Drama
Runtime: 127 minutes
Directed by: Andy Wachowski, Lana Wachowski
Studio: Warner Bros.
Cast: Mila Kunis, Channing Tatum, Eddie Redmayne, Sean Bean
Official Site: Jupiter Ascending
REVIEW: "Jupiter Ascending" is one of those movies that sounds great in concept. The cast is amazing, the special effects rival any sci-fi space movie, and it's helmed by sibling filmmakers Sandy and Lana Wachowski, the force behind "The Matrix" franchise.
And yet, "Jupiter Ascending" falls apart somewhere in the middle. Any movie where the characters have to explain the plotline to us has some issues right off the bat. Sure, the explanations are punctuated by chase scenes and fighting, but then it's right back to explaining. And even with the explaining, I'm still not totally sure what is happening here.
Mila Kunis plays Jupiter Jones, a poor young earthling who spends her days cleaning other peoples' toilets and fetching things for her Russian immigrant family. Meanwhile, there's a major power struggle happening in a galaxy far, far away. A trio of ancient siblings (they don't look ancient, but apparently they are) own planets like Earth and use them for profit.
Unbeknownst to Jupiter, she's actually the Queen of Earth and has the power to save mankind. Why Earth has a queen is never really explained. An alien warrior known as Caine (Channing Tatum) travels to Earth to whisk Jupiter away to claim her royal heritage, but it seems that one of the squabbling siblings, Titus (Douglas Booth), has summoned Jupiter to help stop the madness on his planet. His evil brother, Balem (Eddie Redmayne), has other plans.
Thus, Caine and Jupiter find themselves smack in the middle of a war and have to dodge attacking aliens to get off the planet. There are several double-crosses along the way, and Jupiter has to figure out who she can trust.
You know how Eddie Redmayne is winning all the awards right now for his turn as Stephen Hawking in "The Theory of Everything"? And how he'll probably win an Oscar for it this year? Well, his role in "Jupiter Ascending" is sort of the exact opposite of that. He seems to be reading his lines from a cue card, and his mumbling voice is somewhere between Marlon Brando in "The Godfather" and Steve Carell in "Foxcatcher." Dotted with terrifying shrieks to wake us from our theater slumber.
There's a side story about bees being genetically geared to recognize royalty, so they swarm around Jupiter at her beck and call. Makes you wonder how the inhabitants of Buckingham Palace can even go for a stroll in their garden.
The bright spot here is a tiny glint of chemistry between Caine and Jupiter, but we don't get enough of it until the very end. I feel like whatever happens after "Jupiter Ascending" ends is where the real fun starts. But I doubt there will be a sequel.
THE DETAILS (May Contain Spoilers):
Sex/Nudity: A woman's naked bottom is shown from behind, and a woman is shown in a black bra and panties. References to off-screen nudity. Some kissing. A shirtless man is surrounded by a harem of scantily-clad women.
Violence/Gore: A character is shot with a gun. Battle and chase scenes include characters shooting each other with laser guns, crashes, explosions, characters falling from heights, and a brief scene of a knife in someone's eye.
Profanity: "S–t," "goddamn," "b–ch," "balls" and "damn."
Drugs/Alcohol: Adults drink beer with dinner.
Which Kids Will Like It? Kids 13 and older who like sci-fi space movies, or movies starring Mila Kunis or Channing Tatum.
Will Grownups Like It? The cast is great and the special effects are terrific, but the plot is a muddled mess.
JANE'S REEL RATING SYSTEM:
One Reel – Even the Force can't save it.
Two Reels – Coulda been a contender
Three Reels – Something to talk about.
Four Reels – You want the truth? Great flick!
Five Reels – Wow! The stuff dreams are made of.
Jane Boursaw is the film critic and editor-in-chief of Reel Life With Jane. Contact her at jboursaw@charter.net and check out the shop for fresh editorial content.