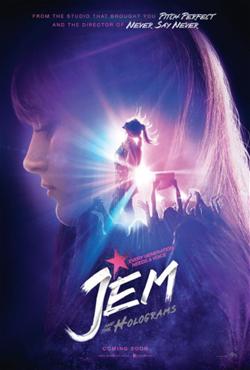 SYNOPSIS: As a small-town girl catapults from underground video sensation to global superstar, she and her three sisters discover that some talents are too special to keep hidden.

Reel Rating: 3 out of 5 Reels
MPAA Rating: PG for thematic material, including reckless behavior, brief suggestive content and some language
Released in Theaters: Oct. 23, 2015
Best for Ages: 9+
Genre: Musical, Teen, Based on a TV Show
Runtime: 118 minutes
Directed by: Jon Chu
Studio: Universal Pictures
Cast: Ryan Guzman, Molly Ringwald, Aubrey Peeples
Official Site: Jem and the Holograms
REVIEW: Based on the popular 1980s cartoon, this live-action movie follows the story of orphaned Jerrica Benson (Aubrey Peeples), who lives with her social media-obsessed sister, Kimber (Stefanie Scott); their aunt, Bailey (Molly Ringwald); and Bailey's foster daughters, Shana (Aurora Perrineau), and Aja (Hayley Kiyoko).
Jerrica is not exactly comfortable in front of the camera, but loosens up a little when Kimber convinces her sisters to raid Aunt Bailey's garage for costumes, and then film a music video. Later, Jerrica quietly records one of her own songs while wearing a pink wig and heavy makeup. Kimber secretly uploads the video to the Internet, calling Jerrica "Jem," the nickname their beloved dad gave her.
By the next day, Jem and her song have gone viral, which attracts the attention of the head of Starlight Records, Erica Raymond (Juliette Lewis). Suddenly, Jerrica and her sisters are on a whirlwind journey to fame and fortune, but Erica wants Jerrica to ditch her sisters and go solo, promising some much-needed cash to help Aunt Bailey save their home.
Meanwhile, Jerrica becomes obsessed with her dad's unfinished robot, named Synergy, which leads her on a scavenger hunt across Los Angeles. There's also a budding romance with Rio (Ryan Guzman), her Starlight Records "handler."
If you grew up watching the 1980s animated series, you won't find too many similarities in this movie. Part of that is because the movie is modernized to bring in the Justin Bieber-like viral sensation of Jerrica. No surprise that the movie's director is Jon Chu, who directed two Bieber documentaries, and the producer is Scooter Braun, Bieber's manager.
I love the girl-power music in "Jem and the Holograms," and Peeples is a gifted performer (she's also part of the ensemble team on the ABC TV series "Nashville"). But the plausibility factor is low here, and I hope young viewers don't glom onto the idea of becoming an overnight sensation based on one Internet video.
I also hope they don't think it's ok for four teenage girls to wander off into Los Angeles in the middle of the night. That falls under the category of "don't try this at home, kids."
Lewis' over-the-top narcissistic record producer is stereotypical, but probably a lot of fun to play. The sisters don't have much to do other than be supportive, but their love for each other shines through. I always appreciate seeing Molly Ringwald on the big (and small) screen. Ditto for the handsome Ryan Guzman, who starred in some of the "Step Up" movies, which Cho executive produced, as well as "The Boy Next Door" withJennifer Lopez and the new NBC series "Heroes Reborn."
In summary, "Jem and the Holograms" is an ok movie about kids pursuing their dreams and sticking together through the tough times. But it's probably not going to be all that memorable for most viewers.
If you're a fan of the 1980s cartoon series, be sure and stay through the end credits for a special treat.
THE DETAILS (May Contain Spoilers):
Sex/Nudity: A young woman and man flirt and are obviously interested in each other. A couple of kisses. A young man wears only a towel in one scene, and his shirtless chest is visible. A security guard claims Jem was "all over" him (even though she wasn't).
Violence/Gore: Characters are chased by cops. Security guards escort someone out of a show, and also follow a character around.
Profanity: "Shut up," "hell," and one "oh, s–t" (mouthed; not said aloud).
Drugs/Alcohol: None.
Which Kids Will Like It? Kids aged 9 and older who like movies about teens pursuing their musical dreams.
Will Grownups Like It? "Jem and the Holograms" isn't particularly memorable, but includes some good messages for kids about pursuing your dreams, honoring your own true self, and sticking together through tough times.
JANE'S REEL RATING SYSTEM:
One Reel – Even the Force can't save it.
Two Reels – Coulda been a contender
Three Reels – Something to talk about.
Four Reels – You want the truth? Great flick!
Five Reels – Wow! The stuff dreams are made of.
Jane Boursaw is the founder and editor-in-chief of Reel Life With Jane. Her credits include hundreds of print and online publications, including The New York Times, People Magazine, Variety, Moviefone, TV Squad and more.