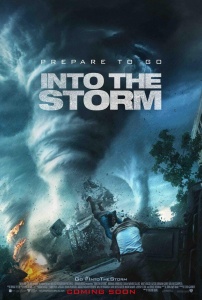 SYNOPSIS: Storm trackers, thrill-seekers, and just regular folks document an unprecedented onslaught of tornadoes touching down in the town of Silverton, Oklahoma.
Reel Rating: 3.5 out of 5 Reels
MPAA Rating: PG-13 for sequences of intense destruction and peril, and language, including some sexual references
Released in Theaters: Aug. 7, 2014
Genre: Drama, Action/Adventure
Runtime: 89 minutes
Directed by: Steve Quale
Studio: Warner Bros.
Cast: Richard Armitage, Jeremy Sumpter, Nathan Kress, Sarah Wayne Callies, Max Deacon
Official Site: Into the Storm
REVIEW: There's something about storm movies that I just love, whether it's blizzards, hurricanes, twisters, tsunamis or what have you. Maybe it's the awesome power of nature that appeals to me, or maybe it's just the sheer determination of people banning together to survive against all odds.
That being said, I think "Into the Storm" would be difficult to watch if I'd actually lived through a twister carving a hole in my town. Then again, I still love a good snow movie, and I've experienced my share of blizzards and ice storms, having lived in northern Michigan my entire life.
"Into the Storm" starts innocently enough, with storm chaser Pete (Matt Walsh) and his five-person team searching for the nearest storm. Pete drives a reinforced tank fondly named "Titus," while meteorologist Allison (Sarah Wayne Callies, Lori Grimes on "The Walking Dead") rides in a van with fancy satellite equipment.
Meanwhile, in Silverton, Oklahoma, high school junior Donnie (Max Deacon) is filming "time capsule" footage with his younger brother, Trey (Nathan Kress), as an end-of-the-year project for school, where their dad, Gary (Richard Armitage, Thorin Oakenshield in "The Hobbit" movies), is the assistant principal.
When Donnie's long-time crush, Kaitlyn (Alycia Debnam Carey), needs help shooting a video for her internship application, the two head to an old mill, just as the first of several tornadoes hits town, decimating everything in its wake.
I'm not gonna lie. "Into the Storm" has some amazing storm sequences. Every twister movie will be measured against the twisteriest movie of them all, "Twister," and there are some genuinely killer special effects in "Into the Storm." And because it's one twister right after the other, there are plenty of catastrophic scenes of twisters plowing through neighborhoods, tossing buses and cars into the air, and sucking up everything from planes to people. I especially loved one scene that involved a twister melding with a fire, sending a big tail of fire into the sky.
I'm not sure the human story is quite as interesting as Helen Hunt and Bill Paxton in "Twister," but "Into the Storm" features a single dad doing his best to raise kids on his own (and Richard Armitage is not hard to look at). Providing comic relief are two drunk yokels who decide to follow the storm chasers around and record with their phones, hoping for YouTube fame. Don't miss the one-liner about the aftermath looking like a zombie apocalypse, a reference to Callies' "Walking Dead" gig.
THE DETAILS:
Sex/Nudity: A teen couple is shown making out in the backseat of a car. Some hand-holding, embraces, and a mild kiss. A teenager says he hopes to have a "smokin' hot" wife he can "bang," and another teen takes photos of a "hot" teacher with a great "rack."
Violence/Gore: The tornado scenes are pretty intense, with massive destruction and many people killed or injured. Two people nearly drown, and one needs to be revived. People are sucked into the twister, and one scene shows a man sucked into a fiery vortex. Another shows a man inside a vehicle sucked into the middle of a tornado where he presumably dies.
Profanity: "S–t," "bats–t," "bulls–t," "s–tless," "oh s–t," "holy s–t," "chickens–t," (and more of that derivation). Occasional use of "d–k," "jackass," "ass," and "goddamn."
Drugs/Alcohol: Two adult characters drink beer and are drunk throughout the movie.
Which Kids Will Like It? It's pretty intense for a PG-13 movie, but I still think it's ok for kids 13 and older, especially those who like weather and meteorology.
Will Grownups Like It? While it might not quite measure up to "Twister," it's still a worthy installment in the weather-disaster movie genre.
JANE'S REEL RATING SYSTEM:
One Reel – Even the Force can't save it.
Two Reels – Coulda been a contender
Three Reels – Something to talk about.
Four Reels – You want the truth? Great flick!
Five Reels – Wow! The stuff dreams are made of.
Jane Boursaw is the founder and editor-in-chief of Reel Life With Jane. Her credits include hundreds of print and online publications, including The New York Times, People Magazine, Variety, Moviefone, TV Squad and more. Reel Life With Jane.