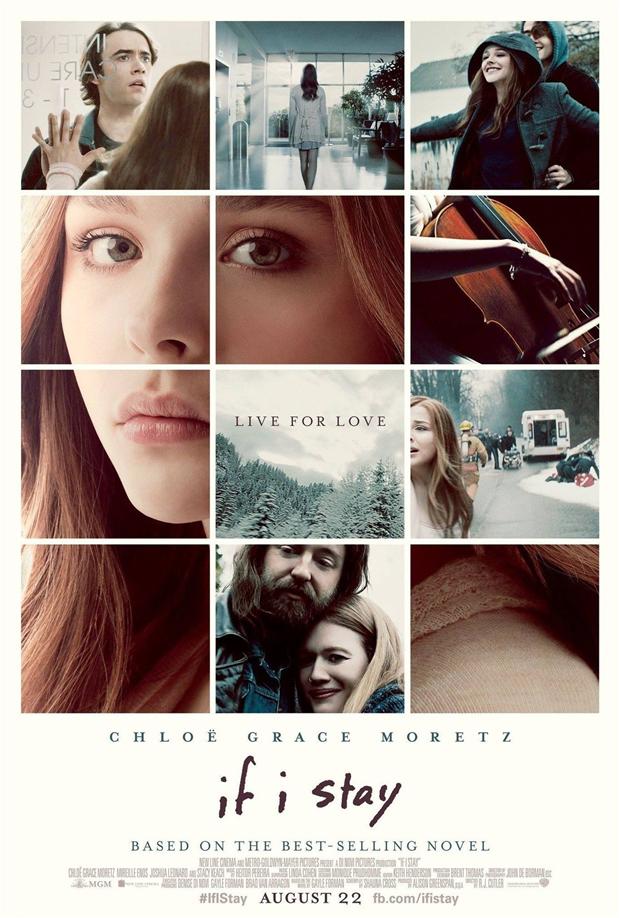 SYNOPSIS: Life changes in an instant for young Mia Hall after a car accident puts her in a coma and leaves several family members dead. During an out-of-body experience, she must decide whether to wake up and drift "into the light."
Reel Rating: 4 out of 5 Reels
MPAA Rating: PG-13 for thematic elements and some sexual material
Released in Theaters: Aug. 21, 2014
Genre: Drama, Romance, Based on a Book
Runtime: 106 minutes
Directed by: R. J. Cutler
Studio: Warner Bros.
Cast: Chloe Grace Moretz, Jamie Blackley, Mireille Enos, Joshua Leonard
Official Site: If I Stay
REVIEW: I really identify with "If I Stay" — not because of the coma part, but because I was an orchestra nerd (still am) who married a rock-n-roll guitarist. We're going on 35 years, so it all worked out.
So the story had that going for it right off the bat, but it's just a lovely movie in other ways, too. Based on a book by young-adult author Gayle Forman, "If I Stay" follows Mia Hall (Chloe Grace Moretz), a brilliant 17-year-old cellist with a bright future. She's still gaining confidence, but applies to Julliard because, why not, right?
She also has a wonderful rocker boyfriend, Adam (Jamie Blackley), hip parents (Mireille Enos and Joshua Leonard), a sweet little brother, and a neat best friend. But as we all know, life can change in an instant, and that's just what happens one snowy day when Mia and her family are involved in a brutal car crash.
As Mia stands over her comatose body — first at the accident scene and later in the hospital — she realizes that she has a choice. She can drift "into the light" and join her family in death, or she can stay and figure out how to live without them.
I'm not always a fan of time jumps in movies, but this one works. As we wait to learn Mia's ultimate fate, the story jumps back and forth in time. We learn about when she began playing the cello as a kid, how she met Adam, and whether she gets accepted into Julliard.
Likewise with movies that make me cry. It always feels so manipulative ("you can't make me cry!"). But cry I did during this movie, especially during a gut-wrenching scene in which Mia's grandfather, played with heartfelt emotion by Stacy Keach, talks with the comatose Mia and says he'll understand if she wants to go. Oh my lord, I'm weepy just thinking about it (though, admittedly, I cried harder during "The Fault In Our Stars" – what's with all the weepy teen movies this year?).
I wondered if Moretz trained on the cello, because her performances seemed so authentic and beautiful. Turns out she did, for six months, although the cello that audiences hear is played by a professional. (This is good news for all accomplished cello players everywhere, lest people think you can master the instrument in such a short time).
The romance between Mia and Adam is beautiful, too. Though they come from different backgrounds, they share a love of music and each other, even as circumstances cause them to drift apart as he hits the road with his band, Willamette Stone.
A couple of other notes: I love the Pacific Northwest setting (reminiscent of the "Twilight" franchise, but this movie is much better). The story takes place in Portland, but the movie was filmed in Coquitlam and Vancouver, British Columbia, including the Chan Centre for the Performing Arts at the University of British Columbia. And of course, the soundtrack (buy it here) is amazing in this music-themed movie, including tunes by The Orwells, Ben Howard, Sonic Youth and Willamette Stone (yes, they're a real band; read more about them here).
"If I Stay" is heartbreaking, but also a hopeful story about love, loss, strength and music. Oh, and if I'm ever in a coma, I want Aisha Hinds as my nurse. She steals all of her scenes.
THE DETAILS:
Sex/Nudity: Passionate kisses between teens and between a married couple. Two love scenes involve teens having sex; they're shown bare-shouldered either in bed or on the floor. References to Mia being a virgin, while Adam is not.
Violence/Gore: A severe car accident kills members of Mia's family and leaves her in a coma. The crash scene is shown several times throughout the movie, and various characters are shown sobbing or grief-stricken over the deaths.
Profanity: Occasional use of "s–t," "bitch," "s–thead," "bulls–t" and "damn."
Drugs/Alcohol: Underage drinking takes place at a music venue.
Which Kids Will Like It? Kids 14 and older who've read the book or like romantic dramas involving teens.
Will Grownups Like It? It's a faithful book adaptation with soulful performances from the actors. Be sure to have some Kleenex handy.
JANE'S REEL RATING SYSTEM:
One Reel – Even the Force can't save it.
Two Reels – Coulda been a contender
Three Reels – Something to talk about.
Four Reels – You want the truth? Great flick!
Five Reels – Wow! The stuff dreams are made of.
Jane Boursaw is the founder and editor-in-chief of Reel Life With Jane. Her credits include hundreds of print and online publications, including The New York Times, People Magazine, Variety, Moviefone, TV Squad and more. Reel Life With Jane.