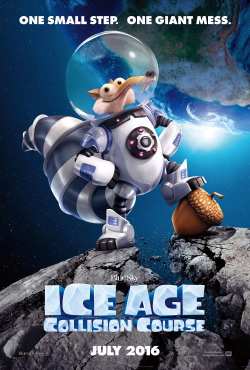 MOVIE SYNOPSIS: This latest sequel to the popular "Ice Age" franchise finds Manny, Diego, and Sid joining up with Buck to fend off a meteor strike that could destroy Earth.
Reel Rating: 3 out of 5 Reels
MPAA Rating: PG for mild rude humor and some action/peril
Released in Theaters: July 22, 2016
Best for Ages: 6+
Genre: Family, Animated, Sequel
Runtime: 100 minutes
Directed by: Mike Thurmeier, Galen T. Chu
Studio: 20th Century Fox
Cast: Ray Romano, Denis Leary, Simon Pegg, John Leguizamo
MOVIE REVIEW: This is the fifth installment of the popular "Ice Age" franchise, and by this time, we're pretty familiar with the characters and their personal quirky styles. It's fun to see them grow and build new relationships, but at this stage of the game, the filmmakers need to come up with a good story to keep us engaged. This one works pretty well, putting the characters in just enough peril to make us worried for them.
The story begins with that crazy acorn-obsessed saber-toothed squirrel Scrat accidentally creating the solar system, thanks to an alien space ship previously frozen inside a glacier. We all know by now that Scrat will do anything to get that prized acorn, and once in outer space, he wreaks interplanetary havoc which results in an asteroid heading straight towards Earth.
Back on Earth, our beloved prehistoric pals - wooly mammoth Manny (voiced by Ray Romano); his mate, Ellie (Queen Latifah); saber-tooth tiger Diego (Denis Leary); and sloth Sid (John Leguizamo) - are dealing with the surprise engagement of Manny and Ellie's daughter, Peaches (Keke Palmer), to young mastodon Julian (Adam Devine).
Much to Manny and Ellie's surprise, Julian and Peaches plan to leave the herd and roam the Earth after their wedding. But now that an asteroid is coming, the group becomes focused on surviving, teaming up with their clever weasel friend Buck (Simon Pegg) to save the Earth.
Is it time for "Ice Age" to retire? I dunno. The characters are still funny and love each other, even if they don't always agree. And with each new movie, there are some sly references for grownups, as well. In this one, Neil deGrasse Tyson makes an appearance, and there are references to hash-tags, profile pictures and bro handshakes.
But even with the new storyline about the meteor, it still seems like we've seen this before. We'll never get the freshness of that very first "Ice Age" movie where several polar opposite characters somehow become friends and learn to get past their differences. You feel like they're really reaching to come up with fresh storylines now. This latest movie has a sub-plot about a hippie commune of animals who've discovered the fountain of youth (thanks to naturally magnetic crystals), at which point I may have dozed off because it didn't seem to have much to do with the main plot.
But kids still find the "Ice Age" movies and characters fun, and that's what really counts, right? Especially that lovesick Sid, his crotchety grandma (Wanda Sykes), and those goofy brothers Crash and Eddie (Seann William Scott and Josh Peck).
PARENT OVERVIEW: The violence is less intense than in previous "Ice Age" movies, but there are several natural catastrophes that put our beloved characters in peril. A fiery asteroid is headed for Earth, and egg-stealing birds are bent on destruction. Language includes insults like "stupid" and "turd," and there are a few suggestive comments like references to "hotness" and "parts retracting." Couples embrace or kiss briefly.
PARENT DETAILS (May Contain Spoilers):
Violence/Gore: A huge meteor shower hurtles toward Earth, destroying parts of the planet. Characters are in peril at times, and escape several close calls with burning meteors, an incoming asteroid, and carnivorous dino birds. Scrat is constantly in peril on his quest for that beloved acorn. In one scene, his skin momentarily falls off his bones because of a gravity shift.
Sex/Nudity: A few suggestive jokes, like when a character says, "Hot tubbing just got a whole lot hotter" after a character turns young in a fountain of youth environment. Wooly mammoths hug and link snouts. A couple of sloths kiss, and a female sloth asks a male sloth to be her "mate for life."
Profanity: Insults and potty language like "duty/doody," "my parts are retracting," "turd," "stupid mammals" and "fun-sucker."
Drugs/Alcohol: None.
JANE'S REEL RATING SYSTEM:
One Reel – Even the Force can't save it.
Two Reels – Coulda been a contender
Three Reels – Something to talk about.
Four Reels – You want the truth? Great flick!
Five Reels – Wow! The stuff dreams are made of.
Jane Boursaw is the film critic and editor-in-chief of Reel Life With Jane. Contact her at jboursaw@charter.net. Images in this review used courtesy of the studio and distributor.