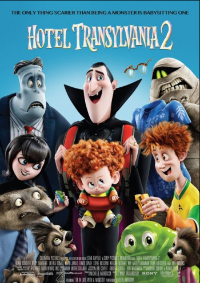 SYNOPSIS: Dracula and his friends try to bring out the monster in his half human, half vampire grandson in order to keep Mavis from moving her family to California.
Reel Rating: 3.5 out of 5 Reels
MPAA Rating: PG for some scary images, action and rude humor
Released in Theaters: Sept. 25, 2015
Best for Ages: 7+
Genre: Animated, Family, Sequel
Runtime: 89 minutes
Directed by: Genndy Tartakovsky
Studio: Sony Pictures Releasing
Cast: Adam Sandler, Selena Gomez, Steve Buscemi
Official Site: Hotel Transylvania 2
REVIEW: Over the past decade or so, family movies have trended towards having too much questionable content for kids, even movies rated PG. You know, the kind of content where you go, "Wait, did I just see a reference to [drugs/sex/violence/other iffy stuff] in this movie that's supposed to be appropriate for kids?
But "Hotel Transylvania 2" is thankfully free of that type of content. There are a couple of scary scenes, but nothing worse than the Wile E. Coyote having a boulder fall on him and then getting up and staggering away. In short, this sequel to 2012's "Hotel Transylvania" is fast-paced, colorful and fun for kids.
The story finds vampire Mavis (voiced by Selena Gomez) and human Jonathan (Andy Samberg) getting married and having a cute little red-haired son named Dennis. Still living at Hotel Transylvania, the new family doesn't know whether baby Dennis is a vampire or not because of his blended heritage. If he's indeed going to follow in his mom and grandpa's bat-wings, he'll have to grow fangs by the time he turns five.
Fast-forward to his fifth birthday – still no fangs. Mavis has decided that moving to California and raising Dennis among Jonathan's family would be better than growing up with the monsters at Hotel T. Jonathan isn't so sure, and plots with grandpa Drac (Adam Sandler) to hurry along those fangs on the youngster!
This movie has some positive messages about family, friendship and diversity, as well as some good laughs, like when Drac and his pals attempt to show Dennis the monster world. The supporting characters voiced by Kevin James (Frankenstein), Steve Buscemi (Wayne), David Spade (Griffin), Keegan-Michael Key (Murray) and others are comical. And Mel Brooks, who's still going strong at 89, voices Vlad, Drac's vampire dad who doesn't take kindly to the idea of humans.
I love how the movie works in modern gadgets like a monster-sounding GPS voice and smartphones (and the fact that the older generation doesn't always know how to use such devices).
Sandler, who co-wrote the script, also includes an ongoing bit about modern-day parents' helicopter parenting style. Much of that takes place when Drac and pals take Dennis to his old vampire camp, where the counselors coddle the young vampires.
While "Hotel Transylvania 2" might not jump to the head of the class when it comes to memorable family movies, it's a good choice for kids aged 7 and older, especially as the clock ticks down to Halloween. It also features a great soundtrack, including Fifth Harmony's catchy "I'm in Love With a Monster."
THE DETAILS (May Contain Spoilers):
Sex/Nudity: Mavis and Jonathan kiss at their wedding. Jonathan later complains that he doesn't get any "alone" time with his wife. A monster falls for a human and kisses him repeatedly on the face.
Violence/Gore: A battle between demon bats and monsters might be scary for little ones. A kids' camp is accidentally set on fire. A car explodes. A boy falls from a tower, but his grandfather saves him.
Profanity: Insults like "shut up," "imbecile" and "idiot."
Drugs/Alcohol: None.
Which Kids Will Like It? Kids aged 7 and older who like fast-paced animated movies.
Will Grownups Like It? "Hotel Transylvania 2" is a good distraction for kids, but grownups might doze off somewhere in the middle.
JANE'S REEL RATING SYSTEM:
One Reel – Even the Force can't save it.
Two Reels – Coulda been a contender
Three Reels – Something to talk about.
Four Reels – You want the truth? Great flick!
Five Reels – Wow! The stuff dreams are made of.
Jane Boursaw is the founder and editor-in-chief of Reel Life With Jane. Her credits include hundreds of print and online publications, including The New York Times, People Magazine, Variety, Moviefone, TV Squad and more.