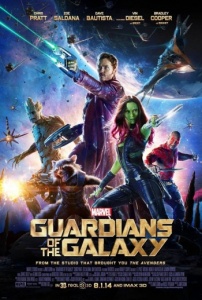 SYNOPSIS: Marvel takes a lighthearted turn with "Guardians of the Galaxy," a comic-based movie centering on a stolen orb, an outlaw junk scavenger, and a rag-tag group of unlikely heroes in the far reaches of space.
Reel Rating: 5 out of 5 Reels
MPAA Rating: PG-13 for intense sequences of sci-fi violence and action, and for some language
Released in Theaters: Aug. 1, 2014 (2D, 3D)
Genre: Action, Sci-Fi, Comic Book
Runtime: 122 minutes
Directed by: James Gunn
Studio: Walt Disney Studios Motion Pictures
Cast: Chris Pratt, Vin Diesel, Bradley Cooper, Zoe Saldana, Dave Bautista, Lee Pace
Official Site: Guardians of the Galaxy
REVIEW: It's not often that I come out of a movie going, "Wow, that was really entertaining." But wow, "Guardians of the Galaxy" is really entertaining. Marvel has a long track record of blending character-driven stories with well-done action and visual effects, while staying true to the original comic book stories. "Guardians" is no different.
Like other Marvel heroes — arrogant god Thor, patriotic soldier Steve Rogers, billionaire playboy Tony Stark and broody scientist Bruce Banner, among them — Peter Quill (Chris Pratt) has an interesting backstory. In 1988 on the eve of his mother's death, a grief-stricken young Peter is abducted from Earth. Fast-forward 26 years and Peter is a rogue outlaw who forages space for junk. The similarities to Malcolm Reynolds in Joss Whedon's "Firefly" and Han Solo in "Star Wars" are not lost on me. Peter is charming, funny and likeable, but someone who carries the heartache of his mom's death through the years.
After years of playing the supporting character of Andy Dwyer on "Parks and Recreation," it's nice to see Pratt shine in a leading-man role. As Peter, he's burly, but still amazingly light on his feet (he has some awesome dance moves).
When he steals a powerful orb with good re-sale value, Peter gets arrested and tossed in prison, where he reluctantly teams up with a rag-tag group of criminals, including Rocket (voiced by Bradley Cooper), a genetically modified raccoon with a penchant for heavy artillery; Gamora (Zoe Saldana), the emerald-colored adopted daughter of the most dangerous being in the universe; Groot (Vin Diesel), a tree-like creature who partners with Rocket during fights; and Drax the Destroyer (Dave Bautista), who's on a personal mission to avenge his family.
As the group busts out of prison, they find the fate of the universe rests solely in their resourceful hands. The villainous Ronan (Lee Pace) plans to use the orb to destroy an entire planet. Individually, these misfits are a force to be reckoned with, as each of them have their own set of special skills. As a group, they're even more lethal.
The casting for all the characters is spot-on, even though we don't get to see Vin Diesel as Groot (all he can say is "I am Groot"!) or Bradley Cooper as Rocket (his ever-irritated voice is perfect). As with the Avengers, there's good chemistry amongst the Guardians, including Peter and Gamora's romantic overtones.
"Guardians" also features a fantastic soundtrack, populated by Peter's beloved 1980s mix tape of his mother's favorite songs, like "I'm Not in Love," "Hooked on a Feeling," and "Spirit in the Sky"), as well as lots of pop culture jokes, thrilling action scenes, and excellent special effects. You can tell the filmmakers really put some effort into it.
In summary, "Guardians of the Galaxy" is really entertaining and a joy to watch. The movie ends with plenty of opportunities for a sequel, which is already in the works for a 2017 release date.
THE DETAILS:
Sex/Nudity: Peter has been with lots of women across the galaxy, as noted by a joke about a "black light" picking up how filthy his ship is. Sexual tension between Peter and Gamora, who almost kiss a couple of times. Rocket suggests that because the prisoners find Gamora attractive, she should "trade" favors for what they need to escape.
Violence/Gore: It's a Marvel movie, so expect lots of fist fights, explosions and assorted weapons, including stun guns that incapacitate but don't kill. Some characters die, and in a few scenes, it appears that characters are dead but end up ok. Not much blood is shown, but an explosion kills an entire fleet of fighter pilots, and there's plenty of collateral damage as a villain tries to destroy a planet.
Profanity: Occasional language includes "s–t," "bulls–t," "damn," "d–k," "a–hole," "bitch," "idiot," "bastard," "crap," "prick," "jackass," and "whore."
Drugs/Alcohol: Adults drink and act drunk.
Which Kids Will Like It? Kids 14 and older who like Marvel movies or comics.
Will Grownups Like It? "Guardians of the Galaxy" is a lot of fun, and the PG-13 rating is mostly on target.
JANE'S REEL RATING SYSTEM:
One Reel – Even the Force can't save it.
Two Reels – Coulda been a contender
Three Reels – Something to talk about.
Four Reels – You want the truth? Great flick!
Five Reels – Wow! The stuff dreams are made of.
By Jane Louise Boursaw. Jane Boursaw is a family entertainment writer specializing in movies and TV. Visit her at http://www.reellifewithjane.com, email jboursaw, or Google+