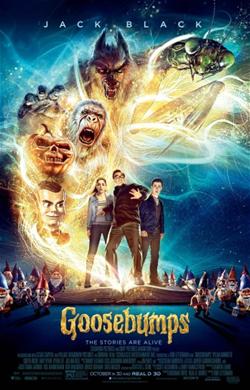 SYNOPSIS: A teenager teams up with the daughter of young adulthorror author R.L. Stine after the writer's imaginary demons are set free on the town of Madison, Delaware.
MPAA Rating: PG for scary and intense creature action and images, and for some rude humor
Released in Theaters: Oct. 16, 2015
Best for Ages: 8+
Genre: Action, Adventure, Based on a Book
Runtime: 90 minutes
Directed by: Rob Letterman
Studio: Columbia Pictures, SonyPictures Releasing
Cast: Jack Black, Dylan Minnette, Odeya Rush
Official Site: Goosebumps
REVIEW: I missed the "Goosebumps" book craze. R. L. Stine's popular kids' series started being published in 1992 and continues to this day. Since I grew up in the 1960s and 70s, I was more of a Nancy Drew/Trixie Belden girl myself, and have most of the first edition Nancy Drew books in my collection.
My kids, however, brought home a few Goosebumps books, so I know they're super popular with kids who grew up in the 1990s and beyond. I always thought they'd be too scary for kids, but apparently, they're just scary enough to be adventurous, but not too scary that kids can't sleep at night. That's pretty much how the movie is. Scary – I'm going with ages 8 and older – but not too scary. Ok, the ventriloquist dummy and angry lawn gnomes seem a little terrifying, but maybe that's just a mom thing.
The story centers on teenager Zach Cooper (Dylan Minnette), who moves with his single mom Gale (Amy Ryan) from the big city to the small town of Madison, Delaware. They're still in transition from losing Zach's dad, and Gale is the vice principal at school, which makes things a little awkward for Zach.
But he makes a new friend in Champ (Ryan Lee) and next-door neighbor Hannah (Odeya Rush), who lives with her mysterious dad (Jack Black). Merging fiction and non-fiction, turns out that Hannah's dad is R.L. Stine, the famous author of the "Goosebumps" series of books for kids.
But things turn frightening when the kids accidentally unlock some original manuscripts, releasing the real monsters that were written into the books by Stine. Now they have to figure out how to get them back INTO the books before the whole town is decimated.
Even though I'm not that familiar with the "Goosebumps" books, I thought the movie was fun, with great special effects. The story isn't that inventive – kids in peril having to work together to save the world/town/whatever – but it's done with good cheer and humor, and is kind of a throw-back to old horror movies where the monsters took center stage.
The real stars of "Goosebumps" are the monsters, but Dylan Minnette and Odeya Rush are likeable kids and there's even a bit of romance (and a plot twist!) thrown in for good measure. Jack Black, who doesn't stray too far from his usual goofy persona, is a good choice to play Hannah's peculiar dad.
THE DETAILS (May Contain Spoilers):
Sex/Nudity: References to twerking. Brief kissing.
Violence/Gore: Lots of CGI monsters, including giant bugs, zombies, robots, a wolfman, ventriloquist dummy, abominable snowman, and creepy lawn gnomes. The monsters chase, attack and fight the main characters, causing destruction in the town. Teens are in peril, and there's a "missing parent" (Zach's dad), a common theme in kids' movies.
Profanity: Mild language includes "shut up" and "butt."
Drugs/Alcohol: One line of dialogue: "That kid is on drugs."
Which Kids Will Like It? Kids aged 8 and older who like the "Goosebumps" books or fast-action movies with lots of special effects and monsters.
Will Grownups Like It? "Goosebumps" probably won't be remembered as one of the best action movies for tweens, but it's a fun way to spend 90 minutes.
JANE'S REEL RATING SYSTEM:
One Reel – Even the Force can't save it.
Two Reels – Coulda been a contender
Three Reels – Something to talk about.
Four Reels – You want the truth? Great flick!
Five Reels – Wow! The stuff dreams are made of.
Jane Boursaw is the founder and editor-in-chief of Reel Life With Jane. Her credits include hundreds of print and online publications, including The New York Times, People Magazine, Variety, Moviefone, TV Squad and more.