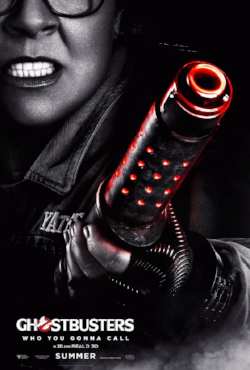 MOVIE SYNOPSIS: This reboot of the classic 1984 supernatural action-comedy stars four talented females - Melissa McCarthy, Kristen Wiig, Kate McKinnon, and Leslie Jones - as the spook-hunting quartet who team up to use their knowledge of science and the paranormal to save New York City.
Reel Rating: 4 out of 5 Reels
MPAA Rating: PG-13 for supernatural action and some crude humor
Released in Theaters: July 15, 2016
Best for Ages: 12+
Genre: Action/Adventure, Comedy
Runtime: 116 minutes
Directed by: Paul Feig
Studio: Sony Pictures Releasing
Cast: Melissa McCarthy, Kristen Wiig, Kate McKinnon, Leslie Jones
MOVIE REVIEW: Like everyone else, when I first heard about this "Ghostbusters" reboot with an all-female cast, I had some doubts. Not because of the females - these are four of the most talented around - but because rebooting a classic comedy like the original 1984 film is always risky. But I'm happy to report that the movie turned out great, and I even laughed out loud several times. So did everyone else in the audience.
The other thing I wasn't sure about was the MPAA rating. Melissa McCarthy and frequent collaborator Paul Feig are known for their raunchy comedies like "Bridesmaids" and "The Heat." I really couldn't envision an R-rated "Ghostbusters," and thankfully, it delivered a PG-13 rating, with nothing too iffy for kids 12 and older. Whew.
The movie begins with a little backstory. Abby (Melissa McCarthy) and Erin (Kristen Wiig) are ex-friends who once co-wrote a book about ghosts. But Erin is on a scholarly path to tenure and doesn't want to be associated with the book. Surprise! Abby lists it on Amazon, and Erin doesn't like it one bit.
Here's where the ghosts enter the picture. New York City is under attack from a supernatural army, and Abby and Erin, now reunited, form forces with nuclear engineer Jillian (Kate McKinnon) and subway worker Patty (Leslie Jones) to take on the ghosts. What follows is plenty of laughs, scares and action. Oh, and slime. Don't forget the slime.
These four women are perfectly suited to bring "Ghostbusters" back from the dead. Ok, it was never really dead, but I'm sure this movie will reignite the franchise, and I'm guessing more movies will follow.
A major surprise is handsome Chris Hemsworth, who shows off his comedic skills like we've never seen before. As the Ghostbusters' receptionist, he's such a dork. There's also a slew of cameos from the previous ensemble, including Sigourney Weaver, Bill Murray, Ernie Hudson and Dan Aykroyd, with lots of shout-outs to the original film, including the Ghostbusters logo and a glimpse of the old firehouse.
One thing I wish they would have done is play the full "Ghostbusters" theme song full tilt. We get bits of it here and there, along with an updated version. I really, really wanted that full original song somewhere in the movie.
But "Ghostbusters" is a fun, feel-good movie, which we all need right about now, don't we? Go see it with your friends. And have a great time!
PARENT OVERVIEW: While this movie has a few scary moments, intense battles, and gross-out slime scenes, it's not terribly frightening. Some of the ghosts are more funny than scary. Infrequent language includes "s--t" and "damn," and a character has a crush on another character, commenting on his hotness. A few body humor jokes and a hit to the groin. Characters drink beer to unwind.
PARENT DETAILS (May Contain Spoilers):
Violence/Gore: Cartoonish sci-fi violence includes ghosts threatening people and a massive spirit terrorizing New York City, tossing vehicles around and knocking down buildings. A character hangs perilously out of an upper window, and another suffers a hit to the groin. Various weapons are used to fight the spirits.
Sex/Nudity: A female character ogles a handsome male character and makes sometimes-crude comments.
Profanity: Infrequent language includes "s--t," "damn," "hell," "ass," "crap," and "butt."
Drugs/Alcohol: Adults drink beer to relax.
JANE'S REEL RATING SYSTEM:
One Reel – Even the Force can't save it.
Two Reels – Coulda been a contender
Three Reels – Something to talk about.
Four Reels – You want the truth? Great flick!
Five Reels – Wow! The stuff dreams are made of.
Jane Boursaw is the film critic and editor-in-chief of Reel Life With Jane. Contact her at jboursaw@charter.net. Images in this review used courtesy of the studio and distributor.