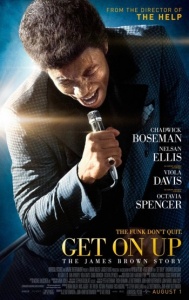 SYNOPSIS:
Chadwick Boseman channels James Brown in Tate Taylor's film about the life of The Godfather of Soul, rising from poverty to become one of the most influential musicians in history.
Reel Rating: 5 out of 5 Reels
MPAA Rating: PG-13 for sexual content, drug use, some strong language and violent situations
Released in Theaters: Aug. 1, 2014
Genre: Drama, Biography
Runtime: 138 minutes
Directed by: Tate Taylor
Studio: Universal Pictures
Cast: Chadwick Boseman, Viola Davis, Octavia Spencer, Nelsen Ellis, Jill Scott, Dan Aykroyd
REVIEW: We can all learn something from James Brown. Here's a guy who was born into extreme poverty in South Carolina, but persevered to become one of the greatest entertainers of his time. His mother (Viola Davis) abandoned him when he was a boy, and his father was abusive and bitter, eventually leaving him in the hands of a goodhearted brothel owner (Octavia Spencer).
As a child, James (played as a boy by twins Jamarion and Jordan Scott) sought escape in a gospel church and even picked up some of his famous dance moves from the preacher. After attempting to steal a three-piece suit, James landed in jail, where he met Bobby Byrd (Nelsan Ellis), the lead singer of a gospel group who convinced his mother to take James into their stable home.
That was just the opportunity James needed to take his god-given talents as a singer and showman and run with them. The story jumps back and forth through time, chronicling his early life with his later life of stardom. The scenes are punctuated with little subtitles for each period of his life, like "The Famous Flames" (his first band with Byrd), "Mr. Dynamite," "The Godfather of Soul," "The Hardest Working Man in Show Business" and so on. I'm not always a fan of telling a story through flashbacks, but it works here because we can see a direct connection with how his early life influenced his stardom.
In addition to grabbing every possible opportunity that came along, James had complete faith in his abilities, and he could work a crowd like no one else. When he was on stage, he was the only person in the world to that audience.
He also had a keen eye on the business end of things and laser focus on where he was headed. He knew he had something special burning inside. That's not to say he didn't have a dark side. James Brown had a mean streak. He slapped his women around and got in trouble with the law a few times.
I love movies about the 1950s and 60s, especially when it's clear the filmmakers paid close attention to the details. You can almost feel the vinyl seats in those vintage diner booths, hear the tinny jukebox music, and smell the exhaust from those big old cars with tons of chrome.
After seeing Chadwick Boseman play Jackie Robinson in "42″ and now James Brown in this movie, I'm at the point where I'm looking to see what else he's got coming up. I came home and my husband said, "Could you tell what he was saying? Because James Brown mumbled a lot." I replied that yes, Boseman somehow managed to sound exactly like James, but in a way that you could understand what he was saying.
He also LOOKS exactly like him, so much so that when pictures of the real James Brown played over the end credits, I couldn't tell if it was James or Chadwick. He was channeling the singer more than playing him. I really think he should play Jimi Hendrix next, but the only thing I see on his schedule is 2016′s "Gods of Egypt," in which he plays the god Thoth. Just think about playing Jimi, Chadwick. That's all I ask.
Great casting with everyone else, too. As the empathetic Bobby Byrd, they couldn't have picked a better actor than Nelsan Ellis, whom you might recognize as Lafayette Reynolds on "True Blood." Just amazing; one of my favorite actors right now.
Dan Aykroyd (who appeared with James in "The Blues Brothers") plays his agent Ben Bart, who founded Universal Attractions in 1949 and managed his career for nearly 40 years. (As a side note, I've read reports that indicate James didn't take the lead in making business decisions, as the film suggests, but rather, Ben was the driving force behind how concerts were organized and promoted).
Still, director Tate Taylor and producer Mick Jagger (in 1964, James was supposed to close the T.A.M.I. Show in Santa Monica, but a last-minute switch gave the honor to The Rolling Stones) get so many things right with this movie, including, of course, the fantastic soundtrack, including such hits as "I Got You," "Out of Sight," "Caldonia" and many more. Boseman took vocal lessons and sings a bit here and there, but most of the singing in this movie is actually James Brown's voice.
By the time I was old enough to know who James Brown was, he was the subject of Eddie Murphy skits on "Saturday Night Live." I'm happy to see a movie that reminds us how important he was to the music industry. There will never be another entertainer quite like him.
THE DETAILS:
Sex/Nudity: Couples are shown kissing passionately. In one scene, a guy walks into a room to see his sister having sex with his friend (no nudity; both appear clothed). A boy see his parents head into the house to have sex. Women wear tight outfits with lots of cleavage. A character runs a brothel.
Violence/Gore: James hits his wife and throws things during an argument. He also scares a group of people with a rifle, shoots at the ceiling, and is pursued by cops during a car chase. African-American kids are blindfolded and thrown into a boxing ring to fight, as a white audience looks on. A brief scene shows a man's corpse hanging from a tree and a child taking his shoes. We learn that a child has died as the result of a car accident.
Profanity: "S–t," "f–k," "a–hole," and the "N" word are used throughout.
Drugs/Alcohol: Adults drink and smoke in social settings. A character adds crack cocaine to tobacco.
Which Kids Will Like It? A few intense things for a PG-13 movie, but I think it's fine for kids 14 and older, especially those who like music history and performers.
Will Grownups Like It? Chadwick Boseman delivers an amazing performance, and I can't think of anything bad to say about this movie. Go see it.
JANE'S REEL RATING SYSTEM:
One Reel – Even the Force can't save it.
Two Reels – Coulda been a contender
Three Reels – Something to talk about.
Four Reels – You want the truth? Great flick!
Five Reels – Wow! The stuff dreams are made of.
By Jane Louise Boursaw. Jane Boursaw is a family entertainment writer specializing in movies and TV. Visit her at http://www.reellifewithjane.com, email jboursaw, or Google+