MOVIE SYNOPSIS: Taron Egerton plays Eddie Edwards, the tenacious British underdog ski jumper who charmed the world at the 1988 Winter Olympics.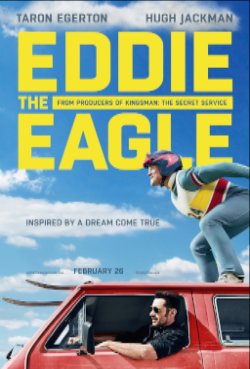 Reel Rating: 4 out of 5 Reels
MPAA Rating: PG-13 for some suggestive material, partial nudity and smoking
Released in Theaters: Feb. 26, 2016
Best for Ages: 13+
Genre: Sports, Biography, Comedy
Runtime: 105 minutes
Directed by: Dexter Fletcher
Studio: 20th Century Fox Film Corp.
Cast: Taron Egerton, Hugh Jackman, Christopher Walken
MOVIE REVIEW: I'm trying to remember what I was doing in 1988 and why I hadn't heard the story of "Eddie the Eagle." I was in my 20s and figuring out what to do with my life. Apparently, I wasn't paying much attention to sports. So for that reason alone, I'm really glad this movie is in theaters now, for me and anyone who doesn't know the inspiring story.
"Eddie the Eagle" tells the story of working-class British ski jumper Eddie Edwards (Taron Egerton). From the time he's a nerdy kid in a leg brace, he spends his days dreaming of making it to the Olympics.
Of course, everyone thinks he's nuts. After all, Eddie's not exactly your typical sportsman. Still, he tries sport after sport and finally becomes proficient in downhill skiing in the mid-1980s.
But the British Olympic Committee refuses to let him compete for a spot on the team. Then he learns that the UK hasn't sent a ski-jumper to the Olympics since the 1920s. There's a loophole that will him to compete, as long as he successfully completes one qualifying jump in competition.
Eddie scrapes together some cash and moves to Germany to train at Europe's ski-jumping center. Again, no one there believes he'll ever make it, but he holds fast to his dream. One day he meets Bronson Peary (Hugh Jackman), a former ski-jumping champion whose own dreams have faded. He reluctantly agrees to train Eddie for the Olympics.
"Eddie the Eagle" is a true underdog story, the kind that makes you remember what it's like to have a dream and go for it, despite overwhelming odds. As Eddie, Egerton (who starred in "Kingsman: The Secret Service") plays the goofy-looking Eddie with ease. Jackman's hard-drinking Bronson is the perfect foil, as he works through his own emotional baggage of throwing away his Olympic dreams long ago.
Some of the characters are probably stereotypical, like the snobby British Olympic officials who scoff at the idea of Eddie competing. But should you need some encouragement to restore your faith in humanity, the simple tale of "Eddie the Eagle" is just the ticket.
Ultimately, it's a sweet tale of determination, courage and discipline. And the 1980s vibe is super cool, too.
PARENT OVERVIEW: "Eddie the Eagle" includes some innuendos and sexual references, and a pub owner propositions Eddie. In one scene, a group of naked male ski jumpers takes a sauna together, with their bare chests and legs showing. Language includes a few uses of "s--t," "arse," "bloody" and "ass." Adults smoke and drink in pubs, and one character appears to be an alcoholic.
PARENT DETAILS (May Contain Spoilers):
Violence/Gore: Ski jumpers are injured during training and at the Olympics. Eddie winds up in the hospital after breaking some bones.
Sex/Nudity: Bronson encourages Eddie to think of ski jumping as lovemaking, with an emphasis on "the release." A character jokes about how many women he can have. A pub owner puts the moves on Eddie, who isn't comfortable with her advances. A ski team is naked in a sauna together, with bare chests and legs showing. A character jokes that if he couldn't jump, he'd spend all his time having sex.
Profanity: Occasional use of "s--t," "git," "sod," "arse," "bloody," etc.
Drugs/Alcohol: Some cigarette smoking. Adults drink at pubs and at home. Eddie doesn't drink, but is encouraged to do shots the night before the Olympics opening ceremony. A character appears to be an alcoholic.
JANE'S REEL RATING SYSTEM:
One Reel – Even the Force can't save it.
Two Reels – Coulda been a contender.
Three Reels – Something to talk about.
Four Reels – You want the truth? Great flick!
Five Reels – Wow! The stuff dreams are made of.
Jane Boursaw is the film critic and editor-in-chief of Reel Life With Jane. Contact her at jboursaw@charter.net. Images in this review used courtesy of the studio and distributor.