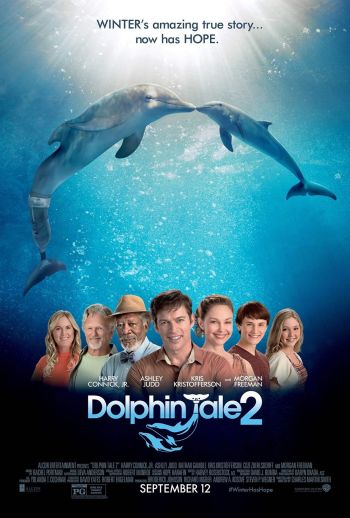 SYNOPSIS: We're back at the Clearwater Marine Hospital, and the team of people who saved Winter's life in "Dolphin Tale" reassemble in the wake of her surrogate mother's passing in order to find her a new companion.
Reel Rating: 3.5 out of 5 Reels
MPAA Rating: PG for some mild thematic elements
Released in Theaters: Sept. 12, 2014
Genre: Family, Comedy
Runtime: 107 minutes
Directed by: Charles Martin Smith
Studio: Warner Bros.
Cast: Nathan Gamble, Cozi Zuehlsdorff, Harry Connick, Jr., Ashley Judd, Morgan Freeman
Official Site: Dolphin Tale 2
REVIEW: I loved 2011's "Dolphin Tale" so I was overly excited about "Dolphin Tale 2." It's not what you'd call a great piece of cinematic art, but it's a really sweet family movie with nothing too objectionable for kids. In that way, it IS a great — and rare — piece of cinematic art.
The story picks up after the events in "Dolphin Tale," in which the team at Clearwater Marine Hospital rescued and outfitted a dolphin named Winter with a prosthetic tale. Now Winter is dealing with the loss of her dolphin companion, leaving the staff — headed by Dr. Clay Haskett (Harry Connick, Jr.) — in a race against time to find her a new companion. Otherwise, the USDA is going to ship Winter off to a different marine facility.
Meanwhile, Sawyer (Nathan Gamble), the boy who originally found Winter and nursed her back to health, has a great opportunity to go on a marine research mission at sea, but must figure out whether to embark on this new adventure or stay and take care of Winter and help Clay's daughter, Hazel (Cozi Zuehlsdorff ), at the marine hospital.
Aside from the cute story, there's plenty to love about this movie. Some of the scenes are shot from the dolphins' underwater perspective, and emotions (of both humans and mammals) range from sheer joy to heartbreak.
We're also reminded that while these dolphins may be playful and friendly, things can change on a dime when they're unhappy. There's a clear division between their natural habitat — the ocean — and the confined quarters of the marine facility. As Clay reminds the kids, the ultimate goal of the hospital is to "rescue, rehab and release," whenever possible.
I love that the kids in this movie are part of something important and meaningful (not glued to a screen!), and Sawyer and Hazel have grown into kind and caring teenagers, with a little angst on the side. The supporting characters all deliver good performances, including Ashley Judd, Morgan Freeman, Kris Kristofferson, Austin Stowell, and Charles Martin Smith, who plays the USDA guy. As a side note, he's a cross between Dennis Quaid and Paul Giamatti. Smith also directed both this movie and "Dolphin Tale."
The plot is straightforward, but kids will love the wacky pelican, Mavis, who chases people around and becomes attached to a temporary resident of the hospital, a sea turtle named Mavis.
All the people in this movie are devoted to each other and the marine animals, and overall, "Dolphin Tale 2″ is a solid family movie that's both upbeat and inspirational.
Be sure to stay through the end credits.
THE DETAILS:
Sex/Nudity: Mild childhood flirting between Hazel and Sawyer.
Violence/Gore: Winter lashes out at Sawyer, injuring his face. A dolphin is in poor health and eventually dies. A rescued sea turtle is taken to a clinic for an MRI, and a fisherman's hook is removed from him. A pelican chases people throughout the movie and steals a child's toy at one point. A couple of tense scenes where dolphins are at odds being in the same tank.
Profanity: Sawyer calls Hazel "pushy."
Drugs/Alcohol: None.
Which Kids Will Like It? Kids 7 and older who liked the first "Dolphin Tale" or movies about animals.
Will Grownups Like It? "Dolphin Tale 2″ is a sweet family film with nothing objectionable for kids.
JANE'S REEL RATING SYSTEM:
One Reel – Even the Force can't save it.
Two Reels – Coulda been a contender
Three Reels – Something to talk about.
Four Reels – You want the truth? Great flick!
Five Reels – Wow! The stuff dreams are made of.
Jane Boursaw is the founder and editor-in-chief of Reel Life With Jane. Her credits include hundreds of print and online publications, including The New York Times, People Magazine, Variety, Moviefone, TV Squad and more. Reel Life With Jane.