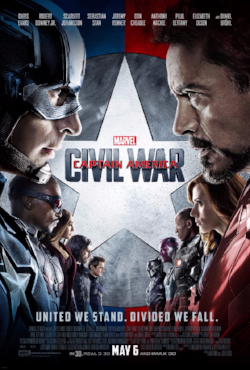 MOVIE SYNOPSIS: This 13th installment of Marvel's Captain America franchise centers on the growing tension between Steve Rogers/Captain America and Tony Stark/Iron Man, which builds into an internal war between Avengers.
Reel Rating: 4 out of 5 Reels
MPAA Rating: PG-13 for extended sequences of violence, action and mayhem
Released in Theaters: May 6, 2016
Best for Ages: 13+
Genre: Sequel, Action/Adventure, Superhero
Runtime: 146 minutes
Directed by: Anthony Russo, Joe Russo
Studio: Walt Disney Studios Motion Pictures
Cast: Chris Evans, Robert Downey, Jr., Scarlett Johansson
MOVIE REVIEW: Intense action, tender moments, charismatic characters and even a little comic relief. You'll find it all in "Captain America: Civil War," the 13th installment of Marvel's Captain America franchise.
The story opens with a battle between a team of Avengers led by Captain America/Steve Rogers (Chris Evans) and armed mercenaries in Lagos Nigeria. The fight results in many civilian deaths, which isn't good PR for the Avengers.
Back home, Tony Stark/Iron Man (Robert Downey, Jr.) asks Captain America, Natasha/Black Widow (Scarlett Johansson), Sam/Falcon (Anthony Mackie), Vision (Paul Bettany), Rhodes (Don Cheadle), and Wanda/Scarlet Witch (Elizabeth Olsen) to sign an international agreement that would limit the Avengers' authority, allowing them to only act on the authority of a global task force and the Secretary of State.
The Avengers are divided. Steve doesn't like the idea, but Tony, Vision and Rhodey think it's the right thing to do. Things escalate when an assassin detonates a bomb at the United Nations, where the agreement was to be signed. The culprit is none other than Steve's old friend, Bucky Barnes/Winter Soldier (Sebastian Stan).
One of the casualties was the King of Wakanda, which causes his son, Prince T'Challa (Chadwick Boseman) to seek vengeance with his alter ego, the Black Panther. Meanwhile, Steve is not going to turn Bucky over to the authorities without learning more information - and there's plenty more to learn.
Tension builds between the two avengers factions - Tony and his team, and Steve and his team. Old friends take sides, and an all-out civil war takes place, with Ant Man (Paul Rudd) and Spider-Man (Tom Holland) entering the fray.
With so many characters and lots of action, it's challenging to build character development, but this is familiar territory for the Russo Brothers - directors Anthony and Joe, who directed 2014's "Captain America: The Winter Soldier." They somehow manage to pack a lot into this movie, with thrilling action sequences and quiet moments of character development, all the while moving the story forward to more Marvel movies.
While each of the characters get some screen time, this is really Captain America's movie, and Evans plays the loyal, responsible and honorable character to the tee. Especially as he deals with complicated feelings for his old friend Bucky, now a killing machine.
Holland and Boseman are great as Spider-Man and Black Panther. I love that Spider-Man is played by an actual teenager (Tom Holland turns 20 in June), and that he geeks out over getting to work with the older superheroes. He's great for the comedic moments, as is Vision, who wanders through walls at inopportune moments. Though the Avengers are divided in this movie, we know this team can never stay mad at each other.
As with all Marvel movies, be sure to stay through the end credits for not one, but TWO end scenes.
PARENT OVERVIEW: Lots of fighting, and characters do get injured. Infrequent language includes "s--t" and "son of a bitch." One quick kiss and a few longing looks.
PARENT DETAILS (May Contain Spoilers):
Violence/Gore: Avengers fight amongst themselves and with outside forces, using guns and weapons. A character grieves the death of a loved one. Lots of explosions, collateral damage, and innocent casualties, including a few close-ups.
Sex/Nudity: Captain America shares a quick kiss with a woman. Vision and Scarlet Witch share longing looks and hug a few times.
Profanity: A few uses of "s--t," "ass" and "son of a bitch."
Drugs/Alcohol: None.
JANE'S REEL RATING SYSTEM:
One Reel – Even the Force can't save it.
Two Reels – Coulda been a contender
Three Reels – Something to talk about.
Four Reels – You want the truth? Great flick!
Five Reels – Wow! The stuff dreams are made of.
Jane Boursaw is the film critic and editor-in-chief of Reel Life With Jane. Contact her at jboursaw@charter.net. Images in this review used courtesy of the studio and distributor.