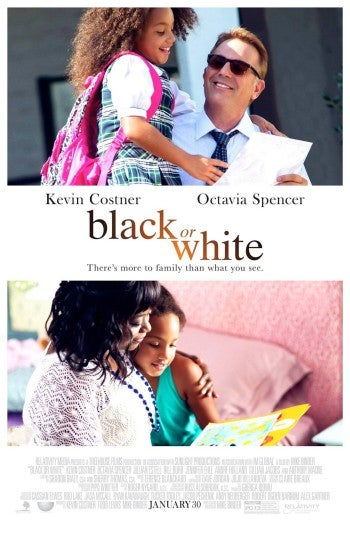 SYNOPSIS: Kevin Costner plays a grieving widower who's drawn into a custody battle over his mixed-race granddaughter, whom he's helped to raise since her birth.
Reel Rating: 4 out of 5 Reels
MPAA Rating: PG-13 for brief strong language, thematic material involving drug use and drinking, and for a fight
Released in Theaters: Jan. 30, 2015
Best for Ages: 13+
Genre: Drama
Runtime: 121 minutes
Directed by: Mike Binder
Studio: Relativity Media
Cast: Kevin Costner, Octavia Spencer, Jillian Estell, Mpho Koaho, Anthony Mackie
Official Site: Black or White
REVIEW: With all the racial issues making headlines this past year, "Black or White" is a well-timed film. As the title implies, nothing is black or white. Both black and white people can be drug-addicted slackers, well-schooled go-getters or alcoholics who've lost their way. Nothing is black or white, and as this movie suggests, maybe we all need to try harder to look past the color of someone's skin and see the true person inside.
"Black or White" follows the story of Elliot Anderson (Kevin Costner), a wealthy lawyer with an alcohol problem who finds himself raising his mixed-race granddaughter, Eloise (Jillian Estell), after his wife Carol (Jennifer Ehle) dies tragically in a car accident. The child's mother died during childbirth and her father Reggie (Andre Holland) is a drug addict who's been out of the picture.
Eloise's paternal grandmother, Rowena (Octavia Spencer), is a self-made woman who lives with her large family in South Central L.A. and runs several businesses. Now that Elliot is raising Eloise on his own, Rowena wants to be more involved in her upbringing. She also thinks it's a good idea if Eloise be part of her happy household.
With Elliot hitting the bottle pretty heavily, Rowena sues for full custody of Eloise. The lawsuit causes both Elliot and Rowena to navigate some challenging waters involving racial issues, drugs, alcohol and their shared love for their granddaughter.
Though "Black or White" drags a bit in the middle and could have benefited with 20 minutes chopped off, it takes a brave look at race and what it means to be black or white in America today. Costner has a great courtroom speech where he explains that, yes, the first thing he notices about a black person is the color of their skin. But his second thought — about the person under the skin — is more important. Skin color is not the reason he doesn't want Reggie around Eloise. It's because he's a drug addict who needs to get his life together.
At the same time, Elliot has a major drinking problem, and even drinks in front of Eloise. To his credit, at least he hires someone to drive he and Eloise to school and other appointments. Duvan Araga (Mpho Koaho), who also doubles as Eloise's tutor, is my favorite stand-out performance here. He's not only a well-educated go-getter, but he lightens up the storyline by carrying a briefcase around and handing out all the papers he's written on various subjects to anyone who will take one.
Rowena is smart and caring, but has a blind spot when it comes to her son Reggie. Yet her house is warm and filled with happy laughter and music, and Elliot walks through the house with no racial bias whatsoever. He's at home there, and he takes it in stride when Rowena's family laughs at him for accidentally getting into the wrong car in a drunken stupor. In short, none of the characters in "Black or White" are perfect, but they're all trying to be better.
I also have to mention little Jillian Estell, who turns in a delightful performance as the young girl at the center of this drama. What it all boils down to is family, and above all else, "Black or White" celebrates family in its many forms.
THE DETAILS (May Contain Spoilers):
Sex/Nudity: Elliot has flashbacks and visions of his beloved wife. A secondary character and his girlfriend are affectionate.
Violence/Gore: Arguments and general tension throughout the movie. A man draws a knife, and another man is hit with a blunt object during a fight scene. A man falls into a pool cover and nearly drowns while trying to untangle himself.
Profanity: One use of "motherf—-r." The "N" word is used several times.
Drugs/Alcohol: Elliot drinks and is intoxicated or hung over throughout much of the movie. Reggie is a drug addict who's shown smoking crack in one scene.
Which Kids Will Like It? Kids 13 and older who like dramatic movies about racial issues.
Will Grownups Like It? "Black or White" is an engaging look at racial issues in America (though they could have chopped off about 20 minutes).
JANE'S REEL RATING SYSTEM:
One Reel – Even the Force can't save it.
Two Reels – Coulda been a contender
Three Reels – Something to talk about.
Four Reels – You want the truth? Great flick!
Five Reels – Wow! The stuff dreams are made of.
Jane Boursaw is the film critic and editor-in-chief of Reel Life With Jane. Contact her at jboursaw@charter.net and check out the shop for fresh editorial content.