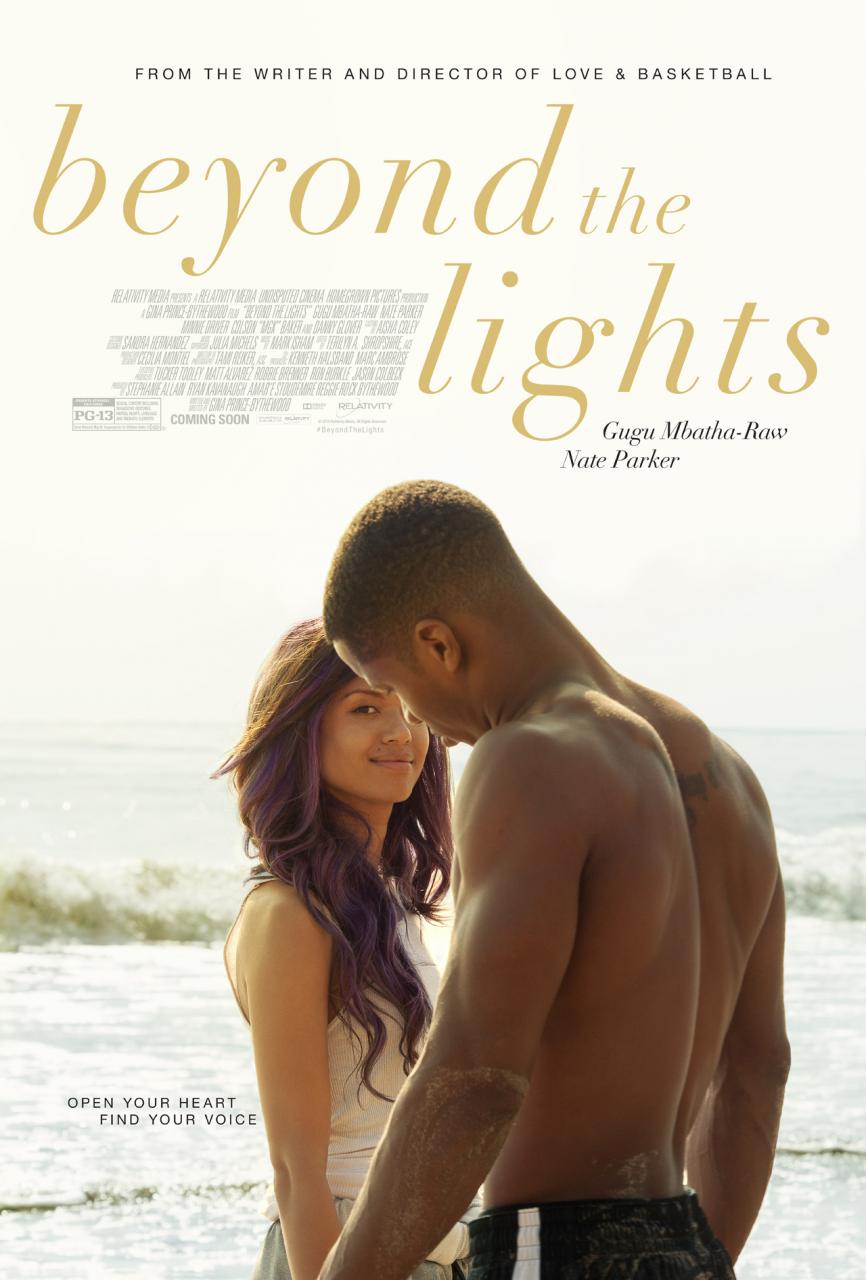 Reel Rating: 4 out of 5 Reels
MPAA Rating: PG-13 for sexual content, including suggestive gestures, partial nudity, language and thematic elements
Released in Theaters: Nov. 14, 2014
Best for Ages: 14+
Genre: Romance, Drama
Runtime: 116 minutes
Directed by: Gina Prince-Bythewood
Studio: Relativity Media
Cast: Gugu Mbatha-Raw, Nate Parker, Minnie Driver, Danny Glover
Official Site: Beyond the Lights
REVIEW: Here's something interesting. A romantic drama that's NOT a Nicholas Sparks movie. This is nothing against Nicholas Sparks movies, which have a huge fanbase, so yay for him for churning the dreamy romances out year after year. But it's nice to have a romantic drama — and a good one at that — that's not based on a Nicholas Sparks movie and has a different vibe.
"Beyond the Lights" follows the life of Noni, a young pop star who is struggling with the price of fame and fortune. But the story starts when she's just a youngster. Her English single mother Macy (Minnie Driver) is asking a black stylist to help tame her bi-racial daughter's hair in time for a talent show. The talented tween proceeds to blow the judges away with her poignant performance of Nina Simone's "Blackbird," but … she's named runner up.
Jump ahead a decade, and Noni (Gugu Mbatha-Raw) is now a sexy superstar along the lines of Rihanna or Beyonce, and she's about to drop her first album. Despite winning an award for her collaboration with boyfriend/rap star Kid Culprit (Richard Colson Baker), Noni is not handling the pressures of fame well. She decides to end it all by jumping off her hotel balcony, but in the nick of time is saved by Kaz Nicol (Nate Parker), a police officer who's assigned to her security detail. Noni blames the incident on too much alcohol, and Kaz is branded a hero. But he knows the truth, and it's clear there's a spark between these two.
Meanwhile, Kaz is being groomed by his police officer dad to become a politician, a path that's in danger of derailing as Kaz starts spending time with Noni. The two lovers realize they must make some important decisions about their future.
Writer-director Gina Prince-Bythewood may be new to some moviegoers, but longtime fans will recall her 2000 debut, "Love and Basketball," and 2008's "The Secret Life of Bees." It took nearly a decade to get "Beyond the Lights" made, partly because she always had Mbatha-Raw in mind to star — long before she starred in last year's critically acclaimed "Belle."
Mbatha-Raw delivers a pitch-perfect performance as a rising star who is trying to break free of the hyper-sexualized brand that her momager is pushing on her. Yes, the mom is ok with seeing her daughter perform seductively in underwear and simulate a sex act on stage. There's so much wrong with that.
Parker is also perfectly cast as a sensitive guy who sees the singer for who she really is — not what the rest of the world sees on stage. They have great chemistry, not just the romantic scenes, but the sweetness they see in each other.
"Beyond the Lights" is a substantive romantic drama with excellent performances and a gorgeous soundtrack (buy it on Amazon here), with Mbatha-Raw performing her own songs. I also hope this movie helps teens to see that the fame and fortune of being a pop star isn't all it's cracked up to be.
THE DETAILS (May Contain Spoilers):
Sex/Nudity: Noni and Kaz make love several times; viewers see bare backs, shoulders, and sides. Noni and Kid Culprit kiss a few times and talk about "hitting it." During a performance on stage, Noni dances seductively and Kid makes vulgar gestures, pushing Noni's head toward his genitals and her body onto a bed. Noni wears revealing outfits, on stage and off. Her mom, who's also her manager, approves when photographers tell Noni to take off her top.
Violence/Gore: Noni tries to commit suicide by jumping off a hotel balcony. Kid Culprit rips Noni's outfit and is rough and overly sexual with her during a live on-stage performance, causing Kaz to punch him. Macy slaps Noni.
Profanity: Includes "s–t," "bulls–t," "a–hole," "bitch," and one "f–k." English slang includes "bloody," "shite," "arse."
Drugs/Alcohol: Adults drink in clubs and at parties. Noni blames "falling off the balcony" on alcohol consumption.
Which Kids Will Like It? Kids 14 and older who like romantic dramas, especially those centered on the music industry.
Will Grownups Like It? "Beyond the Lights" is a solid romantic drama with excellent performances, a substantive storyline, and a beautiful soundtrack.
JANE'S REEL RATING SYSTEM:
One Reel – Even the Force can't save it.
Two Reels – Coulda been a contender
Three Reels – Something to talk about.
Four Reels – You want the truth? Great flick!
Five Reels – Wow! The stuff dreams are made of.
Images in this review used courtesy of Relativity Media.
Jane Boursaw is the founder and editor-in-chief of Reel Life With Jane. Her credits include hundreds of print and online publications, including The New York Times, People Magazine, Variety, Moviefone, TV Squad and more. Reel Life With Jane.