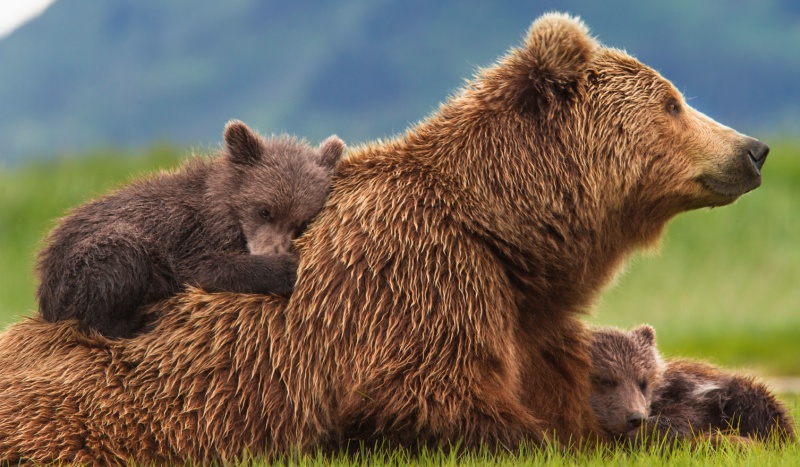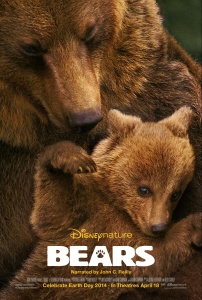 Reel Rating: 4 out of 5 Reels
MPAA Rating: G
Released in Theaters: April 18, 2014
Genre: Family, Documentary, Nature
Runtime: 86 minutes
Directed by: Alastair Fothergill, Keith Scholey
Studio: Disneynature, Walt Disney Studios Motion Pictures
Cast: John C. Reilly
Official Site: Bears
SYNOPSIS: This latest installment in the Disneynature documentary series follows an Alaskan bear family as its young cubs are taught life's most important lessons.
REVIEW: I knew bear cubs were cute, but this film made me love them even more. And the little kids in the theater where I saw it agreed – they were oohing and ahing all the way through it.
The story follows an Alaskan brown bear named Sky and her two cubs, Amber and Scout, who were born during hibernation. The movie begins with the bears leaving their winter den in search of food; otherwise, Sky won't be able to produce enough milk to feed the cubs during the next winter. The three bears embark on a dangerous journey across the Alaskan landscape to reach the spawning salmon that make up the bulk of a bear's diet.
John C. Reilly narrates the adventure, as Sky and the cubs face everything from threatening alpha bears to natural disasters in order to reach the fish that will nourish and sustain them for another year.
"Bears" is in the capable hands of veteran Disneynature filmmakers Alastair Fothergill and Keith Scholey, who know what they're doing with these documentaries. The footage is nothing short of amazing, as we see the newborn cubs up close in the den, then follow them on their journey across Alaska.
Over the end credits, we see the cinematographers in the wild, and they're super close to those bears! I couldn't help but think of another bear documentary, Werner Herzog's "Grizzly Man," where activists Timothy Treadwell and Arnie Huguenard were killed while living among the grizzlies. Thankfully, that doesn't happen here. The camera people were close — close enough to see the detail on the bears' fur — but the bears just look at them and move on.
The film took a year to complete, and the cinematography is absolutely stunning, everything from sweeping landscapes of the Alaskan terrain to up-close shots of the bears, wolves, salmon, eagles and ravens.
John C. Reilly is an interesting choice for the narration, since much of his work falls into the grownup humor genre like "Walk Hard: The Dewey Cox Story," "Anchorman" and "Step Brothers." But turns out his narration style is fun — the movie is G-rated, after all — and his voice is perfect for delivering both facts and funny comments about the bears.
Some people don't like the "Disneyfication" of these documentaries, but when you instill human elements into the bears, it helps kids relate to the movie. That's what these films are all about — teaching kids about nature — and they do it excellently. I also love that it carries on the tradition of the "Wonderful World of Disney" that we watched on Sunday nights when I was a kid. "Charlie, the Lonesome Cougar" was a favorite.
"Bears" celebrates the relationship between a mother bear and her cubs, but it does get intense sometimes, like when bears fight or a cub gets stranded in the water, and you're not sure if he's going to make it back to shore. All ends well, but just make sure your kids can handle any potentially dangerous scenes.
THE DETAILS:
Sex/Nudity: When a male bear tries to "flirt" with a female bear, the narrator says he has "game." But she doesn't reciprocate the feeling, prompting the narrator to say, "That's Bear for 'no.'"
Violence/Gore: Sky and her cubs must overcome various obstacles, including a hungry wolf, fellow bears, and nature itself. They all survive, but there are several tense moments where it seems like one or both cubs might die. One scene shows a hungry male searching for a cub, and when the cub doesn't appear, it seem like he might have been eaten.
Profanity: None.
Drugs/Alcohol: None.
Which Kids Will Like It? Kids 6 and older who like nature movies or cute bears.
Will Parents Like It? Grownups will like "Bears" just as much as kids. The story also has some great messages about families protecting each other and sticking together to overcome obstacles.
JANE'S REEL RATING SYSTEM:
One Reel – Even the Force can't save it.
Two Reels – Coulda been a contender
Three Reels – Something to talk about.
Four Reels – You want the truth? Great flick!
Five Reels – Wow! The stuff dreams are made of.
By Jane Louise Boursaw. Jane Boursaw is a family entertainment writer specializing in movies and TV. Visit her at http://www.reellifewithjane.com, email jboursaw, or Google+