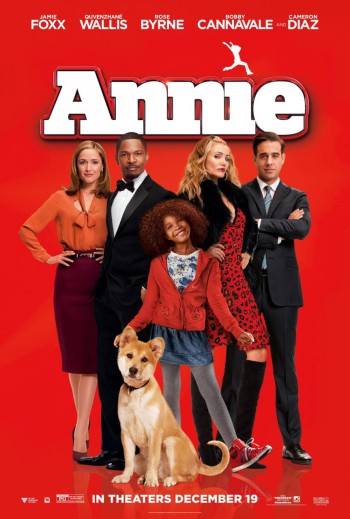 SYNOPSIS: Quvenzhane Wallis plays the beloved "Annie," a foster kid whose life changes when business tycoon and New York mayoral candidate Will Stacks takes her in.
Reel Rating: 3.5 out of 5 Reels
MPAA Rating: PG for some mild language and rude humor
Released in Theaters: Dec. 19, 2014
Best for Ages: 8+
Genre: Family, Musical
Runtime: 118 minutes
Directed by: Will Gluck
Studio: Sony Pictures Releasing/Columbia Pictures
Cast: Jamie Foxx, Quvenzhane Wallis, Cameron Diaz
Official Site: Annie
REVIEW: I haven't seen the Broadway musical "Annie," but I'm familiar with the 1924 "Little Orphan Annie" comic strip by Harold Gray and thus, know something about the story. So this review is pretty much a stand-alone review of the movie, which I thought was very cute.
It's a modern-day take on the story which takes place in present-day New York City. Annie (Quvenzhané Wallis, who does a great job) is a foster kid who, along with several other girls, is living with the vile (and usually drunk) Miss Hannigan (Cameron Diaz).
When cell phone tycoon Will Stacks (Jamie Foxx) — an updated version of Daddy Warbucks — saves Annie from being run over by a truck, it sets off a series of events designed to help him in his mayoral campaign. His sketchy campaign manager (Bobby Cannavale) decides that Stacks needs a child to make him more human and sympathetic, so Annie leaves her "hard-knock life" for Stacks' luxurious, high-tech penthouse apartment.
Meanwhile, Annie continues to search for her biological parents, mainly by waiting outside the restaurant where they left her one night, promising in a hand-written note to one day return for her.
Wallis is terrific as little Annie, who's just a ray of sunshine and optimism, prone to bursting into song at a moment's notice. And Diaz gets to chew up the scenery as the wretched Miss Hannigan. Even though she's clearly not a role model in this movie, I don't think it's good for kids to see that type of character on screen, which is why I'm going with ages eight and older on this one.
I love the scenes between Foxx and Wallis, as they eventually realize they need each other (with a little help from Stacks' assistant Grace, played by Rose Byrne). Sure, some of the dialogue and dance numbers are a little hokey, but they're still heartwarming and cute and reminded me that Foxx has a beautiful voice.
The composer, Greg Kurstin, and producers, including Jay-Z, Will Smith and Jada Pinkett Smith, updated the music and added original songs, but they kept familiar numbers like "It's the Hard-Knock Life" and "Tomorrow," so don't be surprised if you find yourself humming along.
While not a perfect movie, "Annie" is still entertaining and fun and will make you smile.
THE DETAILS (May Contain Spoilers):
Sex/Nudity: Miss Hannigan wears provocative clothes and hits on any man in her vicinity. In one scene, she's mistaken for a prostitute. A male and female character like each other and kiss once.
Violence/Gore: Annie nearly gets run over by a truck and is in peril during a car chase scene. Miss Hannigan threatens to hit the girls with a broom and sprays them with Windex.
Profanity: Includes "idiot" and "sucks." Miss Hannigan calls the girls "monsters" and tells them to shut up.
Drugs/Alcohol: Miss Hannigan drinks frequently and appears drunk through most of the film. She also worries about Child Protective Services finding her pills in the bathroom medicine cabinet.
Which Kids Will Like It? Kids eight and older who like musical movies featuring kids, or who are familiar with the Broadway version of "Annie."
Will Grownups Like It? "Annie" is a cute movie with a few heartwarming scenes, but because of Miss Hannigan's drinking and shenanigans, I don't recommend it for kids younger than eight years old.
JANE'S REEL RATING SYSTEM:
One Reel – Even the Force can't save it.
Two Reels – Coulda been a contender
Three Reels – Something to talk about.
Four Reels – You want the truth? Great flick!
Five Reels – Wow! The stuff dreams are made of.
Jane Boursaw is the film critic and editor-in-chief of Reel Life With Jane. Contact her at jboursaw@charter.net and check out the shop for fresh editorial content.