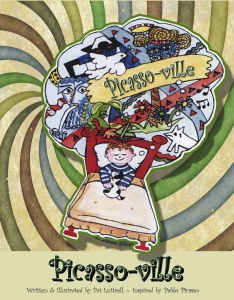 Reviewed by NJ Kids, Jenny Tananbaum
A young boy drifts off to sleep, and is soon dreaming of the wonderfully vivid world of "Picasso-ville, (a) village of colors and shapes." Here, in Picasso-ville, "everything is strange. It's a most unusual place." And indeed it may seem to a bit strange to young readers, all the bright colors and the interesting placement of shapes, but this engaging, rhyming story, written and illustrated by child educator, Pat Luttrell (and inspirited by Pablo Picasso) is the perfect introduction to the artwork of this famous painter.
0ur young boy dreams the night away, taking readers on a voyage through the village. "The roads are straight and yet they curve. Each leads to Picasso Square, where people gather to say hello, there sat a girl with pretty green hair." And then there, on the opposite page, is indeed a girl with pretty green hair – in fact, a reproduction of 'Girl with a Boat (Maya Picasso)". Luttrell has cleverly introduced us to one of Picasso's paintings, inserting, as well, a snippet of information, including the year it was painted (1938) and the technique (oil on canvas). Children are learning, without even realizing it.
The boy continues on his journey, and we continue on a journey through the world of Picasso, meeting a man with a pipe (Cavalier with Pipe, 1968), a boy dressed as a clown (Paulo, Picasso's son, as Harlequin, 1924), and an odd man with an ice cream cone (Man with a Straw Hat and Ice Cream Cone, 1938). The picture book is an art appreciation class, without being dull or dry. Children will marvel at both the boys adventure told through the bright, singsong rhymes, and Picasso's colorful, multi-layered artwork. This is a book for all ages – young children will love the story and the young boys dream voyage, and begin understanding – and admitting – Picasso and his artwork; older children can delve even deeper into Picasso's artwork, and even enjoy a sort of scavenger hunt, gleaming clues from Luttrell's description, including finding the Three Musicians in the painting of the same name.
Even better, read this wonderful picture book, then take it along as you head to a local art museum and study Picasso up close and personal. Luttrell has done a perfect job of engaging young readers in the world of art, and as the young boy says, when he awakes from his dream, "I really loved Picasso-ville – It's like a dream come true. I love to draw and paint and sing, I must be an artist too!" "Picasso-ville" will indeed inspire young children to want to create their own art adventure, and hopefully, with the help of this book, to continue to learn about such artists as Pablo Picasso.
Picasso-Ville
Written and Illustrated by Pat Luttrell (Inspired by Pablo Picasso)
24 Pages
Ages 4+
Pat Luttrell is an early childhood educator with a passion for fine arts. With more than thirty years in the field, Pat has created a "Meet the Masters" program that teaches young children "the art of appreciation" of famous artists and their unique styles. The rhyming words describe the works of Picasso as seen through the eyes of children in the author's art appreciation class- at both Palisades Country Day School in Closter, and Palisades Pre-School in Fort Lee. Pat also serves as Director of Palisades Country Day Camp in Closter, N.J. for the past twenty one years. She has been a Bergen County resident for over forty years with her
husband, children and grandchildren.
Picasso-ville is the first of a series of dreamscapes that will introduce the "Masters" to the young child 4-8 years of age. It is available on Amazon.
Some comments and reviews from review section of Amazon.
This is the first book of it's kind for children that i have come across it is a great story and very magical for
children i would recommend this book i give it a 10+

My 6 year old daughter and I loved this book!!!, March 24, 2014. My daughter loves to draw and paint, She enjoyed looking at the different paintings. I found that the book was easy for my 6 year old daughter to follow. Some of the paintings we looked for hidden shapes. I also liked that the author wrote a small biography on the artist. I think it's important for the children to learn a little about the artist. I will certainly look for more books by this author.

Bought this book for my nephew and he loves it. The images are beautiful and the story was really good!
Read this book to my preschool class and they loved it! Really puts Picasso on the children's level. Exciting, fun and new! When is the next one coming out?!?!