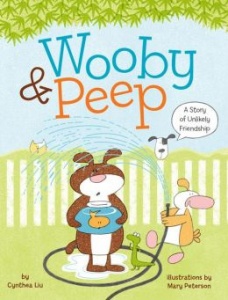 Wooby & Peep: A Story of Unlikely Friendship (written by Cynthea Liu and illustrated by Mary Peterson) is a perfect book for this time of year: a fun, silly, important reminder to be yourself and not try so hard to impress new friends – plus to be open to different personalities because in the end, you may have more in common with others than you ever realize.
And so it is with Peep and Wooby (whimsically illustrated in soft pastel colors). Peep has just moved into the neighborhood – "a quiet little street where the neighbors minded their own business." Right away, Peep decides it's too quiet and he sends out invitations to a party (the invitation promises it will be the wildest housewarming party of the year, an all day party!").
Next door, Wooby is a bit unsure – he admits he's not the wild type, but understands it'd be rude not to go. None of the other neighbors attend, however, content in the status quo of the neighborhood and wary of Peep. Peep is undeterred, determined to make it fun.
"Would you like to pin the tail on the zebra?" he asks Wooby, excitedly. "Want to take a jungle ride? Or maybe we can do a safari dance?" It's obvious Peep is trying so hard to make a good impression and wants to make Peep like him. Even after the party, Peep still tries – like buying a huge marble globe for Peep's backyard, and trucking in a grove of trees – but each gesture of friendship backfires: the globe tumbles and breaks Wooby's favorite flowing fountain, he brought in the trees only because he knocked down a 547 year old tree – and the new trees in turn knocked down a part of Wooby's house. Peep is trying so hard, but nothing is going right.
But then, when Wooby hears noise coming from Peeps house, he discovers his new neighbor trying desperately to piece together the mess he has made.
"I just wanted to say thank you for being my friend," Peep said.
Wooby is baffled. He thought he was just a neighbor, but Peep explains, "You came to my party. You were the only one and this whole time I've just wanted to be a friend back."
And then Peep continues, explaining that he was lonely, and that it's really no fun to play Go Fish with his pet lizard.
And suddenly, Wooby's ears perk up – Peep likes Go Fish. He likes Go Fish, too.
"Let's be friends," Wooby said
If only Peeps had just been himself and showed Wooby the things he liked to do from the start, he wouldn't have had to try so had. A great lesson for kids: People will usually like you for who you are. And even when you are so sure the new neighbor or camp mate is just a wild party animal, you may be surprised – he might be a champion Go Fish player, too.
Wooby & Peep: A story of Unlikely Friendship
Written by Cynthea Liu
Illustrated by Mary Peterson
Published by Sterling Children's Books
40 Pages
Recommended for Ages 4-8
Reviewed by Jenny Tananbaum