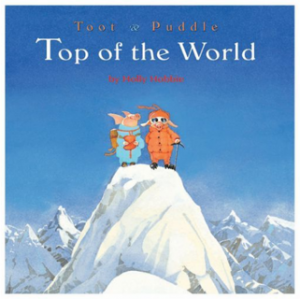 When I was younger, one of my favorite characters was Holly Hobbie. I slept with my Holly Hobbie doll, on my Holly Hobbie sheets, under my Holly Hobbie comforter. Little did I know that Holly Hobbie was in fact a real person, until I stumbled upon the delightful story written by her, Top of the World.
Top of the World introduces us to two loveable pigs, Toot and Puddle (I have since learned Toot and Puddle are actually stars of their own animated show on TV). They live in Woodcock Pocket and are inseparable friends, although Toot loves to travel, while his buddy, Puddle, prefers to stay at home.
Top of the World begins innocently: Puddle wakes up one morning and finds a note from Toot (Puds, Gone for a walk. Be back soon. T. P.S. I'll cut the grass when I get back). Puddle isn't alarmed at first (this won't be the first time Toot has ever gone off for an adventure), so, like any good friend, decides to help out Toot and cuts the grass himself.
But at lunch Toot still isn't back.
"Maybe he went fishing," his friend, Tulip, suggests.
"But we always go fishing together," Puddle answers.
At dinner, Toot still has not returned, and Puddle is getting worried. He's still not home as night falls and it grows dark
"'What if Toot tumbled into a hole and couldn't get out? Or worse,' Puddle thought, 'something even worse.'"
Puddle quickly decides he needs to go and look for his friend. He heads off through the woods, finally coming to the train tracks. Knowing how much his friend loves trains, Puddle hops the next box car that comes along, which leads him to the airport, where he sees a poster for Provence (that's one place Toot has never been), so he boards the next flight to France.
Provence is beautiful, Puddle admits, but where is his friend…. and then, suddenly, 'Bonjour, mon ami!'" Toot cheered.
The friends are back together – but their adventure is not over. At the airport, they pass a poster for Nepal – "'They have the tallest mountain there," Toot said, and off they go, to climb the mountain, to stand on top of the world.
On the way down, they both agree that while traveling is fun, it's also nice being at home. And so they head back home together.
Fans of Toot and Puddle will certainly enjoy being reunited with two such loveable swines; but even if this is your first meeting of the pigs, Top of the World, is a sweet, stand alone book – and, coupled with Holly Hobbie's gentle illustrations captures the true definition of friendship. It is also a charming reminder that we should never be afraid to chase adventure, even if it takes you to the top of the world.
Top of the World
Written and Illustrated by Holly Hobbie
Published by Little Brown Books for Young Readers
32 Pages
Ages 3 plus
Reviewed by Jenny Tananbaum.