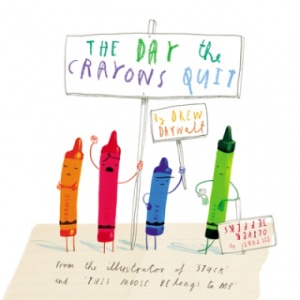 The cover illustration says it all – four crayons, all looking rather peeved, stand on a piece of paper, holding picket signs. Sure, the picket signs advertise the title of the book, The Day the Crayons Quit, the author, Drew Daywalt, and the illustrator, Oliver Teffers (comically, green crayon, holds that sign upside down, leaning on the handle, so you have to turn the book around to read the words) – but the scene is set and it is obvious we've got a protest on our hands.
And what a protest. One day, a young boy named Duncan takes out his crayon box, and instead of finding his crayons, he finds a stack of letters addressed to him. They are from the crayons, and they have quit and want their concerns heard. Red is convinced he works harder than any other crayon (there are the fire engines, apples and strawberries, not to mention Santas and Valentine hearts) while Purple, a neurotically neat sort of crayon, is dismayed by how Duncan is unable to stay inside the lines. Beige is tired of playing second fiddle to brown (beige is only the color of wheat and "when's the last time you saw a kid get excited about coloring wheat?") and Peach, whose outer paper wrapping has been peeled away, is soulfully embarrassed by his nakedness. Orange and Yellow are no longer speaking (they each believe they are the true color of the sun) and pink, while grateful Duncan's sister has been using her, wonders if, perhaps, he'd consider, maybe, coloring a few dinosaurs or cowboys or monsters pink, occasionally.
The Day the Crayons Quit is a whimsical, comical tale told almost entirely through the letters. The story gets at the heart of these overused writing utensils and the pictures – crayons with stick hands and legs standing next to perfect replicas of a young child's drawings - are simply wonderful and funny. Moreover, for young students learning about persuasive writing, it is also a perfect example of how to convince someone about your feelings and views. Ultimately, Duncan does indeed become convinced and when he hands the teacher his new drawing, there's an orange whale, pink dinosaur, yellow sky, black rainbow, blue bus, and a green sea.
The Day the Crayons Quit opens up our imagination and allows us, figuratively, to color outside the lines, and while I originally thought the book was a bit silly and even redundant, I soon realized that children will love getting inside the minds of their beloved crayons, and see the colors in a whole new light. What fun it will be the next time they open up their box.
The Day the Crayons Quit
Written By Drew Daywalt
Illustrated By Oliver Jeffers
Published By Penguin Young Readers Group
40 Pages
Recommended 4-7
Reviewed by Jenny Tananbaum.