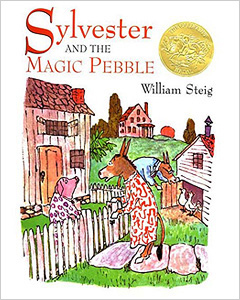 Sylvester and the Magic Pebble, written and illustrated by William Steig, is both a heartwarmingly magical story and a heartbreakingly sad tale. Steig tells the story of a young donkey named Sylvester, who is quite fond of collecting interesting pebbles – and it as he is pebble hunting one rainy day that he finds "quite an extraordinary one. It was flaming red, shiny, and perfectly round, like a marble." Sylvester shivers – perhaps excited by his find, perhaps by the rain, and, while grasping the pebble, says, "I wish it would stop raining." Lo and behold, the rain instantly stops, the sun comes out, and the ground is perfectly dry.
The pebble is magic – imagine that all his wishes could come true; imagine his parents having all they ever wanted. Sylvester begins to rush home, when suddenly, crossing Strawberry hill, he meets a hungry looking lion, and not knowing what to do, Sylvester wishes he were a rock. Instantaneously (much to the lions chagrin) he immediately turns into a rock. He escapes the immediate danger, yet, unable to hold the magic pebble in his hand (as a rock, he obviously has no hands), Sylvester's wishes can no longer be granted, and a rock he remains.
His parents are understandably devastated when Sylvester fails to return home – and this is where I find this Caldecott Medal book heart-wrenchingly difficult to read. The book was published in 1969, in an era before the all too frequent stories on the news about missing children – and yes, Sylvester was not abducted by some monster; yet I could only envision the sheer pain Sylvester's parents felt when, even after a month searching for their son, they couldn't locate him. And Sylvester himself, now a rock, slides deeper and deeper into depression wondering if anyone will ever be able to find him. I can't help but remember all the news stories, the Elizabeth Smart interviews, and for what probably wasn't a true possibility in 1969, seemed too fresh. (As a note, my 8-year-old daughter loves this book, and thankfully never equates the missing child to anything other than a donkey who has turned into a rock. Ignorance is bliss sometimes.)
Thankfully, the magic returns, and one day in May, Sylvester's Dad convinces his Mom to go out for a picnic. "'Let's cheer up,' he said. 'Let us try to live again and be happy even though Sylvester, our angel, is no longer with us.'" They end up on Strawberry Hill, by a rock (which happens to be Sylvester). Sylvester wakes up from a deep sleep, sensing his parents are nearby, but, sadly, he as no way of calling to them. Suddenly, his father finds the pebble – "Sylvester would have loved it for is collection," he says, placing the magic pebble on the rock. Oh, Sylvester thinks, how I wish I were my real self again…. and now, with the pebble resting on his rock, in less than an instant he was! Overjoyed the family returns home and locks the pebble in a safe. "Some day they might want to use it, but really, for now, what more could they wish for? They had all that they wanted." Despite the sadness I felt reading Sylvester and the Magic Pebble, I feel heartened by the end. It truly is a beautiful story, and importantly, reminds all of us that what's most important is right here in front of us. Even if all our wishes were granted, we already have all we ever need.
Sylvester and the Magic Pebble
Written and Illustrated by William Steig
Published by Aladdin Paperbacks
32 Pages
Recommended for Ages 6+
Awards: Caldecott Medal and Selected as one of the 100 Best Books of the Century by the NEA
Reviewed by Jenny Tananbaum