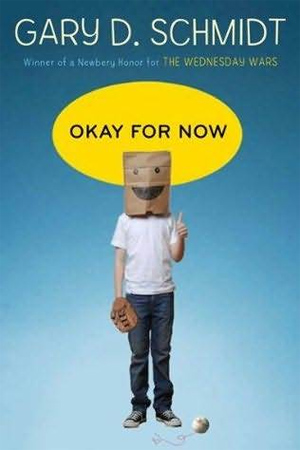 Are there times in your life when it seems that after something good happens to you something bad always happens in result? That's how life is for Doug, the main character in Okay for Now, a novel by Gary Schmidt.
We first meet Doug as he is getting a hat signed by his favorite Yankees player, Joe Pepitone. Doug thinks that he is having a perfect day, but then, when he gets home, his torturous brother steals the hat, and his father, who is an alcoholic, and often hits Doug, decides they are moving to a town called Marysville in upstate New York. Suddenly, his whole world is turned upside and Doug has to say good-bye to all his friends and leave them forever.
Okay for Now follows the story of 13-year-old Doug and shows how he copes with the daily problems of his life. In Marysville, Doug has to face many problems, such as making new friends, attending a new school, his terrible family, and his brother coming back from Vietnam with no legs and impaired vision. At first, he acts tough because he has grown up surrounded by people who, for the most part, are unable to show love. To Doug anyone who isn't like him is a "chump" - but slowly, Doug becomes a better person and he realizes that there is more to life than acting this way. Doug learns that he is very good at art, and he even learns to read, finally, in 8th grade.
The ending of this book is very compelling, and it leaves you thinking about how, despite how bad life can seem, there is always light at the end of the tunnel. It shows that maybe, even though our problems are not as bad as Doug's, we can learn that things will get better.
I'd rate this book a definite 10 because it pulls you in and makes you want to keep reading until the very end. Once I started reading it, I finished it within a week. The book has a theme of growing up, friendship, and overcoming the hardships of life. Gary Schmidt does an amazing job at making the book suspenseful, funny, and serious, all at the same time.
This book is one of the best books I've ever read, and overall, Okay for Now is a great book that I would strongly recommend people read.
Review Written By 8th Grader Jacob Tananbaum
Okay For Now
Written By Gary Schmidt
Published By HMH Books for Young Readers
368 Pages
Recommended For Ages 10-14