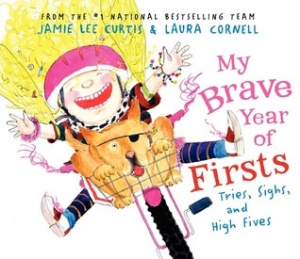 Author Jamie Lee Curtis and Illustrator Laura Cornell have done it again! In, "My Brave Year of Firsts: Tries, Sighs and High Fives", both children and parents will enjoy stepping into the world of a young girl who navigates the joys and fears of trying something for the first time – and learning that part of growing up is confronting challenges, celebrating successes, and bravely taking chances.
As with all of Curtis' and Cornell's previous 10 collaborations (including 'It's Hard To Be Five', 'Today I Feel Silly', and 'Tell Me Again About The Night I Was Born'), the dynamic duo successfully captures the doubts, questions and triumphs of young children. The illustrations humorously paint a perfectly chaotic picture of childhood that both kids and grown-ups alike will love and the rhyming verses combine to create very identifiable vignettes. What child doesn't remember the first time they tried to ride a two-wheeler, wobbling from side to side as mom snaps photos and dad races behind? Who doesn't recall that first day of first grade and the fear of walking into class alone – and then finding that first friend? Don't we all shudder thinking about the first time we were caught in a lie? Indeed, in this year of firsts, there are tries, sighs and high fives. There are failure and successes, new discoveries, lessons and joys. Ultimately, as the author writes: "…I knew at that moment – though I've known all along – that first things first happen when I'm brave, true and strong."
It's a great lesson for all of us. Even though you might not succeed, you never have a chance if you don't first try.
By Jamie Lee Curtis (Writer) and Laura Cornell (Illustrator)
40 Pages
Harper Collins Publishers
Ages 4-8
A Definite Read!
Reviewed by Jenny Tananbaum, NJ Kids Staff