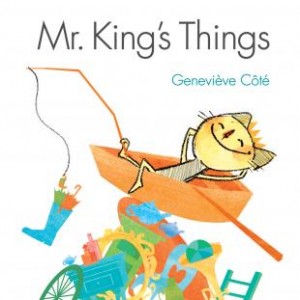 Who doesn't like new things? But has Mr. King taken things too far? This story sends an important environmental message to the reader from a cheery group of animals that even the youngest children can relate to.
Mr. King's favorite pastime is tossing his old things in the shallow pond in replace of his new things. But one afternoon as he floats on the pond fishing in his new boat, he encounters an enormous monster emerging from the pond heading caught on his line. From the noise, his friends come running to the rescue. As they approach the pond, all of the animals are in awe from the huge pile of things washed up on shore.
Mr. King peeks out from his hiding to discover all of friends are playing with his old things he threw into the pong. Red with embarrassment, Mr. King confronts the group and in the end, learns how much fun it can be to turn his old things new again.
The illustrations are bright and witty and will definitely keep the children paying attention through this engaging and educational story.
By Genevieve Cote
Hardcover, 30 pages.
Ages 4-7
I recommend this