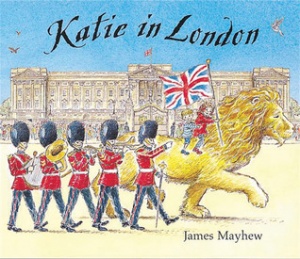 While there is nothing better than opening up a book and losing oneself in a different world, a story that is laced with both fantasy and fact is a wonderfully, perfect blend, especially in children's literature – a chance to entertain AND educate. Katie in London, written and illustrated by James Mayhew, is just that book.
Katie and her brother James are visiting their grandmother in London. There is so much to see and do, but when they arrive at Trafalgar Square, Grandma is tired and needs a nap. Pointing to the famous lion at the foot of Nelson's Column in the middle of the square, Grandma says, "I'll have a little rest…you two stay by that lion, then I'll know where you are." Like so many children before them, Kate and James scamper off and climb the lion. Suddenly, as the sun comes out, the lion changes from bronze to gold and comes to life (a bit grumpy at first). When he learns the children haven't had a chance to see the sights of the big city, he invites them to climb aboard and off they go. They stop at St. Paul's Cathedral, the Tower of London, the Tower Bridge, the Globe Theater, Big Ben and the House of Parliaments. They even take a ride on the London Eye (although Lion is a bit queasy!) and watch the changing of the guard. A complete tour of London, in less than a day.
Katie in London is a light-hearted and enjoyable story – and children will love the thought of a famous statue coming to life and acting as tour guide. The illustrations are both lively and realistic – and paint a wonderful picture of London. Best of all, there are a fair amount of facts sprinkled through the story, teaching children about this city – and undoubtedly piquing their interest to learn more!
At the end of the day, the lion returns the children to Trafalgar Square, (not before the children ask to stop at Harrod's and buy the lion a woolen blanket, realizing he is cold sitting atop the stone). Grandma is just waking from her nap. She is now ready to start their tour; the children, however, are plain tuckered out, and beneath the watchful (and smiling eyes of the lion) fall fast asleep.
Katie in London
Written and Illustrated by James Mayhew
Published by Orchard Books
32 Pages
Ages 6 and up
Reviewed by Jenny Tananbaum