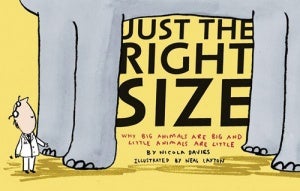 Get your hand on this mind blowing book to discover what it means to be just the right size. It tackles a variety of scientific concepts that you would normally brush off, not anymore! This book will surely get your child's brain wandering, teaching them and validating their doubts.
For example, the topic of super powers in movies, comics, and video games. How do these heroes zoom across the sky and why can't we in real life? Why do they run up walls? Why don't we have the strength to lift things as big as buses too?
This unusually enticing book tackles the complexities of humans and animals and our range of physical features, big or little. This is a great choice for children who are always asking questions and constantly curious how things work. Interesting read for adults as well!
Written by Nicola Davies
Illustrated by Neal Layton
Hardcover, 60 pages.
Ages 6 and up
✓ I recommend this
Reviewed by Stephanie Falcone