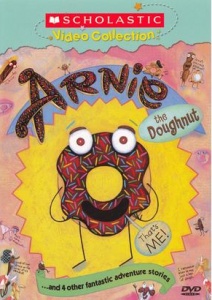 Every once in awhile, you come across a picture book that not only entertains and engages the kids, but also thoroughly entertains and engages the adult reader. Arnie The Doughnut written and illustrated by Laurie Keller (or cooked up by Laurie Keller as it says!) is one of those rare finds – a witty and creatively imaginative story that is a joy to read, no matter how old you are.
Arnie the Doughnut is a chocolate-covered doughnut with bright colored candy sprinkles. He was made just that morning at the Downtown Bakery – "Home of the Best Doughnuts A –'Round" and he is very proud to be one of the best. He's an energetic, outgoing little pastry and he blissfully tries to make friends with all the other baked goods on the tray. (The apple fritter he attempts to start a conversation with doesn't go very far – "Maybe's she's not a morning doughnut," he thinks.) Then suddenly, Arnie is picked by a customer, Mr. Bing. Arnie couldn't be more excited (although he is grateful for the soft paper napkin in the bag as the ride home is rather bumpy), and when he is finally removed from the bag by Mr. Bing and placed on a plate, he is obliviously unaware of what is going to happen next. Even when Mr. Bing lifts Arnie, Arnie believes Mr. Bing simply wants to hold him - until he realizes he is headed straight for an open mouth and screams, "What are you doing?" Poor Arnie never imagined he was simply another baked good about to be eaten; he assumed he was going to be taken home to live the good life with his new owner. Poor Mr. Bing is equally stunned by a talking doughnut, stammering, "I was going to….eat you."
What commences is a hilarious exchange between Mr. Bing and Arnie, both equally incredulous of the other. Arnie is sick, and frightened and angry – he believes he has uncovered a horrible conspiracy of doughnut-eating men and suddenly needs to warn all the other pastries at the bakery.
An equally hilarious exchange between Arnie and baker ensues, with the baker nonchalantly picking up the phone at the bakery and asking, "Yes, Arnie…what can I do for you?", finally explaining that yes, he knows people buy doughnuts to eat. Arnie can't believe it, but is resigned to his destiny and "collapses back onto the plate, uttering, 'All right then, let's get this over with. Go ahead and eat me."
But, of course, now Mr. Bing has his own reservations (who could ever eat a cute talking doughnut?) and decides if he's not going to eat him, they need to figure out another use for him. Both he and Arnie come up with a list of ideas – perhaps he could be a ballroom dancer or a chauffeur or a personal fitness instructor; maybe a pincushion or picture frame or bowling ball. None of the ideas seem just right and they realize Arnie ought to move on and find a better home, so off he goes. But just as Arnie passes the 'No Dogs Allowed' sign, Mr. Bing rushes up to him, stopping him, saying, There may be a 'No Dog' Policy here, but there's is no 'No Doughnuts allowed' sign. Eagerly, Arnie agrees to be Mr. Bing's Doughnut Dog, and soon, the doughnut and the man have become the happiest of friends. Funny, heartwarming – and even a little lesson that shows you can change your destiny, if you just try.
Arnie the Doughnut
Written and Illustrated by Laurie Keller
Published by Henry Holt and Company
40 Pages
Ages 4+
Reviewed by Jenny Tananbaum