Dates Set for the 2014 New Jersey Renaissance Faire!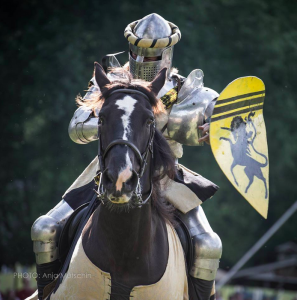 What:
HEAR YE, HEAR YE! Mark thy calendars!
The dates are set for the 2014 season of the New Jersey Renaissance Faire- Saturday & Sunday, May 31 & June 1, and June 7& 8, 2014, 10am – 6 pm rain or shine. With "School Days" on May 29, 30 and June 6. The faire will be held at Liberty Lake in Mansfield Twp, NJ for the fifth consecutive season. The family-friendly festival features a wide variety of entertainment, food (including the ever popular turkey leg), and activities including jousting, sword fighting, comedy, music, and Valenzano Winery "Meade Garden" -along with shopping at the extensive Merchant Village of over 60 fine artisans, including historical glass blowing, a live forge, and other fine crafts, trinkets, and period clothing. This year's theme is SHAKESPEARE- he has writer's block and needs your help, as his most famous characters come to life in a desperate effort to either assist or stop him from regaining his skills!
When: Two Weekends, Saturday & Sunday, May 31st & June 1st, 7th & 8th, 2014, 10am – 6 pm
Where: The NJ Renaissance Faire at Liberty Lake, 1195 Florence-Columbus Rd, Bordentown, NJ 08505
Just minutes off the NJ and PA turnpikes, Rt. 206, and Rt. 130; seconds from Rt. 295, exit 52A.
Admission:
$20 for adults
$12 for children, 6-12
Free for children 5 and under
Discounts online, and for attendees in costume
About the New Jersey Renaissance Faire
Located on 60 beautiful, wooded acres in Mansfield Twp, with a magnificent seven-acre lake as its centerpiece, the New Jersey Renaissance Faire has fast becoming a premiere destination for family entertainment in NJ. Each day an entertaining plot line is followed throughout various shows, with brilliant and talented independent performers on 6 stages including he likes of Shakespeare, a full scale joust, music, fire breathers, swordfighters, jugglers, aerialists and an extensive merchant village of talented artisans. In its fifth season, the NJ Renaissance Faire has quickly become the largest, most popular Renaissance Faire in New Jersey, with over 10,000 patrons attending last year.