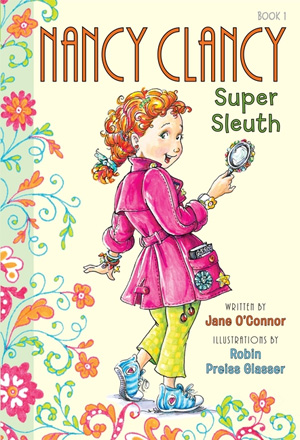 Fancy Nancy is back – the spunky, likeable, and always fancy young girl we all came to love in countless picture and easy-to-read books – returns as the star in her own wonderfully engaging chapter book, Nancy Clancy, Super Sleuth.
Written by Jane O'Connor, with cheerful black and white illustrations by Robin Preiss Glasser, Nancy Clancy, Super Sleuth is the first in a series of new chapter books geared to children ages 7-10, perfect for progressing readers. It is a bit more layered and mature, with just enough new words and plot twists to keep readers challenged without getting frustrated.
Of course, there is something comforting to graduate to a new reading level with an old familiar friend. And Nancy is just that, and she is just as we always remembered. She may be a blossoming detective, but she still enjoys using big words (and defines them happily for readers) and loves the finer things in live: she's got her fancy rhinestone magnifying glass, pink trench coat and floppy brim hat, and like her hero, Nancy Drew, she is all "set to solve a mystery."
Problem is, it's hard to find a real mystery. Her sister, JoJo's snorkel mask is missing…. but then its found at Nancy's best friends house. Rhonda one of the Polsky twins, has a secret that they don't want Nancy to know – but then she come clean that she damaged Nancy's book. Nancy is sure she will never find a real mystery to solve…when, at Memento Day at school, her teacher's special blue marble is stolen! It's a mystery – and Nancy Clancy, super sleuth and her best friend, Bree, are on the case!
Nancy and Bree search for clues, reviewing pictures taken at the event, listing each student's alibis, zeroing in on possible suspects. But is Nancy on the right track? Readers will need to read carefully to find the clues, and see if they can figure it out before Nancy does.
Fancy Nancy, Super Sleuth is one of those great books that will have children wanting to read. It's fun, entertaining, and even has a few small lessons thrown. It's a treat to be able to enjoy the fun and loveable Nancy Clancy in longer books – and when you have a young girl finish one book and immediately ask for the next one, you know you've got a winner.
Nancy Clancy: Super Sleuth
Written By Jane O'Connor
Illustrated by Robin Preiss Glasser
Published by Harper
124 Pages
Recommended for 7+
Reviewed by Jenny Tananbaum